HYANNIS – "It's extremely scary, that's for sure," said Bette Texeira a registered nurse in the critical care unit of Cape Cod Hospital. "We all know there is a possibility of getting sick ourselves," she said.
Twenty four staff members of the ICU, which is 20 percent of the ICU staff, have become sick from Covid-19, said Texeira. "Out of the 24, two of them have required hospital level of care. And both of those that were in the hospital required ICU care," she said. The others are managing their symptoms at home, she said.
**MAY 24, 2020 EDITOR'S NOTE: Cape Cod Healthcare administration has disputed numbers published in this story. We stand by our story. Please click here to see Cape Cod Healthcare's response and their numbers
Cape Cod Healthcare Disputes Numbers Reported In ICU In Cape Cod Wave Story
.**
Of the 24 sick staff members, which include traveling nurses filling in, Texeira said 18 are nurses, four are nursing assistants, and two are respiratory therapists.
Texeira, 47, of Mashpee, was first interviewed by Cape Cod Wave Magazine on March 24 about the situation inside the hospital.  She updated us on April 3, on April 17, and again on May 1.  She is a registered nurse who has worked for Cape Cod Hospital for 26 years, the last seven in the critical care unit.
Texeira has agreed to give updates, when she has time, to Cape Cod Wave Magazine on what is happening in the hospital and specifically in the ICU during the Covid-19 pandemic.
"We're getting tested two to three times a week," she said. "Just having to get that test done in that tent is extremely scary, stressful and anxiety promoting."
As for the test, Texiera said, "Oh my God, it's not the worst 30 seconds of your life. But it's pretty painful and you have a four-hour headache right after that."
"Then you stress out about the results so your anxiety is through the roof," said Texeira. 
Her results have always been negative, she said. "But that doesn't mean at some point I didn't have it and haven't had symptoms. Nobody knows that. All I know is that when I've been tested I have come back negative."
While there is constant stress about the possibility of getting sick, Texeira said it was "inevitable" the workers in the hospital would get sick. "It happens in every hospital," she said.
"We all sit two feet apart from each other during reports. We sit in the same area doing our rounds and huddles every morning. There's no way to avoid that," she said.
"We are all wearing masks around the clock," said Texeira.
In Cape Cod Hospital's ICU, she said, "the hospital had hired travelers [extra nurses to fill in as needed]. They really did try to staff the hospital as optimally as possible."
When the pandemic first started affecting Cape Cod in March, she said, "We were pretty heavy on the staffing side. We were getting time off. We were taking necessary days off," she said.
But, said Texeira, when nurses started getting sick, "our travel nurses started getting sick too."
In ICU, there is a great amount of care needed for each patient – often "three or four nurses at a time," said Texeira. There needs to be a lot of staff.
Texeira's normal shift is 12-hours. Recently, she said, as staff has gotten sick, "I've been working 16-hour days. My hours are 7 p.m. to 11 a.m. Three, four days in a row. Whenever I'm needed. Then I get one day off," she said.
"It's not forever," said Texeira. "We're all just trying to do the best we can to pitch in and staff the unit."
And while Cape Cod Healthcare recently furloughed 600 workers including many of her friends, Texeira said ICU was spared from the furloughs.
Meanwhile, there are eight Covid patients in ICU and nine more in the hospital outside of ICU, she said. Emergency room visits for non-Covid issues had been way down but in the last two weeks "it has doubled if not tripled," she said. People are beginning to come back to the hospital for other issues, she said.
The community has been generous and supportive of hospital workers from the beginning of the pandemic, and that has continued, she said.
"We're still getting huge amounts of support from the community. All different companies. Large companies, small companies have given things. It has not dwindled in the least. It's one of the things that really keeps us going," she said.
Recently, she said, a girl scout troop sent in a giant card with notes on it. "We see the kids took the time to do this, it helps lighten the amount of stress and it keeps us from turning around and running out the door."

Self-Care, Talk Of Hydroxychloroquine Etc.
The work taxes the entire body, she said. The shifts of 12 to 16 hours of "extreme emotional distress," can take a toll, she said.
"Emotionally, it's probably getting worse for us," said Texeira. "I see a lot of my colleagues are finding it hard to just come in and do their jobs. It's emotionally draining."
As Texeira has explained before, nurses are caring for patients in ways that family members cannot, and they are acting as conduits between patients and families. They often conduct phone calls, in full protective gear, between patients and their families. 
"I run on pure adrenaline 24/7," she said. "I am doing what I love, and I love what I am doing."
As the pandemic has stretched on, Texeira said, "The only thing changing is our exhaustion level. We have to show up. We have to take care of our patients."
As for what she does when she gets time off, Texeira said, "I exercise. Part of my recuperation is exercise and meditation and making different types of tea to keep my immune system strong."
Texeira said she and other hospital workers have been reaching out to sick colleagues on their day off and doing whatever they can to help them. It could be bringing them food or shopping items or simply having a conversation, said Texeira.
"We have to take care of each other," she said.
She described Cape Cod Hospital "and the Cape in general" as "like a family."
And so she tries to help sick colleagues and does what she can to stay healthy.
As for President Trump's claim that he is taking hydroxychloroquine as a preventative measure and that "a lot" of healthcare workers are also taking it as a preventative measure, Texeira said, "I personally am 100 percent not taking anything by prescription or over the counter."
"Personally, I don't know of any of my colleagues that are taking it. Maybe someone is taking it and not telling anyone. But I don't know of one person on staff taking it."
---

NOTE TO READERS: In these fraught times, Cape Cod Wave Magazine is hoping to survive, like everyone else and we are asking for your help.  There is a donation button at the top of every page.
We set the amount, after seven years of never asking, at $10 for a one-time donation. If you would like to give more, or less, you can send a check to Cape Cod Wave Magazine, Box 29, Falmouth, MA 02541
Thank you for reading Cape Cod Wave, and stay safe!
– Laura & Brian

---

Update From Her Other Job, Director Of CHIPS House
Texeira is also the director of The CHIPS [Cape Head Injury Persons] House, and that at that facility, she said, "We've managed to keep all 21 residents that live there safe."
Two employees of CHIPS House, who also work at other health care facilities, did test positive for Covid-19 and are self-isolating. "None of our residents tested positive," she said.
Texeira has been managing the house remotely while other employees have taken care of patients. "I've had such high exposure, especially over the last three weeks," she said. "I'm pretty much keeping to myself."
Running the house remotely makes the job difficult she said. "These residents need nursing care, medical assistance. They are so highly compromised that if any of them got the virus it could be fatal."
Texeira said she is doing her best to keep in contact with family members of residents and give them updates. "We're doing the best we can," she said.

Here Comes Summer
In the summer, "it's always so busy in there anyway," she said of the Cape Cod Hospital. "The problem is going to be the level of acuity, the patient care that is needed."
As for the virus, she said, "I see this as not going away anytime soon. We will be dealing with this, maybe in smaller numbers, for a very long time."
And Texeira predicted that there will be a higher peak this summer of cases than there has been during this first wave "just because of the population" that will be on the Cape in the summer.
And it will be worse for visitors who will get sick and have family that must go home to somewhere else. "It would leave them feeling even more isolated," she said of potential patients from other places.
But Texeira said that she understands that "things are moving forward. Things are opening up again."
Texeira said she is most looking forward to going to the gym again. "I feel like in small groups, I would not be worried to go to the gym," she said.
And while she is encouraged by the slow peek at normalcy, Texeira said her message would be, "Please remain diligent and respectful and responsible."
"Everyone has their own feelings," she said when asked about how fast things should open again. "The fact of the matter is we do have a problem and the problem is not going anywhere anytime soon. I hope People aren't losing sight of that just because our economy is in danger."
For our other coverage see Cape Cod Covidispatches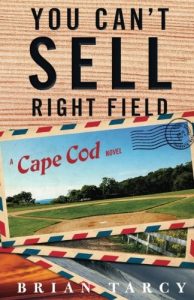 –PLEASE SEE You Can't Sell Right Field,  a novel from Cape Cod Wave…. about a huge piece of land for sale, a crooked developer, a softball team named The Townies, and an election. Based on the true story of a large Cape Cod development from the early 1990s, and Cape Cod softball.