FALMOUTH –  Some people enjoy having a drink. As Jerry Rubino, who owned the Towne Tavern, which closed in April, said, "My God, this country was founded in taverns."
In a Cape Cod libational market that is becoming increasingly upscale, food-focused and yuppified, the Towne Tavern of Falmouth had been one of a handful Cape Cod blue-collar holdouts.
Managed by Rubino for 38 years and owned by him for the last 28 of those years, the Tavern, as locals called it, closed permanently on April 7, after a small electrical fire. At the time, no one knew it had closed permanently. "The electrical inspector told us what we had to do and we did it," said Rubino. "But the building inspector discovered structural damage in the floor. So he closed us down until repairs were made. The landlord and I couldn't agree on terms."
Rubino said he is keeping his options open about relocating. He has taken home his signs and the two blue marlins that hung on the wall of the bar for decades. But he has sold off most of the other Tavern belongings, including glassware, liquor memorabilia signage, blenders, chairs and tables, and more in a "yard sale" going on in the basement of the old bar until the end of June.
"I'll miss it," he said. "I'm sure the other people will too."
Significant improvements were needed at the current location to bring it up to code as a drinking and eating establishment, said Rubino. The location will most likely reopen as a retail business, said Rubino, who will not be involved in any new business there.
The inside has been gutted, the floor is gone, and the 48-foot long bar, milled three decades ago from a cedar telephone pole in New Hampshire (and then affixed with a brass rail), has been cut into pieces and lays in the alley outside the back door. "That was a bad day when they cut that up," said Rubino.
---

***** Please support independent local journalism. Thank you! 
See the DONATION BUTTON AT THE TOP OF THE PAGE *****

---

Where Everybody Knew Your Name
"It was strictly a workingman's bar," said Rubino, 63, recalling what the Tavern was like from when he first became manager 38 years ago. "Shot and a beer 90 cents. The pickled eggs. The pickled pigs feet. The beef jerky."
For all of these years it remained an unpretentious hangout, where carpenters and nurses, secretaries and landscapers, small business owners and service industry professionals could come and relax and have a pop. They came to drink. It was, after all, a bar. But they came to the Towne Tavern, most likely sitting on one of the 22 bar stools, for more than that.
While many, including a Cape Cod Wave favorite, The Real Cape Hippie, have recently mourned the tearing down of the Mill Hill Club of Yarmouth, the loss of the Towne Tavern of Falmouth is arguably more significant. It doesn't just represent the loss of an era for folks who are getting older. The closing of the Towne Tavern has displaced a community of workers – townies and proud of it.
"I just think it's a sad thing that there's no place for that type of establishment anymore," said Stevan O'Kernick, aka "Otis". O'Kernick, self-employed, was a bartender at the Tavern for more than 20 years. "First Jake's went," he said, referring to the old Jake's Tap in East Falmouth, which is now the location of a Dunkin Donuts. "It was like the Tavern on the other side of town. The Tavern was the last one left."
"I saw somebody in Stop and Shop the other day," said Mary-Anne Werderman, who used to stop by the Tavern occasionally after work. "You don't hug in Stop and Shop. But it was like, oh my God, where have you been?" Werderman retired from Verizon after 30 years, and now she works for the Steamship Authority.



"I was trying to think what was my happiest moment there," said Werderman. "Nothing stands out. Every day was special. We went through things together. Everybody knew everybody," she said. "It was our little small Cheers "
Sure, lots of bars claim to be their own little Cheers. And they probably are, but the Towne Tavern had been building its little community for decades – literally for generations.
"When we found out it was closing for good, it sounds silly, but it was like a close friend passed away," said Justin Sawyer, 30, who is Rubino's nephew. "My whole family has worked there at different times," said Sawyer, who now works at the Steamship Authority. "I can never go there again. Wow, I can never go there and get a beer and see the smiling faces of my friends there."
"We all mixed very very well," said John Cardeiro, 30. "The older regulars that went there, and those of who were younger, for some reason, we all clicked. We were all like-minded individuals." Cardeiro was introduced to the bar through Sawyer, who is a childhood friend. When he became of legal age, he said, he began going there.
"We were a family," said Cardeiro, a landscaper. "I don't have a lot of family. Those people, in good times and bad times, they were always there for me. It was always hugs and kisses. That's what I'll remember."
FULL DISCLOSURE: About six years ago, for about one year, I was a part-time bartender at the Tavern. It was interesting and fun. I liked everyone I worked with, and I liked almost all of the customers, who were mostly smart, quick-witted, and funny. It felt like the friendliest place in town. As Cardeiro said to me for this story, "It was a non-judgmental atmosphere."
When Jerry hired me, he said, "I don't care if you know how to make drinks, just make sure you card everyone and make sure they are of legal age." That was his one rule – obey the law.
That's right, he didn't care if I knew how to make drinks. He knew his customers. "You could pretty much have just Budweiser and vodka," he told me in the interview for this story.
Back when he was hiring me as a bartender, he knew I could open a beer. He then asked me if I could figure out the ingredients to a vodka and tonic. After much thought, I finally did figure out the two ingredients that go into a vodka and tonic, and I was hired.

A Decades-Old Reputation
In 1976, Rubino, former running back for the Falmouth High School football team, became the manager of the Towne Tavern. He had a degree from Boston State College in secondary education and experience as a substitute teacher in Boston and then in Falmouth.
He also had experience as a bartender at the Main Street bar called, 7-Seas. "A real bucket of blood place, that was," recalled Rubino. "There were a lot of rough edges."
"There were 15 bars in downtown back then," said Rubino, who quickly named off ten: Sonny's, the Hunt Club, Century Irish Pub, Sherry's, the Quarterdeck, Ship's Wheel, 7-Seas, Oar & Anchor, and Harbor Lounge. At the time the Towne Tavern was called, Jerry's Bar and Grill.
"Just before I came here they changed the name to the Towne Tavern," said Rubino. He was asked to come in and manage the bar and he agreed on the condition that he if could improve business he would have a chance to buy it. "I was well versed in this place. I frequented it myself. I knew what I was walking into."
"There was a pool table, but I got rid of it in 1976," said Rubino. "There were too many fights."
According to Ed DiPietro, who was a bartender there in the early 1970s, "You probably can't write most of what I'm going to tell you." And then he paused. "From my recollection, if there wasn't a fight in here on any given night, something was wrong. If it got to be about 11 or 11:30 and there wasn't a fight, it was creepy."
"The previous owner had wanted business. He didn't care where the business came from. He didn't want us to call the police. It was up to the bartenders to go break the fights up yourself. Now I'm five-foot four. I'd go jump on one guy and pray that someone, another bartender or another patron would grab the other guy. They were just random drunk fights, over a girl or all sorts of different stuff. It was a real saloon."
Life was simply different in the mid 1970s, said DiPietro, 65, and the owner of Edwards Interior Decorating, which is next door to the Tavern. He and Rubino recalled seeing daily fights behind the Lawrence School. Then those kids grew up, and went out drinking on Main Street.



"I turned it right around, and made it much more profitable than it was before," said Rubino. "We eliminated the rough guys. We used strict discipline. We had to have a strict policy and stay with it. If you became unruly and assaulted anyone, you were banned from the premises, no second chances. We stuck with that through my entire career here."
The Tavern issued restraining orders, letting offenders know they'd be arrested for trespassing if they entered the bar again. Rubino had a book he kept behind the bar.
DiPietro, who was no longer working for the Tavern when Rubino bought it, said he was very surprised to see "it go from what it was to what it became."
Still, there were people in Falmouth who never went into the Towne Tavern based on something they heard from someone who heard something decades ago. Just because the story may have been true, that didn't mean that was what the Tavern was like any more. Quite the contrary.
After Rubino bought it, said DiPietro, "You knew who was going to be here every day. We were all family."

Glory Days – the 1980s
In 1980, Joe Rocha began bartending at the Towne Tavern. "Jerry met me when I was a bartender at the Casino," said Rocha, 57. The Casino-By-The-Sea was a legendary Falmouth Heights beach bar, no longer in existence.
When the Casino, a summer bar, closed for the season, Rocha worked at the Tavern. "First of all it was a town tavern," said Rocha. "When they rolled up the streets at Labor Day, the Towne Tavern was still there." Rocha works as a shellfisherman and rolling raw bar, a concrete formsman, and a bartender at times – "a Cape Cod lifestyle," he said.
Although Rubino had cleaned the bar up with his list and strict discipline, Rocha recalled, "It was a tough bar. The Tavern for a while had a reputation as more of a biker bar. But there was no trouble unless someone was looking for trouble."
One winter, Rocha took a vacation to Fort Myers Beach, where he met O'Kernick, who was from Ohio. "Summer sucks down there," said O'Kernick. "I just got in a fight with the owner of restaurant I was working in. Joe said follow me up to the Cape. I didn't even know where I was going."
O'Kernick became a bartender at the Tavern, the Casino-by-the-Sea, and at Amigos Mexican Restaurant. If you had fun in Falmouth in the 1980s, there's a good chance you were served by a big smiling man named Otis.
"The Casino was the most fun in the world," said O'Kernick. "We'd get out of there, we'd close the place at 1 o'clock and sit around and drink till 4 in the morning. Usually there was lots of chicks. You're right on the water. There were chicks everywhere in bathing suits wanting to get drunk … It was like being in Florida."
The day shift at the Tavern was O'Kernick's first job in Falmouth. "It was really dark," he said. "It was before they remodeled it. It was really dark, not much light, but always busy. There were a lot of people there at lunch time. We did burgers. Back then a lot of the workers, the bosses didn't give a shit if you went and had two or three beers and a couple of burgers at lunch. So they come in pound down a couple of burgers and couple of beers, throw me a couple bucks and be on their way."
"There was still a bunch of knuckleheads," said O'Kernick. "You had to keep track of them. I was good at keeping track of the knuckleheads. I'd tell Jerry what went on. If they didn't change their attitudes, they were gone."



A lot of those knuckleheads drifted into the Tavern from a bar across the street that had two pool tables and a sketchy reputation. That bar, long closed, and the Towne Tavern were often associated in many people's minds as the same kind of place. They were not the same kind of place, said Rubino, who worked hard to keep rougher customers from the other bar out of his establishment.
"When I started working there," said Rocha, "they'd send over their rubbish. You always had to be on the lookout."
Werderman recalled, "You could just look at them and see that they shouldn't be served."
And with discipline, Rubino and his staff kept the Tavern a comfortable workingman's sports bar.
"When I first got to town," said O'Kernick "Jake's Tap and the Town Tavern were the same same type of bars. It was shots and beers, no fancy drinks. You wouldn't ask the bartender for a margarita on the rocks. He'd tell you to go somewhere else."
On the wall at the Tavern for years was a picture of the 1984 champions of the Falmouth Bar Softball League. "When I got there, the Tavern was the reigning champs of Falmouth Bar League from 1983," said O'Kernick. "All the bars, played during  the day, because we all worked in the bars at night. The Casino, the Brothers 4, the Regatta, even the Coonamessett had a team. The Captain Kidd, Oar and Anchor, Leeside, Seacrest, and Shuckers, had a team."
"When I got there Jerry put me in charge of the team," said O'Kernick. "Whoever I wanted to be on the team, and a lot of people asked to be on the team." They won the championship again, as the picture attests.
"Jerry used to videotape the softball games," recalled Rocha, "and we'd go back to the Tavern and watch it. He'd get both teams to come back. We'd rewind certain plays. It was great laughs."
In 1986, after buying the bar, Rubino remodeled it, including the milled bar from New Hampshire and walls made of eastern white pine shiplap.
And he left space for some decorations. Rubino, Rocha, and three others had planned a fishing trip to Bimini in the Bahamas. Before leaving, Rubino said they were going to catch some blue marlins to mount on the wall at the bar. "We were experienced anglers but this was the first day, first trip, first hour," said Rubino, who caught the first fish.
"I was so exhausted after that that I lost all the feeling in my fingers," said Rubino. "The next day, Joe caught his fish. But the last three days, nothing."
He had the bill and tail of the two fish incorporated into a painted fiberglass mold made by a taxidermist in Fort Lauderdale. And then they were encased in the bar and Rubino held an unveiling party, complete with falling curtain and the theme music from "Jaws."
Knowing they were on a trip to get fish to decorate the bar, Rocha said, "It was totally meant to be."

The End of An Era
Rubino used to rent a bus and take his customers to Patriots games and Red Sox games.
Bill Lee, yes the Spaceman – the Boston Red Sox pitcher from the 1970s – is said to have hung out for a time at the Tavern. Both Rocha and O'Kernick have great stories of having fun at the Tavern with the iconic ballplayer. They played softball together. "He could hit a ball farther than anyone," said Rocha.
Whenever there was a big Boston sports game, the bar was packed and sometimes Rubino put out a buffet. And the annual Falmouth Christmas parade was a highlight of the year. "My family would go there for the Christmas parade, would bring me there," recalled Cardeiro. "And all the kids would be out front, there was food, and if we wanted we got soda."
"We have what I call my older customers bringing their children in here for the Christmas parade," said Rubino. "You would get to see generations. Kids grow up and all of a sudden they're bringing their kids in here for the Christmas parade."
But beyond all the special days was simply every day.
"People liked to come here and socialize," said Rubino. "It became a comfortable atmosphere. We didn't judge anybody. We took everybody for who they were. Come in and drink and have a cheeseburger. They loved it."
Ah, the Towne Tavern cheeseburgers. For a place that didn't specialize in food, they had some pretty famous cheeseburgers. "There were people that came back every summer just to have one of his burgers," said Werderman. They were not Kobe beef burgers from a grass-fed steer named Sebastian. They were bar burgers, and they were delicious.
But the people came to drink, and to socialize, and for 38 years, Rubino provided a true home away from home for many people. "It's just socializing and enjoying the banter, the give and take," said Rubino. "These are friends we grew up with, we went to school with."
Sure, it was just a bar. And bars come and go all the time. But on Cape Cod, old-time bars like the Towne Tavern are disappearing. "It was a cornerstone," said Rocha.
"I just assumed it was always going to be there," said O'Kernick.
---

***** Please support independent local journalism. Thank you! 
See the DONATION BUTTON AT THE TOP OF THE PAGE *****

---
Please like us on Facebook.
For more stories like this, please see Longform stories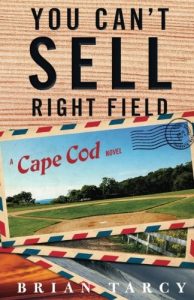 When a real estate developer comes to a small Cape Cod town with a plan to "put it on the map" the proposed big money and big changes splits apart a softball team called The Townies.
– A novel from Cape Cod Wave—
YOU CAN'T SELL RIGHT FIELD, A Cape Cod Novel