FALMOUTH – At the beginning of the pandemic when former Falmouth Selectman Adrian C.J. ('Andy' to all who know him) Dufresne was 89 years old, he closed his longtime business, Andy's Barber Shop, and ostensibly retired. 
There was even a feature story in the Boston Globe, and another on Channel 25 News in Boston. He had been in the same corner spot in the Falmouth Plaza for 57 years. It was the end of an era.
Two years later, Dufresne, who began working as an apprentice in his father's Falmouth barber shop at 13 years old, has a new job cutting hair in the Main Street Barber Shop. Today, May 20, is his 91st birthday. He was at work.
"He's been excellent," said Silvana Oliveira, the owner of Main Street Barber Shop. "He's certainly experienced."
Dufresne has been working at his new job for a couple of weeks. And even before that, he said, "I never missed it in that I never actually stopped."
He couldn't really retire. When Andy's closed, Dufresne took a mobile barber kit around town to give haircuts. Also, he has a barber's chair set up in his house. 
But when the pandemic hit and he closed his barbershop, he found he wasn't working a lot. He quickly bored of watching television. "My happy hours got earlier and earlier," he said. "My common sense said I needed to do something."
One day this spring, with the pandemic easing, he was driving on Main Street when he noticed new decorations in the Main Street Barber Shop. The shop had recently been purchased by Oliveira.
"I walked in the shop to commend them on the decorations," he said. A conversation ensued. And he was hired.
---

***** Please support independent local journalism. Thank you! 
See the DONATION BUTTON AT THE TOP OF THE PAGE *****

---

Happy 91st Birthday!
On the morning of his 91st birthday, Dufresne said he had a doctor's appointment scheduled for that afternoon "to find out if I'm going to be alive the rest of my life," he joked.
Before his doctor's appointment, he had a shift to pull at Main Street Barber Shop. "Of course I'm working," he said. "I've always worked."

Born To Cut Hair
Dufresne's father, who was from Canada, was a widower who moved to Falmouth in 1928, where he met and married Dufresne's mother. His father and his father's four brothers were all barbers.
He was born May 20, 1931. Dufresne had three sisters, one brother and two half brothers, he said.
When he was 5 years old, Dufresne's parents bought a three-decker house in New Bedford so that he could get a Canadian parochial education.
His father had a barber shop in Falmouth and came back to the family in New Bedford on weekends. "In the summers, my father had me in the barber shop. I was 12 or 13 years old. I was the shoeshine boy," he said.
At 13, he became an apprentice barber at his father's shop, which was the building that now houses Steve's Pizza. At the time, the building housed Dufresne's Barber Shop, Cahoon's Fish Market, and a pool hall in the back, said Dufresne.
His first job as an apprentice at his father's shop was to shave customers around their ears. And that's what he was doing one day when an inspector from the state barber board caught him working. He was too young. "My father was out back playing pool with his brother," recalled Dufresne.
But that was only one drama from his early years. Dufresne was a good athlete, making and starring as a guard on the varsity football team in high school in New Bedford. His father, Dufresne said, thought he should have different priorities – working for Dufresne's Barber shop in Falmouth.
"He said, 'You better.' I said, 'What if?' And back then you didn't talk back to your father. He clobbered me upside the head," said Dufresne. 
He and his father did not talk for a year.
"I used to come down on the bus, New Bedford to Bourne, then I took the train to Falmouth. "But I didn't come down that year. We didn't talk for that year. When my father came home, my mother gave me money to get out of the house." said Dufresne. 
At 16 years old, after a year of starring in football, he had bigger priorities. "I wanted to get away from my family." Not all of his family. He had two brothers in the Navy.

In The Navy… Off To Korea
When he was 16, Dufresne enlisted in the Navy. He was sworn in on his 17th birthday.
One of his brothers was on a submarine stationed in New London, Connecticut. Dufresne "put in for sub school." The Navy had other plans. He was sent to Great Lakes, Illinois for basic training and then to the West Coast and "put on a carrier."
"Three days after I hit California," Dufresne said, "I was on my way to China."
The carrier, the USS St. Paul (CA-73) was 673 feet 11 inches long and carried an Admiral on a public relations tour of ports in the Pacific Ocean and Asia – Hong Kong, Singapore, the Philippines, New Guinea and Pearl Harbor. 
"I was young. I truly enjoyed traveling to foreign lands," he said. But then the Korean War broke out and the foreign land he was sent to was a war zone. And while he had enlisted for three years, the Navy added on a year. He was in for four years.
While he was in the Navy, he got married to his high school sweetheart from New Bedford. His wife, Alice, lived briefly in San Francisco when he was on leave, and then she returned to Massachusetts. 
Asked about being ordered to go to war, Dufresne said he had, "No reaction. I was young. Nothing bothered me. That was the thing I did," he said. "I was in the Navy."
He did two tours of Korea. His ship, which was firing onto shore, got hit by enemy artillery.
Once there was an accidental explosion under a gun mount. It killed 30 men. There was "mass confusion," he recalled. But he was so young, he said, that he moved on. There wasn't really a choice.
His job in the Navy had evolved. At first he was the crew barber, giving mass production haircuts. "They'd stand in line. One after another – high and tight, high and tight," he said of Navy haircuts.
But then he was moved up to the officer's shop "and ultimately the Chief Petty Officer's shop," he said.
"My executive's officer's nickname was 'goddamn it McCain,'" said Dufresne, recalling when he cut future Senator John McCain's hair. "I cut his hair every week. He was very military. Very fair," said Dufresne.
Dufresne was discharged from the Navy in April, 1952.

Barber License Needed, But Uncle Sam Was No Help
When Dufresne returned to Massachusetts, he discovered he needed to get a barber's license to cut hair. "I had to go to barber school to get a license to do what I'd been doing for Uncle Sam for four years," he said.
"It cost me six months in barber school with no salary," said Dufresne.  He lived in Boston during the week and came back home to Falmouth and Alice on weekends.
At the time of his discharge, the GI Bill of Rights did not apply to Korean War veterans. He was on his own paying for school. The rights were extended to Korean War veterans in August, 1952, he said. It was too late for him.
"I got cheated by the GI Bill of Rights," said Dufresne. Seventy years later, it still angers him.
Years later, he became very involved with the town of Falmouth's Veteran's Affairs Committee, mainly because of how he missed out on the GI Bill of Rights. "That should never happen to anyone ever again," he said.

A New Barbershop In Falmouth
After Dufresne finished barber school, he went to work for his father. That lasted one year. "We didn't see eye to eye on cutting hair," said Dufresne. "He was not the best barber. But my Uncle Pete, who worked with him, was very good."
He opened his own barber shop in East Falmouth, "across from Jake's Tap" – a longtime local pub that has since closed and is now a Dunkin' Donuts.
"It was a modern barber shop," recalled Joe Netto, 75, of East Falmouth. "It was all new stuff. That struck my eye as a kid."
Netto met Dufresne when Netto was "7 or 8 years old," he said. At the time, Dufresne the barber "was the young guy," recalled Netto. It was different than going to the existing barber shops in town, he said.
When the Falmouth plaza was built, Dufresne moved into a small corner unit, which was actually half of a beauty parlor. He stayed there for 57 years.
When the plaza opened, he said, "everybody thought it was going to fail because it was so far out of town," said Dufresne. Not Dufresne. He saw the future, as he later would with several real estate purchases in Teaticket and East Falmouth.
He worked hard and became successful, he said. For many years when flat tops were popular, Dufresne said he was a "flat top specialist. I was very talented."
Wayne Soares, a local writer and actor who also writes a local and nationally syndicated column honoring veterans, recalls going to Andy's barber shop as a child.
Soares, 57, grew up in a house "right behind where he and his family lived" in Falmouth Heights. "He was always the type of person who you knew commanded respect."
"He was in good shape back in the day," recalled Soares. "And those tattoos on his arms were a little bit intimidating."
"But he had that disarming smile. There was just a real genuine manner about him that made you feel comfortable at the time," said Soares. "He was almost grandfatherly. He'd have good conversations with you when you were a kid. He'd ask about school. He's ask about athletics. He took an interest in you."

A Special Police Officer
For a short time, Dufresne had a second job as a short order cook at a diner. 
Then for about 20 years, Dufresne said, he was a special police officer for the town of Falmouth. He would go on house raids to break up loud parties, and also he worked the door as a bouncer at The Hunt Club.
"I used to lock up the barber shop and then work until 1 in the morning as a bouncer," said Dufresne. 
But, he said, "I never worked in a place where we were challenged a lot. The Hunt Club was a very nice place to go drinking."
He recalled getting in a confrontation "only one time. A police officer from Hyannis hit his girlfriend," said Dufresne. "I clocked him. I told him in no uncertain terms he better never come to Falmouth again."
"Back then I had a 43 chest and a 28 waist. I was a tough son of a bitch, and I didn't back down to anyone," he said. "I don't care how big you were."

A Civic Servant
"Arthur Vidal suggested to me that I get involved in the town," recalled Dufresne. There was an opening on the beach committee and Dufresne ran for the position, which at the time was an elected board of three.
"It was a challenge," he said. Dufresne was the only one of the three beach committee members with access to a telephone during the day, he said. "The telephone was in my barber shop. I'd be cutting hair with a goddamn phone on my right shoulder," he said.
"There's 11 beaches. It's a hell of a responsibility," said Dufresne. Besides running the beaches during the summer season, "we had to grade the beaches, hire contractors, and repair the bathhouses," he said.
He spent ten years on the beach committee and then served on the finance committee. He had an unsuccessful run for selectman, and then he was elected. He served one term and then was defeated.
"I did my job," said Dufresne. "I was never afraid to make any decision. When you are a selectman, you have to sometimes make decisions that are not popular."



"When Andy was a selectman," said Soares, "he had the best interests of his constituents at heart and he really fought for them."
Dufresne said his biggest controversy was when he demanded that a nighttime detective on the police department be fired because "every night when he wasn't on a drug raid he was at his girlfriend's house."
Friends of the detective turned against Dufresne and cost him re-election, he said.
He pointed to a finished 24 foot by 24 foot bedroom that he built in the finished basement of his Falmouth Heights House. "That's how I overcame my rejection by the voters." In fact, Dufresne said he built the entire house.
And while the election loss hurt, he dusted himself off and continued giving his time to the town. He is still a town meeting member and he spent many years on the town Veteran's Committee and as the town's Veteran's agent.
"He's done a tremendous amount of work with the V.A. assuring that veterans get their appropriate benefits," said Soares.
Netto, who is very involved with the town himself, said it was Dufresne who talked him into getting involved. "I was complaining about something and he turned to me and said, 'You know, if you don't like what's being done, you can become a town meeting member.' I've been a town meeting member ever since."
"One of the things Andy did was on the last night of town meeting, he would host and pay for a party. He did it for years," said Netto. "Any town meeting member could come. He did it at Liam Maguires or the Quarterdeck."
"He said we may disagree between 7 and 11 but at the end of the night we always want do what's best for the town of Falmouth," said Netto. 
"He taught me that when somebody has a different opinion than you, make sure you listen," said Netto. "He said you can learn something from someone who sees something different than you."

A Reporter's Story
When Andy was selectman, I covered the board for the Cape Cod Times. I recall Andy as a lightening rod in town. By the end of his term the town was quite divided on his tenure, and his election loss to Raymond Labossiere was decisive.
I remember one controversy he had with the then building commissioner, who had been hired by the board from New Hampshire. I liked the building commissioner. To me, he was a straight shooter.
I don't remember specifics but I remember the building commissioner was enforcing the building code by the exact letter of the law and Andy and many of his constituents thought there should be some flexibility. In the end, the building commissioner was fired, and Andy lost re-election. 
The other thing I recall distinctly is the day in September 1985 when Hurricane Gloria made a direct hit on Falmouth.
Andy, as selectman, took me, as a reporter, on a tour around town in his old green pickup truck during the height of the storm. Police blocking off access to beaches waved us right through. We saw sailboats knocked upon the shore, many downed trees and more.
And I remember exactly what it was like standing on Falmouth Heights beach with Andy while winds of almost 100 miles an hour winds were sandblasting us. He was nonchalant about it. Another day at the office. But I had only been on Cape Cod for three years at that point, and I was in awe of it all.

A Master Shooter
"Every morning, one of my jobs is to put the lights on in the middle room," said Dufresne while standing in that room. "And I get a view that I think is enjoyed by most people who have been here and enjoyed what I've enjoyed."
The view is of his collection of guns. Many are antiques.
"He's a pretty good shot," said Netto, who was on a pistol team, shooting at targets, with Dufresne. Both belonged to the Falmouth Rod & Gun Club that had a team that competed against other teams from around the Cape. 
"He could shoot in an indoor range with one gun in his left hand and one in his right and hit two different targets," said Netto.
Dufresne shows off a gun from his collection CAPE COD WAVE PHOTO
"I had been a rifle shooter," said Dufresne. But a barber he worked with had a handgun "and talked me into trying it." He took to it.
People in town knew of his hobby and skill, he said. Especially customers of his at the barber shop. "When Kennedy was assassinated, I had a lot of customers that brought me their antique guns. They didn't want guns in their house anymore," he said.
Soon, Dufresne had started a collection, which now has more than 50 guns. One, that was a gift to him from someone who traveled to Europe, dates back to the 16th century France, he said. "If you look at them, they really are works of art," he said.

The Cross Country Motorcycle Ride
He has rode his motorcycle across the country and back 15 times. He gave up riding, finally, two years ago. "I decided not to tempt fate," he said.
"I took every route possible," he said. "Including across Canada."
 Sometimes he went with others. A few times, he went alone.
"That motorcycle," said Soares. "He was always cool." 
Nowadays, Dufresne can be seen cruising through town in his silver 2002 Lexus convertible. It's old but it still looks in perfect shape, just like its driver.
– Please like Cape Cod Wave on Facebook.
---

** Please support independent local journalism. Thank you! 
See the DONATION BUTTON AT THE TOP OF THE PAGE **

---
Read other Profiles on Cape Cod Wave
All Cape Cod Wave Falmouth stories
For more stories like this, see Longform stories.
---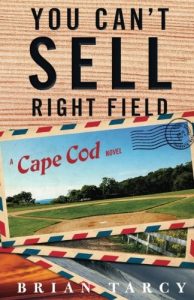 –PLEASE SEE You Can't Sell Right Field,  a novel from Cape Cod Wave about land for sale, a crooked developer, a softball team called, "The Townies," and an election.
Based on the true story of a Cape Cod development.