CAPE COD – While Major League Baseball's owner-imposed lockout has no end in sight, baseball fans on Cape Cod can rest assured that the Cape Cod Baseball League will play ball this summer.
"Our season isn't going to be affected," said Michael Lane, Cape League Director of Public Relations. "We have a good relationship with Major League Baseball, but their situation isn't going to affect games played on the Cape this summer."
The Cape Cod Baseball League is funded in part by grants, including one from Major League Baseball. But that has no effect on the upcoming season, said Lane.
As MLB owners and the Major League Baseball Players Association continue their standoff, which has now bumped into spring training, Lane said he had no comment on how the standoff could affect Cape League attendance this summer.
"We're just kind of focused on what is going on on the Cape," he said.
"Our season opens up on June 12 and runs to about August 12," he said.
Whatever the status of Major League Baseball this summer, Lane said he expects a continuation of the large attendance surge last summer after the missed pandemic season of 2020.  "Attendance was high last summer and we're expecting the same thing this summer," said Lane.
The Cape Cod Baseball League is the premier amateur summer baseball league in America, featuring some of the biggest college stars. Many will go on to play in Major League Baseball. More than 1,400 players, as of October 2019, have played in the Cape League before later playing in the big leagues.
---
– Please like us on Facebook.
Cape Cod Wave Magazine covers the character & culture of Cape Cod. Please see our Longform stories.
---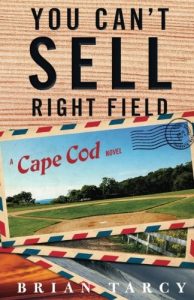 –PLEASE SEE You Can't Sell Right Field,  a novel from Cape Cod Wave about a softball team called, "The Townies," land for sale, a crooked developer, and an election.
Based on the true story of a Cape Cod development.