CAPE COD – Would partisan Americans, in these volatile political times, accept their side losing a close presidential election?
What will happen if there is an extremely close presidential election (Think Gore v. Bush in 2000)? Will the losing side – either side – accept the result?
We asked Cape Cod former elected officials, party leaders, and non-party activists – liberals and conservatives – what they envision would happen in such a scenario.

Three Common Thoughts From Both Sides
1. Americans will do what they've always done and accept election results.
2. We would accept defeat. We don't trust the other side to do the same.
3. There might be trouble, but it won't be bad

Perspectives, Bubbles, & Hope From Both Sides
"It's impossible for any of us to answer for half the country," said Sandra Milano, President of the Cape and Islands Democratic Council. "I can only speak for myself," she said.
"We are so divided," said Laurie Veninger, the leader of Indivisible Outer Cape, which is part of the national progressive organization, Indivisible. Indivisible is working "to defend democracy and empower citizens to hold their elected officials accountable," she said. 
"We are so accustomed to our own bubbles that if something happens outside of it that we're not aware of, it shocks us," said Veninger.
About half the population, given that theory, will soon be shocked. What happens then is the question.
Veninger said, "If we are to count all the votes as a democracy is supposed to do, the results will be accepted."
Adam Lange, founder of the United Cape Patriots, said he expects Americans, no matter the side, will accept election results, "just as they did in 2016," because one of the things America was founded on was the rule of law.
United Cape Patriots, Lange told Cape Cod Wave in April, is composed of, "frustrated conservatives who are biased towards action whereas our Republican party is biased towards inaction."
Fran Manzelli, who represents the Cape and Islands on the Massachusetts Republican State Committee, said he hopes people are "calm and peaceful and we behave like adults. That's what democracy is built on."
"From my perspective, I would certainly not advocate for anything other than accepting the results," he said. "We have to be classy and do the right thing."
Former state Rep. Thomas George (R-Yarmouth) said, "Historically, citizens of the United States have always accepted the outcome of elections, even when their party was not victorious." George said he expects that to happen again.
"The average American family is interested in the progress of our country and you won't have real progress, regardless of who the president is, if the general population is rising up against him," said George. People have jobs, families and lives outside of politics, he said.
Former state Rep. Matt Patrick (D-Falmouth), said, "The vast majority of people are good and just want to move beyond this."
Mike Arnold, describes himself as a "conservatarian, I lean conservative but I have very libertarian views," he said.
Asked the question, Arnold began speaking of different things that might happen depending on who wins.
Arnold finished his thoughts with, "Honestly, and judging from history, we've always accepted results and I don't think that's going to change. … we're all Americans and we all love America."
---

** Please support important, independent local journalism.
See the DONATION BUTTON AT THE TOP OF THE PAGE **

---

Cape Conservatives' View Of Possible Reactions To A Close Election
Arnold, who says he is not Republican but rather an independent who supports Donald Trump, said he believes in a smaller, less intrusive government, and specifically individual rights. When it comes to predicting what will happen in a close election, he said, it depends.
"It depends on who the losing side is," Arnold said at first. "If Trump wins, it will not be accepted. They didn't accept it last time and they won't accept it this time. They're still fighting against Donald Trump winning in 2016."
"If Biden wins a close election, it will be accepted just like when Obama won in '08 it was accepted," he said.
"The left always claims to be for the rights of minorities, but the largest minority is the individual. Nothing supersedes individual liberty," he said.
Manzelli, a Cape Republican, said, "We've had our share of losses I think we would accept it."
There is "crazy anger all over the country," he said, but he expects people to accept the results no matter what happens.
"It's definitely a different kind of election," said Manzelli, "It's unusual in that there is such high enthusiasm in Massachusetts for Trump."
Lange said, "There is a bit of a phenomena happening locally as far as the conservative Republican umbrella goes."
Lange said he is leading a grass roots effort and has engaged the Republican establishment so that "Republicans are standing shoulder to shoulder with grass roots conservatives, many that are not even Republicans."
"There's definitely going to be some drama," said Lange. "Of course there will be some saber-rattling, but at the end of the day the reason this country is great is the rule of law."
"There will be less civil unrest if Trump were to lose," said Lange.
As for Trump's chances, he said, "I'm pretty bullish."
State Representative Randy Hunt, (R-Sandwich) is not seeking reelection. As a longtime Republican who does not support Donald Trump, Hunt admits he is an outlier Republican, but said he is not the only one.
Hunt said the race "could be close and it could take a while," but he said the President's public skepticism about the results ("I'll have to see") is "a lot of bravado."
"I don't believe for a second that if it was very close and Donald Trump  lost and said he did not accept the result of the election, that he would be able to do anything about it, or that our military would turn into a coup force for him, or even any of these militias," said Hunt.
"I don't see the Joint Chiefs of Staff saying we should bring the military in to protect the country from Biden," said Hunt. "We may act like a banana republic from time to time, but I don't think it's going to go that way."
Hunt said if Trump won a close election, he could see Democrats reacting as they did in 2016. "Philosophically, they didn't see him as their president," said Hunt. 
Hunt suggested that for a lot of conservatives, the best result would be for Trump to lose but for conservatives to retain a majority in the Senate. "Donald Trump is not someone who represents traditional Republican values, at all," said Hunt.
"The sad part is that people who are Republicans have pledged to support him rather than what Republicans have always been about."
George said that his concern and that of many if Biden wins the election is Biden "might fulfill his promise that everybody should have free medical care while a very small percentage of taxpayers are doing to absorb something as radical as that."
George is not concerned about trouble from either side in a close election. He believes Republicans would accept a Biden victory and Democrats would accept a Trump victory.
One of his biggest concerns, he said, no matter who is elected is that the country keep the military out of armed conflicts.  George credited Trump with "not getting involved in military actions all over the world."
If Trump wins, said George of the other side, "they're not going to revolt against him. They know what he's been like over the last four years, and he has not been overly oppressive, whether for the citizenry of this nation or of the world."

Cape Liberals' View Of A Possible Reaction To A Close Election
"I think everybody ought to be concerned about the hints that have been dropped by the President that he would not accept the true results if he was the loser," said Veninger.
"Everybody, no matter the side, ought to be concerned by that kind of talk," she said.
Veninger said her concern in a possible close Trump victory is, "I don't know if we're going to get a fair count."
"This is not going to be over on election night" she said. "If the president and his party start talking like it's over on election night," she said. "We are going to be loud and demand that every vote be counted.
If Biden wins a close race, she said, "my feeling is [Trump supporters] are not going to accept it."
Peter Waasdorp of the Falmouth group, Move To Remove, which has demonstrated against the President on the Falmouth Village Green every weekend August 2017, said, "Like others I am hoping for a blowout on the Democratic side… But we are organized and ready to be out on the streets if the President tries to call his victory early."
"The timeline involves weeks, not days," he said. "We have to be prepared to wait weeks." If the President declares early victory, said Waasdorp, "We will be in the streets and it won't be a one-day occurrence."
"If there are any shenanigans, no, we won't accept the results," said Waasdorp. "By shenanigans, I mean obvious disregard for normal vote counting."
Waasdorp said that liberals would accept results of a fair election "but I don't think Trump supporters will. I don't think Republicans will."
Asked what he viewed as the difference between Republicans and Trump supporters, Waasdorp said, "One side believes in democracy and procedures, and the other side relies on whatever Trump says."
Former state Representative Eric Turkington (D-Falmouth), said, "It's clear the other side are in their own universe. As some have said, unless he wins, it's a fraudulent election and a portion of Republican voters agree."
"If the election is close and Trump is declared the winner, the Democrats will grudgingly admit to it and move on," said Turkington. "That's what we did with Hillary and with Gore. We're the ones who play by the rules."
"If it's a close election and Biden is declared the winner, a sizable portion of the other side will think it's been stolen and they will be convinced it's been stolen and they've been setting it up that way for the last half year," said Turkington.
Patrick said that if Trump won a close election, "the Democratic leadership will accept it," but "you may see protests and marches. I don't think they'll be violent marches. More like the Women's March after he won in 2016."
Patrick predicted "Democrats are going to win," and wondered "will Trump accept it? That's the big one."
"Hopefully we have enough institutional fortitude to get rid of him. Have the Secret Service escort him out the door and have Republicans step up and tell him it's time to go," he said.
"On the other end of it are his supporters," said Patrick. "Will they abide by a close election going Biden's way. I think you'll see outbursts. I think you'll see them protesting and marching."
Patrick said he sees things "on a spectrum… I think there is more of a tendency of violence on the right with the militias and the white supremacists."
"To be honest," said Patrick, "I don't think it's going to amount to anything. Even if there are right wing protests, and even if some of them get violent, it will be quelled very quickly."
Milano said, "My sincerest hope is that every vote is counted and that this is decided at the ballot box, not in the courts."
"I think if every voice is heard and counted, then democracy wins. And that's who should win," she said. "Democracy should win."
---

** Please support important, independent local journalism.
See the DONATION BUTTON AT THE TOP OF THE PAGE **

---
– Please like us on Facebook.
For more stories like this, please see Longform stories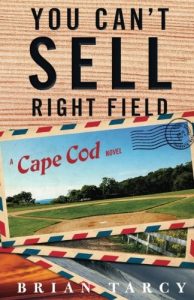 –PLEASE SEE You Can't Sell Right Field; A Cape Cod Novel,  a novel from Cape Cod Wave about a large proposed land development, a crooked developer, a softball team called, "The Townies,", and an election.
Based on the true story of a Cape Cod development.