WOODS HOLE – "The public gets it, but not really," said Philip Duffy, President & Executive Director of the Woodwell Climate Research Center, when asked about the public perception of the threat of climate change.
Public opinion polling, said Duffy, shows that most people agree that climate change is happening. "If you ask, are humans causing it, basically everywhere you get the majority of people saying 'yes'," he said.
"But do they have any conception of what's actually at stake?" he said. "I don't think they do."
The counter argument to the consensus of science has evolved over the years, said Duffy. "First it was, 'It's not happening.' Then it was, 'It's happening but humans aren't causing it.' Then it was, 'Humans are causing it but it's not that bad.' And now it's, 'We can't afford to do anything,'" he said.
"There is no basis for that argument," said Duffy. "It's exactly wrong. We have to do something."
---

** Please support independent local journalism.
See the DONATION BUTTON AT THE TOP OF THE PAGE **

---

A Public Face In A Political Debate
Duffy, who talked to Cape Cod Wave Magazine for an hour this week, is one of the public faces of science in the climate science political debate. He worked in President Obama's White House, and he has testified before Congress.
Once during a Congressional hearing in May 2018, Duffy had to refute a theory by US Rep. Mo Brooks, R-Alabama, that rocks falling into the sea have any significant impact on sea level rise.
The respected Woodwell Climate Research Center, previously known as the Woods Hole Research Center, works with decision makers who "are making climate related decisions," said Duffy.
The Senior Advisor to the President of the Center is John Holdren, who was President Obama's Science and Technology Advisor from 2009 to 2017.
But the prestigious center offers more than just guidance and advice. "We actually do science with [partners]," said Duffy.
"For instance, where you are trying to add more carbon to the soil, you have to measure the carbon in the soil. Not just once and not just in one place… we're trying to enable successful projects to store carbon in the soil," he said.
And such projects are with a variety of partners, he said, citing the US Department of Agriculture, private companies and the nonprofit Environmental Defense Fund.
Duffy, who worked in the White House Office of Science and Technology Policy from 2011 to 2015, is well versed in the national conversation. He has been quoted in the New York Times and many other publications.
But he said that that the Woodwell Center works with "cities and towns helping them prepare. It's not United Nations level public policy."
The center also works with private sector companies, leaders in business and finance, the United States government, and the United Nations, he said.
"We have a range of partners," he said.
"I'm very encouraged by the private sector's rapid growth of awareness and action," he said. He said the center has has worked with investors, who "are starting to assess potential investments through the lens of physical climate risk."

The Manifestations Of Climate Change
In recent years, he said, the public has seen "the manifestations of climate change" – sea level rise, wildfires, storms, floods, drought, extreme heat, and more.
"There is more CO2 in the atmosphere he said. "That changes the range of futures we actually have open to us. The better outcomes are less likely or impossible now, because we put more carbon in the atmosphere.
"Tropical cyclones are much more likely and much more likely to be very powerful," he said.
"And the level of fire risk that we had in the western United States and Australia, we now have to live with that," he said.
 "2020 was a pretty shocking year," he said. "Not just the fires themselves, but the smoke."
On the Cape, Duffy said, there are "obviously issues with extreme weather, sea level rise, erosion, and flood risk."
With an economy based on tourism and fishing, "those things are affected," he said.
And, he said, "we're going to see hurricanes coming to the Cape. The likelihood is increasing."
Essentially, what is happening, said Duffy is, "Greenhouses gases are blocking outgoing energy that should be going out into space and cooling the planet."
"So the planet warms," said Duffy. "And the consequences of that are just very, very profound in terms of our species and natural systems. Where to grow crops… how buildings are engineered… a rapidly changing climate is just impossible to live with. Our society is based on big investments in physical infrastructure designed to last 100 years.
If the climate is rapidly changing, said Duffy, it is harder to design for what may happen.

More Fundamental Consequences 
"There are bigger, more existential issues arising," said Duffy. "Parts of the Earth are becoming more difficult to inhabit because of extreme heat, drought, water scarcity and food scarcity. There are more fundamental consequences and those are real profound."
"If parts of the world do become difficult to inhabit, the pressure for immigration grows… If there is no water, that's an emergency. You have to act. You have to just get out," he said.
"The concern is that large scale migration is just so disruptive, especially across national borders. Our political system doesn't handle that gracefully," said Duffy.
And for those who stay in extreme heat, Duffy said, "It's already documented that extreme heat results in violence on all scales, meaning domestic abuse, murder, crime, and on a larger scale, war."

"We have the ability to control our destiny"
The Woodwell Center has been working in partnership with the consulting firm, McKinsey & Company to create a series of studies and action reports, said Duffy.
The fact that "a major global consulting firm is raising the alarm about climate change" is important, he said. It helps get the issue taken seriously across the world, he said.
One McKinsey project, an article from April 2020, suggested there is a pathway to limiting warming to 1.5 degrees Celsius, which would reduce the odds of the worst effects of climate change.
"We need five major societal transformations, starting now," he said.
According to the collaborative report by the Woodwell Center and McKinsey, those five transformations are:
Reforming food and forestry
Electrifying our lives
Adapting industrial operations
Decarbonizing power and fuel
Ramping up carbon-capture and carbon-sequestration activity
In a bit of optimism, Duffy said, "We have the ability to control our destiny if we can just get our act together."
"Technically, can can solve this," said Duffy. "But the longer we wait, the harder it gets. Humans have amazing ingenuity when they put their minds to things. But I worry about the mobilization, the cooperation, the political will."
"'We' is humanity," said Duffy. It's the sum total of everything. That's why the single most important thing [President} Biden can do is show international leadership to encourage and enable other nations to reduce risk."
The United States cannot solve the problem alone, but the leadership is important, he said. 
And he said he is very encouraged by the emphasis he has seen the new President put on the climate, including appointing former Secretary of State John Kerry as climate czar.
The new President, said Duffy, is "really integrating climate change, not just throughout federal research agencies but also the mission agencies like Agriculture, Transportation, and the Department of Defense. And I hope the intelligence communities as well… It's a completely different level of emphasis."
Of Biden, Duffy said, "To say he's hit the ground running is to put it mildly," said Duffy. "He's doing a lot. He's got a good team and an ambitious agenda."
But while Duffy sees President Biden as a welcome change from the previous administration, he said, "The problem of inaction goes back a lot longer than four years."
"In 1990, we had a pretty good notion what was likely to happen. The warming at the poles, the loss of ice sheets, sea level rise, changes in our natural systems like wildfires. We anticipated it would happen and now it is happening."
But things are different now, said Duffy. "Young people are very energized by it. One of the effects is that it pushes employers. People I have talked to in industry say that employees want to work somewhere where there's some sense of societal responsibility and contribution to the public good."
Duffy said he remained hopeful. "The end of the story is not pre-determined," he said.
– Please like us on Facebook.
---

** Please support independent local journalism.
See the DONATION BUTTON AT THE TOP OF THE PAGE **

---
---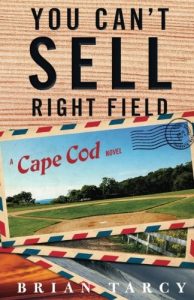 –PLEASE SEE You Can't Sell Right Field,  a novel from Cape Cod Wave about land for sale, a crooked developer, a softball team called, "The Townies," and an election.
Based on the true story of a Cape Cod development.