FALMOUTH – On the corned beef brisket-on-St. Patrick's Day scale of optimism, just now invented by Cape Cod Wave, things are definitely getting better. Rory Maguire, chef and co-owner of Liam Maguire's Irish Pub, said, "We cooked 22 briskets of corned beef this year."
"Last year we cooked eight briskets," he said. That was at the beginning of the pandemic. All of that was for takeout.
"The year before, it was 30," he said. That was 2019, before the pandemic, when things were normal.
It says here that 22 is closer to 30 than it is to 8. Therefore, corned beef brisket logic clearly says that things are getting better. Also, 16 kegs of beer have been ordered.
Yes, St. Patrick's Day is on at the local Irish Pub.
This year more than ever; Slainte…. to your health. 
---

** Please support independent local journalism.
See the DONATION BUTTON AT THE TOP OF THE PAGE **
---

In pre-pandemic days, according to Shea Maguire, bar manager and co-owner of the pub, "St. Patrick's Day was usually pretty chaotic in here."
Rory Maguire called the atmosphere in the pub in those pre-pandemic St. Patrick's Days, "controlled chaos."
Rory and Shea are brothers. The pub was founded in the mid-1990s by their parents, Liam and Debbie Maguire, who remain co-owners. Saint Patrick's Day has always been the biggest day of the year for the pub.
And then last year, the state ordered restaurants closed, beginning on Saint Patrick's Day. Liam Maguire's, according to Shea Maguire, decided to close for the big day shortly before the state order mandated it.
"We were following Ireland," he said. "Ireland had closed down," he said, so it made sense for the Irish pub on Main Street to close too.
Rory Maguire recalled that while St. Patrick's Day 2020 aas a day no one could go to the pub and have a beer. "It was also the day Tom Brady decided to tell us he was leaving the Patriots. That was one hell of a day," he said.
Although the restaurant closed, it remained open for takeout, including on that first day, Saint Patrick's Day. "The town definitely rallied to us," said Rory Maguire.
Through the year, he said, "Our takeout went up 200 to 300 percent."
One adjustment the pub has made was to start a "ghost kitchen" called The Bowl House, which made special grain bowls with protein and more. The Bowl House menu is not part of the Liam Maguire's menu, but something of a side business to supplement income, said Rory Maguire.
The Bowl House "only came about because of the pandemic," he said.
When the restaurant was allowed to open for outside dining and then inside dining, Rory Maguire said, "It was great. Everyone was so happy to come back out. There were growing pains. We had to remember how to do it. How to wait on customers again."
One big thing that occurred, he said, was that the cleaning routine was amped up. "In the beginning we were using paper plates and plastic forks until we stocked up on more soap and chemicals."
Cleaning routines, such as cleaning the bathroom, were made more frequent, he said. The restaurant added some outdoor seating and removed some indoor seating, he said. It now has 80 seats in total, compared to 130 inside prior to the pandemic, said Rory Maguire.
"We just accept whatever rule they come out with," he said. "It seems every week there is a new rule."
They have lost revenue, of course. And the lost revenue is not just in the seats lost, he said. "The late night crowd is our big thing," said Rory Maguire. "Not having that hurt."

One year into the pandemic and the Irish pub will be celebrating St. Patrick's day again, although it will be downsized. 
This year, things will not be quite back to normal. For one thing, the entire bar is wrapped in plexiglass, the staff is wearing masks, and there will be no live music.
While instrumental music is allowed, social distancing rules would take tables away. Plus, no singing is allowed. Liam Maguire's is named after Rory and Shea's father, who played Irish music at the pub regularly until the pandemic. The pub featured music several nights a week.
But for now, while there will be no live music, there will be people inside eating, talking, drinking and saying hello.
** Please see Irish Medley by Liam Maguire – MUSIC VIDEO **
"I'm really excited to even have some people inside," said Shea Maguire. "Although it's definitely going to be way less in numbers in here [than a typical St. Patrick's Day], he said he saw a bright side in that, "I'll able to walk around and talk to people."

The past year was one of learning and adjusting, said Shea Maguire. "It was so shocking and confusing at first, but hey, what can we do?" he said.
And going forward towards summer, he said, is "exciting. But we're not quite there yet."
Bringing back music will be a big step, he said. "We're definitely planning on having music. But I don't imagine there will be a full dance floor with no mask dancing at first."
Rory Maguire said, "My entertainment calendar is booked. But it's written in pencil."
"I think the summer is going to be crazy on the Cape," said Rory Maguire. "But I'm not sure how many people will be allowed to come into the restaurant. I think we'll still be doing a lot of takeout."
But there is talk echoing in many conversations, said Shea Maguire. "Everyone seems to be talking about the roaring 20s," he said. There is the expectation that such history will repeat itself, he said.
"I'm very excited for summer," he said. "And Wednesday [St. Patrick's Day] is going to be a great day. I'm excited to have a great year and actually be making money."
– Please like us on Facebook.
---

** Please support independent local journalism.
See the DONATION BUTTON AT THE TOP OF THE PAGE **
---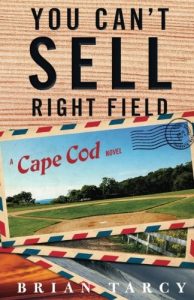 –PLEASE SEE You Can't Sell Right Field,  a novel from Cape Cod Wave about land for sale, a crooked developer, a softball team called, "The Townies," and an election.
Based on the true story of a Cape Cod development.
---