WOODS HOLE – Somewhere between Ahab from "Moby Dick", Santiago from "The Old Man and the Sea", and Quint from "Jaws"  lies Tuck Hayashi, who, ten years ago this week hooked a great white shark from his small teal skiff. He let the shark loose in minutes.
He's never let the story go. How could he?



It's the highlight of his life, said Hayashi, 63, of Falmouth. "You can't top it," he said.. "It's a pretty good story." (See the video.)

Chasing Fish
One afternoon in late September 2004 while chasing false albacore tuna in his 16-foot skiff, Hayashi, his girlfriend, Joanne Manning, and a friend he knew from playing
music, Drew Colella, entered a lagoon of Naushon Island, a private island owned by the Forbes family.
"That first day and every day thereafter were the most beautiful of the summer," recalled  Hayashi. "There was one rainy day in that two-week stretch."
Near Hadley Harbor, Lackey's Bay, and the west gutter, there is a small bridge there, and he saw birds flying on the other side of the bridge – in the lagoon he had been in many times. He had already seen false albacore jumping, and then they had disappeared. He knew they went somewhere. He figured the birds were a sign that albacore were in the lagoon.
One thing was a bit unusual. On the bridge, he saw eight people just standing there.
"They were all adults," recalled Hayashi. "I was expecting to see someone walking around with carafe of sangria. By the fact it was eight adults, all rich people, in the middle of the afternoon, I figured they were having a cocktail party. But that wasn't the case."
"One guy was hanging a fishing line over the bridge, ostensibly to discourage me from going through," he said.
He went under the bridge anyway, and the fisherman moved his line. The people on the bridge didn't say anything, recalled Hayashi.
Hayashi looked around. He didn't see any albacore.
---

** Please support independent local journalism.
See the DONATION BUTTON AT THE TOP OF THE PAGE **

---

Duunnn Dunnn… Duuuunnnn Duun…
"The first thing I see is a four-foot fin over on the left," said Hayashi. He thought, "nothing really except to go over and look at it closer.. I'm thinking, maybe it's a basking shark."
He moved the boat closer.  "I thought it was two sharks. The fins were seven, eight feet apart. I was looking at a dorsal fin almost three feet tall, and tail fin almost four feet long. I was seeing it thrash in the shallows, in a spot where you're looking at Nobska Light, practically, " said Hayashi. "And you could tell it was one fish, and  you could also tell it had some length to it."
It looked as long to him as his 16-foot skiff.
Colella said, "My first reaction was, boy that's a great white, plain and simple. At one point, it was perfectly parallel to Tuck's boat. The tail was past his motor."
"We were just hanging around. If it came up, we'd try to follow it," said Hayashi. "It didn't take long before it came over to check us out."
Colella said, "It did the whole "Jaws" thing. It came right at the port side of the boat. And then it went under the boat, and came up the other side."
Hayashi and Colella were discussing what kind of shark it was. Manning said, "I believed them that it was a shark. It looked like a shark that I'd seen in many pictures. But it was wider and fatter than I thought a shark would be. And the length…"
"It never occurred to me that we should get to the shore," she said. "Isn't that odd? It didn't occur to me until months later: Why was I not frightened?"

Born To Fish
Manning had confidence in Hayashi. Colella had confidence in Hayashi too. Hayashi knew these waters, the treacherous currents and rocks of Woods Hole. He'd been in them all his life. "First of all, Tuck is a nature boy," said Manning. "What do they call them in Woods Hole, a harbor rat. That's where it begins."
Hayashi said, "My old man taught me how to fish. He took me trolling around a lot."
He was raised in New York and summered in Woods Hole. His father was a physiology professor at Columbia University. Hayashi's father taught and did research at the Marine Biological Laboratory in the summer.
"I fished as much as I could," recalled Hayashi of his youth in Woods Hole. "While waiting for prep school to start in the fall, I was fishing my ass off before I shipped off to Deerfield Academy."
"It's the wonderment of the abyss," said Hayashi, explaining why he loves fishing. "You never know what's going to come up."

The Videographer
Hayashi, Manning and Colella stayed in the lagoon with the shark for several hours.
One boat passed through, a well-known fisherman, now deceased, Dave Masch. He saw the shark, then waved at Hayashi, and continued on. Hayashi called Masch that night, and asked him what it was. Masch said he thought it was a basking shark, and told Hayashi how to identify the type of shark.
Colella was convinced it was  great white. "I remember calling at least half a dozen people to tell them," said Colella. "Everybody on the other end of the line said, 'Yeah right. Sure.' Nobody would believe it."
Finally, it was getting dark, so they headed home. Hayashi's boat has no running lights. But his mind was blinking.
Hayashi made three phones calls that night. He called Masch. He called a friend, who called a friend, who called a friend on Martha's Vineyard, Greg Skomal. Skomal is a Massachusetts Division of Marine Fisheries senior scientist, and a shark expert.
Hayashi also called Adam Lazarus, a videographer. "You won't believe this," said Hayashi to Lazarus. Hayashi thought Lazarus might want to get some video.
"I remember that night after saying I would go out and do it," said Lazarus, who met Hayashi when Lazarus, now in Los Angeles, was a scientist at MBL
"I always had a pretty big fear of sharks," said Lazarus. "They are huge crazy predators. I know they eat people sometimes, and how they eat people is very scary. I was seeing my legs tangling like bait. It's a very terrifying thought; death by simultaneous blood loss and drowning. So that night, I basically made peace with myself and the fact that I might die. This is gonna be great footage, so it may be worth it."
Lazarus had goals for the upcoming day. He hoped to live, and get great video. What didn't fully register until 5 AM was that he was going to look at a great white shark with someone who defined himself as a fisherman.

One Fisherman's Holy Grail – Hooking A Great White Shark
"At 5 in the morning when we met," said Colella, who came along the second day, "Tuck pulled out a giant treble hook and said, 'Want to go catch a great white shark?' "
"I hardly slept at all," said Hayashi. "I'm thinking what am I going to do? I want to hook it."
That next morning, he headed out of Woods Hole with Colella and Lazarus. Manning stayed home.
"For reasons I didn't fully understand," said Lazarus, "he thought the shark would be in the same spot the next day."
"Tuck had it absolutely figured out," said Colella. "He said it must have come in on a high tide on the ocean side. It was a full moon kind of thing. The next morning when we got up, the moon was nearly full."
On the way to Hayashi's boat, they stopped in a local coffee shop and told the owner of the shop about the shark. "Tuck couldn't help himself," said Colella. "He had to tell people."
Hayashi was compelled to do something else too. He had to hook the great white shark.
"We had a small boat," recalled Lazarus. "We had quite small fishing rods with quite thin lines. This was all kinds of bad ideas rolled into one."
On the way out, unknown to Lazarus, Hayashi's plan was to catch a bluefish to use as bait for the shark. "I didn't get all the details of what happened the day before," said Lazarus. Lazarus was unclear exactly where the shark was supposed to be so when Hayashi stopped the boat and started fishing for bluefish without saying as much, Lazarus thought they were looking for a shark.
"I thought the shark could be anywhere as soon as we left Eel Pond," said Lazarus. When he saw the crest of a wave, he thought he saw a shark. Every rock looked like a shark. His heart pounded Duunnn Dunnn… Duuuunnnn Duun…… The night before, he had made his peace with death. And now he was seeing sharks everywhere.
They caught no bluefish, so Hayashi headed to Naushon.
"He had no plan whatsoever," said Colella.
Hayashi said he had something of a plan. "I was wondering what's going to happen once I hook it," said Hayashi. "I mean, I can't land the thing."
But Lazarus said that Hayashi absolutely planned to land the shark as a trophy, "and then he was going to donate it to feed the homeless."
As they got to Naushon, Lazarus recalled, "To this day, I still feel it's how the world once was. There was lots of wildlife freely walking around. It was a feeling of almost going into the wild."
Hayashi and Colella knew exactly what they were looking for. Lazarus was just looking.
"It's this pristine spot," said Lazarus. "It seemed a little unlikely for there to be a shark in there. It didn't feel like the kind of place a shark would be. There were plenty of birds around. The water was glassy but not flat."
And just like when they were fishing for bluefish 15 minutes earlier, Lazarus said, "Everything looked like a dorsal fin."
Suddenly, said Lazarus, the demeanor of Hayashi and Colella changed.
"They both are saying, there it is," said Lazarus. "I'm looking through my camera. I'm also trying to look at real life. It's not the same as looking through a camera."
"All of a sudden, maybe 50 yards away, comes up a really big fin," said Lazarus. "It takes my breath a way. The fins were so big and there was such a length of distance between them. My heart skips a beat. This is exactly what I've been scared of. I'm like, fuck! I start to hear it. It's pushing water out of the way. I started to start to film this. And I look. If I'm going to die," he said, "I don't want to be looking through a viewfinder."
Just as it got to the boat, the the shark went below the boat.
"It was single scariest moment of my life," said Lazarus.
"The shark was at least as big as our boat. If the shark wanted to, it could have easily done us in," said Lazarus. "It was biggest animal I've ever seen, except for maybe an elephant. It was at least as long as our boat. It made me feel small out there bobbing up and down like an idiot."
"I couldn't tell exactly what Tuck was feeling," said Lazarus. "I knew that Tuck was crazy about getting this shark. He made it clear that his goal was to get it."
Lazarus made something clear to Hayashi and Colella. "If you're going to go face to face with this giant shark from this tiny boat, drop me off on a rock," Lazarus recalled telling them.
They dropped Lazarus on a rock and picked up an extra passenger, who wandered in on another boat, which took off to go tell more people about the shark. "I think his name was Mike," said Hayashi of the extra passenger who suddenly appeared.
Lazarus watched from a shore side rock, and took video as Hayashi pulled out his fishing rod that was designed for bluefish.
"I thought the shark would be pissed," said Lazarus. "It was a bad idea," he said, "but if it was going to happen, I wanted the best possible shot."
Ten years later, Hayashi will tell the story to anyone who will listen. But at the time, he didn't want anyone but the video camera to see.
"I just wanted it to be a private moment, mano-e-mano," said Hayashi.
Was he sure it was legal? "Hell no, I'm  not sure," said Hayashi. "I couldn't help myself."
He threw a couple of casts. "I was behind it. I didn't give it a good lead," said Hayashi, who was deliberately trying not to hook it in the mouth. "I didn't snag it," he said. "It basically ran into the hook and snagged itself."
The hook was in the dorsal fin.
"It was like hooking a car and having it drive away," said Hayashi. "The motor was running. We weren't really being towed. A 20-pound test line would not tow the boat, it would snap."
Hayashi recalled the shark being on the line for less than five minutes. Colella said it was on Hayashi's line for 10 or 15 minutes. Lazarus said it was less than a minute. However long it actually was on the line, is less relevant than that it was on the line.
"I knew this was a profound moment in Tuck's life, right there," said Lazarus. "It was a culmination of years of fishing. It was kind of a sacred moment to see him there like that."
"It was absolute pure elation," recalled Colella. "Like there was nothing better in the whole world. I've never seen him grin like that."
"I look back on it now," said Colella, "knowing we only had about six inches of clearance between the edge of his boat and the waterline. What were we thinking? We were out there taunting a great white shark and we lived to tell about it."
The shark seemed to have no idea the hook was in the tip of its dorsal fin.
Hayashi had pinched the barb on his hook 15 years prior. "I didn't know it," said Hayashi. "I hadn't used it in years." He had pinched the barb, he said, to make the fight between man and fish more fair. It would take a skilled fisherman to pull in a fish with the barb pinched, he said.
When the shark came to the side of the lagoon, "it did one of its shallow beach rolls," said Colella, "and that's when the hook kicked off."
"There was no sense of disappointment," said Colella. "After that first five minutes on the line, it was, well what are we going to do now?"
But Lazarus recalled a sense of disappointment in Hayashi. "The moment was wrested from him a little too quickly… It was a feeling of being robbed maybe."
Hayashi said when the hook came out, "I was a little bit bummed out and a little bit relieved.
His private moment was over.
"At that moment,"recalled Lazarus, "that's when Greg came in and kind of took control of the situation."

Greg Skomal, Shark Expert
The night before, Greg Skomal was home on Martha's Vineyard where he lived at the time. He was watching the Red Sox when he received a call from a friend, who had heard about a shark over by Naushon Island.
Skomal said his friend "is a fisherman, so he's another storyteller."
"I was a real skeptic," said Skomal about the report of a great white shark. "We get reports like this all the time."
"We had plenty of historical evidence that white sharks come to Massachusetts on a seasonal basis," said Skomal. "I knew of their history. I knew they occurred here. But we didn't see a lot of them. Because of that, we knew very little about them."
Skomal was skeptical, but curious to see a live great white shark in the North Atlantic. "My only experience with white sharks in New England were basically dead specimens brought to us by fishermen," he said. The sharks that fishermen caught had been tangled up in nets. It became illegal to catch a great white shark in federal waters as of 1997, said Skomal.
State regulations, he said, were a bit unclear in 2004, he said.
Skomal took his boat from the Vineyard over to Falmouth Harbor, and then hopped in his friend's boat to go to the lagoon. Skomal had never been there before. "I threw a couple of fishing rods in the boat," said Skomal. "I figured if I am chasing a false story I'll at least take the day off and go fishing."
When Skomal and his friend pulled into the lagoon, and he saw the dorsal fin, "I knew immediately it was a great white," said Skomal. "I was almost in shock. A great white shark in this little salt lagoon."
"Once the little kid in me left the room, the scientist in me knew I had to tag him as soon as possible." No one on the East Coast had ever attached a satellite tracking tag to a great white shark before, said Skomal. "I had to get my dinosaur before it gets away," he said. "I've just seen my UFO."
"It was in essence," said Skomal, "a dream come true." He identified it as a 13-foot female.
Speaking of dreams come true, Hayashi had just finished hooking the shark when he met Skomal in the lagoon.
"He knows me by my first name," recalled Hayashi. "He's going, 'Oh, Tuck, thank you so much.' And I'm thinking, who are you?"
"He told me the story of hooking it," said Skomal.
"The first thing I said," recalled Hayashi, "was, 'You should have been here five minutes ago. I had him on the line.'  That's when I found out he's the state biologist. I was his best friend for a second there, and then I was his worst enemy."
Quickly, state wildlife officials passed a regulation protecting the shark, said Skomal.
Hayashi, with a play on words from a famous New England Patriots play during a playoff game, calls the regulation, "the Tuck Rule."

The Most Famous Shark In The World
"At the time, there were just two little boats floating around in there," said Skomal. "And I said, this is going to be huge. I wasn't referring to the fish, which is huge. I meant that this is going to draw an amazing amount of attention. This is a massive story that was going to go global."
While Skomal was assessing the situation, Hayashi and Colella were assessing their appetites. They were hungry and decided to head back to Woods Hole for a bite to eat. Meanwhile, Lazarus had already called in to work to say, "I'm chasing a great white shark. I'm not coming in right now."
So when Hayashi headed to shore, Lazarus switched boats to be on the same boat as Skomal. "When they said they were hungry," said Lazarus, "I'm thinking, are you serious? You've got the rest of your life to be hungry."
Lazarus already knew Skomal, as both had been at MBL. "I had been out and had beers with Greg before," said Lazarus. He knew how much Skomal wanted to tag the shark, and he knew he wanted to get it on video.
Skomal said he went into "intense mode," and, "we got that tag in within an hour of meeting that fish."
It was a career high, said Skomal.
Lazarus got the moment on video, just as he had gotten Hayashi's hooking of the shark. The satellite tag, like Hayashi's hook, went into the dorsal fin. "One of the most poetic parts of this," said Lazarus, "was that they were both impaling that shark for personal glory. Both know that they are going to get a lot of validation."
While each had their moment of validation, the rest of the world wanted in. "I wanted to go in and eat and go right back out," said Hayashi. "It took me a while to get back out there. By the time I did, there were 15 boats out there."
"There was no way this could be kept secret," said Skomal. "Boats started showing up in large numbers to see it. The whole situation, over the course of the next several hours, exploded into a massive event."
"It was just a big gawk scene," said Hayashi. "It was basically a big rafting party. Everybody was just floating around, waiting to get a look. The shark was just swimming around, avoiding everybody. There were times when nobody saw it for a half an hour."
Lazarus said, "Once you were with the shark for a certain amount of time, you couldn't help but get desensitized to it. The shark became a backdrop for a social event."
When people first would see the shark, said Lazarus, they would use "every swear word you can think of. Then the shark kept doing the same thing. You can only say 'wow' so many times before it just becomes part of the scene."
When the sun went down, Skomal went home and put a small bag together. "I had a feeling I wasn't going to be home for a few days." He checked his answering machine. It was full. "It was mostly media calls," said Skomal.
Skomal was a star of the worldwide news, along with the shark. New England Cable news found the guy who found the shark, Hayashi.
Within 48 hours of when they first saw the shark, Manning said, "It was on CNN, and my ex-husband in Paris saw it."

The Shark That Wouldn't Leave
The year 2004 was the year that John Kerry, a member of the Forbes family who had vacationed on Naushon Island in the past, was the Democratic candidate for president. So there were jokes about the shark and the presidential candidate.
"There was definitely a lot of humor involved in all of this," said Lazarus. "The humor death mix. The idea that this could be the last thing you do."
But the fact that the Democratic nominee for president was part of that family that owned the island gives an idea of the exclusivity of the island. "Their reaction at first was, it's really cool," said Skomal, of the residents of Naushon. "As time went on, it became laborious and tedious and constant. They were exhausted by the barrage of media."
But the shark, swimming in circles in the lagoon, stayed put. "The shark wasn't leaving," said Skomal. "I started getting deeply concerned that the animal was showing signs of stress."
By the third day, the area had been roped off to keep visitors away. Hayashi couldn't get close to the shark anymore.
Skomal was in the lagoon with a few other boats he had recruited, to try to herd the shark towards the shallow opening to Vineyard Sound, but the shark would have none of it. "There's no textbook to tell you how to get a great white shark out of a tiny pond," said Skomal. "I was consulting with experts all over the world. Nobody knew what to do."
The shark stayed in the lagoon for 13 days. At one point, said Hayashi, "I told Skomal I could hook it again so you'll know exactly where it is. He said, 'You can't do that.' "
It was Skomal's shark now, and he just wanted it to leave. "People threatened me," said Skomal. "If you don't save that shark, we're going to kill you," he said he was told. "That's how people were receiving this damn shark story. They wanted to save the shark."
"My health started degrading," said Skomal. "I had a chest cold, I wasn't sleeping. I had stress. I thought – Oh my God, is there any light at the end of the tunnel?"
"The shark was going around in these big circles in the pond," said Skomal.
Skomal said he began talking about using nets. "We talked about the most benign solution to the most severe, including putting a lasso on its tail." He contacted a fisherman in Chatham, Ernie Eldridge, who fished with a weir net, "a fish trap where you set up these big nets that corral fish into a tiny pen," said Skomal. "There are very few guys left in New England who use them."
The weir nets combined with a high pressure water pump aimed near the shark eventually forced it to swim "tighter and tighter circles" near the opening until it got to the outlet and it decided that going "over a rocky area and an eel grass bed" was the best solution.
The shark was finally free.
And then it went around the island and right into Lackey's Bay. ""Lackey's Bay is very shallow," said Skomal. So although he was disappointed that the shark didn't head out to sea with his satellite tag to start transmitting information, he was pretty sure the high pressure water pump would work to move shark. The water pump would only work in shallow water, he explained, because once the shark was deep it wouldn't care about disrupted water near the surface.
After a number of attempts, he and his team finally convinced the shark to swim out of the bay. "There were high fives all around," said Skomal. "We were ecstatic. I felt a tremendous weight off of my back."
"But it was shattered 12 hours later when I found out that, 45 minutes after the shark left, the tag came out."
Skomal went from a career high to a deep low.
"Over time, now, the wounds have healed with regards to some of the low of that," said Skomal.

Five Years Later, More Sharks
"Five years later," said Skomal, "this whole thing exploded. Great white sharks, attracted by a burgeoning seal population, began showing up in New England in greater numbers. The shark off of Woods Hole was a harbinger, said Skomal.
He has since tagged about 50 great white sharks, and discovered from the satellite tracking that a shark "goes wherever it wants. When they leave the coastal areas out to the mid-Atlantic, they dive to depths of 2,000 to 3,000 feet every day, and we certainly didn't expect that."

Two Men, One Dorsal Fin – Ten Years Later
As Lazarus pointed out, two men, for very different reasons, put a hole in the dorsal fin of a great white shark and lived to tell about it.
In each of their worlds, this truly is the stuff of legend – as good of a fish story as you will ever hear.
It involves a great white shark, and no one died. It's a pretty good story, as Hayashi said.
"It's such a significant event for me," said Skomal, "that I proposed to my wife out there. I took her out there and said, 'Did I ever show you where I saw that great white shark?' And then I said, 'What do you think about getting married?' "
The time with the shark is even more significant to Hayashi, who has not since seen 50 more sharks as has Skomal. But Hayashi has heard the whir of his fishing line as a great white shark swam away.
Recently, Hayashi was out on the waters off of Woods Hole in his teal skiff when he ran into another fisherman, and told him there is going to be a story in Cape Wave about his shark story.
"I'm so sick of hearing about that fucking shark!" said Hayashi's friend with a big laugh.
His friends will attest; Hayashi has not let the story go. It won't let him go.
Skomal said, "It was some of the highest highs of my career, and some of the lowest lows. It was an emotional and psychological roller coaster."
Hayashi, the fisherman, had a hook in the dorsal fin of a great white shark, and then it fell out.
Skomal, the scientist, had a satellite tag in the dorsal fin of the same great white shark, and then it fell out. But eventually, he got 50 more chances – and counting.
"You have your holy grail in your hand for a minute and then you have it taken away," said Lazarus. "The rest of the time that you think about it, you can only wonder, what if?"
** Please support independent local journalism.
See the DONATION BUTTON AT THE TOP OF THE PAGE **

---
– Please like Cape Cod Wave on Facebook.
Read other Profiles on Cape Cod Wave
Cape Cod Wave Magazine covers the character & culture of Cape Cod. Please see our Longform stories.
---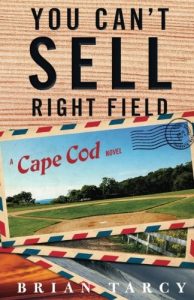 –PLEASE SEE You Can't Sell Right Field,  a novel from Cape Cod Wave about land for sale, a crooked developer, a softball team called, "The Townies," and an election.
Based on the true story of a Cape Cod development.