FALMOUTH – The Friday before Thanksgiving, Waldo Fielding, 93, married Anita McKinnon, 77, at Falmouth Town Hall. Moments later when the smiling newlyweds arrived at the Quarterdeck Restaurant for their first drink as a married couple, bartender Dana Flynn joked that, "They had to get married."
This was no shotgun wedding for the part-time Falmouth residents. Nevertheless the groom, with the grin of a life-long entertainer, parried back that his bride was just a little bit pregnant.
Fielding, a retired obstetrician and gynecologist, was co-founder of Pre-Term Health Services of Brookline, which once performed one-third of all abortions in Massachusetts. He knows there is no such thing as a little bit pregnant. There is only pregnant, and not pregnant.
His new wife, McKinnon, who met him five years ago at an Irish pub in Brookline, understands her new husband's jokes. "He's a born entertainer," she said.
Here is a short Cape Cod Wave video of Waldo Fielding singing.
In fact, from emceeing USO shows to appearing on the Mike Douglas and Phil Donahue television shows, to now singing at the Quarterdeck (and the Chart Room in the summer), Fielding has seemingly spent half of his life in front of an audience.
A friend of Fielding's Frank Avruch, an entertainer who was the nationally-syndicated Bozo the Clown on television, said of Fielding, "He can go on and on. He's just a very natural storyteller."
Another friend, Tom Sbarra of Falmouth, said, "He's wonderful. He's like a guy from the Borscht Belt. He could have been doing standup gigs with upstate New York in the 1950s."
Fielding described his story with this sentence: "I have a divided genetic basis."
He liked being a doctor. " I loved my work," he said. "You couldn't find a happier doctor than me."
But his DNA was split. "At one point in my life, I was going to drop medicine to be an entertainer," said Fielding. That finally happened about 25 years ago.
After starting his own practice in 1954, Fielding retired in 1990 when "I realized that in order to stay in practice, I was going to have to become a businessman, which was the furthest thing from my mind," he said.
What had always been on his mind was giving medical care to women. And one part of that care, from the day the US Supreme Court ruled in Roe v. Wade in 1973 that abortion is legal, was to provide safe abortions.
Prior to that, when his patients wanted an abortion he told them about a doctor he knew in Puerto Rico.
---

***** Please support independent local journalism. A donation of just $5 helps. Thank you! 
See the DONATION BUTTON AT THE TOP OF THE PAGE *****

---

Roe v. Wade – "It's only logical"
"Listen, one of the top doctors in Boston was against abortion but we were friendly," recalled Fielding. "And then one day, he and his wife and his daughter showed up at my office because his daughter was pregnant and she came to be aborted."
When Roe v. Wade passed, he agreed with it immediately. "Everything in my body says it's got to be. It's only logical," he said.
Fielding's divided genetic basis has found many audiences in his life, including a June 3, 2008 New York Times Op-Ed titled, "Repairing The Damage, Before Roe." In the compelling essay, he described with graphic detail some of what he witnessed treating women who had come to him after a botched illegal abortion before Roe v. Wade in 1973.
"Not simply coat hangers were used. Almost any implement you can imagine had been and was used to start an abortion — darning needles, crochet hooks, cut-glass salt shakers, soda bottles, sometimes intact, sometimes with the top broken off."
It's a horrifying description about a real time in America. Cape Cod Wave didn't spend a lot of time asking for details, as he had already spelled out what he witnessed for the New York Times. We encourage you to read the link.
Fielding understands the controversy. "Guys in the OB department didn't like it. They were talking in terms of religion."
But is it ending a life?
"It's ending a potential life," he said. "Now they're trying to get passed that life begins at the moment of conception."
If it is not life, what is it?
"There's no question that it is a potential life," said Fielding, "but you've got to think what about the life of the woman having the abortion. What if she doesn't have the abortion? What happens to her life?"
Abortion is not going away, he said. Legal or not, there will always be abortion. "The fact of abortions goes back to ancient times in Egypt," he said.
He described abortion as, "a relatively minor procedure."
Fielding ended his New York Times essay with this: "What Roe said was that ending a pregnancy could be carried out by medical personnel, in a medically accepted setting, thus conferring on women, finally, the full rights of first-class citizens — and freeing their doctors to treat them as such."
He had another thought on abortion. "Men can't get pregnant," said Fielding. "If they could, can you imagine how they would arrange to get it fixed?"

From The West, Destined For Medicine
"I'm from the west, Worcester, born and raised," said Fielding. Born in July 1921, Fielding was an only child.
"I was always going to be a doctor. There was no question in my mother's mind," said Fielding. "A Jewish mother never believes she has a son until he has graduated from medical school."
There was one other factor in his choice of vocation. "My father was a doctor, and a damn good one," he said. "I always admired his type of work. It was easy for me to want to be a doctor because of my father."
"My father was everybody's doctor in Worcester," he recalled. "He was a general practitioner. His work was endless. His days never really ended as a doctor. My father made house calls."
With his father as his role model, and his mother mapping out his future, Fielding had a childhood full of sports and theater and one early goal in life, "I wanted to be the best table tennis player in the world," he said. "I fell in love with the game."
Fielding rose to be the number 6 ranked table tennis player in the United States when he was 19, he said.
Also, while growing up in Worcester,  "I was in some plays," he said. "I played basketball in high school. The bench, that was my actual position." And he played first base in baseball, "still my favorite sport."

Medical School & World War II
After graduating from high school in 1939, Fielding went to Dartmouth College, and then was accepted into its two-year medical program. "There were only 24 students in each class," he said. Other medical schools at the time typically had about 150 students, said Fielding. The Dartmouth program was only a two-year program, and then students had to transfer to another medical school to finish their degree.
Dartmouth had an exclusive program run by a no-nonsense dean, who didn't approve of Fielding's entertaining, he said. The dean of the college, his idea of medical students was face down into the books," said Fielding.
But Fielding had a split genetic basis.
And as the school put on entertainment events, Fielding became the master of ceremonies. It started after one freshman show in which "the emcee was terrible. The next day I went to the professor who ran" the event and Fielding suggested he could do better. Afterward, whenever a show needed an emcee, Fielding was it. "I'd entertain the whole school," he said.
These were pretty big shows, he said. "The president of Dartmouth used to go to the shows," said Fielding. Nevertheless, the dean of the medical school, who could get his students into pretty much any medical school in the country, informed Fielding that he would not be recommended to Harvard or any east coast medical schools. It was, said Fielding, because of his extracurricular entertainment activities.
Meanwhile, while he was at Dartmouth, Pearl Harbor was attacked. "I was in the woods of New Hampshire," he said. "We had to go in some branch of the service. I went in the Navy."
He was in the Navy, in school, and on his way to another medical school. But instead of an elite east coast school, Fielding went to the University of Michigan in Ann Arbor.
There was a six-month wait between Dartmouth and Michigan. During that time, he was talking with entertainers he had met traveling through Hanover about joining up with the USO. He was seriously considering it, he said. "Instead, I got pneumonia," he said.
So he went to Michigan. "When I was in Ann Arbor, when the time came in medical school to introduce you to obstetrics, they farmed you out. I got farmed out to Grand Rapids. I was there for a week delivering babies," said Fielding.
"In the Navy, I had this interest in OB / GYN. I don't know where that came from," he said. "I took to it, and God I loved it. In practice, I used to say I'm in love with the regularity of the irregular."
While Michigan offered him a chance to immerse himself in many aspects of medicine, Fielding had to make one quick decision. "When I got to Ann Arbor, I had never been to the Midwest before," said Fielding. Yet within his second week there, he was asked to choose a hospital to do his residency. "I didn't know any hospitals. I chose great Lakes Naval Hospital in Chicago.
While there, he continued his interest in show business, including starring in a show called, "Nautical But Nice."
While he was there, he expressed an interest in taking care of native women, and applied and was accepted to get transferred to Guam Memorial Hospital, next to the naval hospital. It served only natives.

The USO Show Emcee
"Wherever I was in the Navy, whenever the USO troops would come through, I would take the role of introducing them. I was expected to entertain" until the show started, he said.
When Fielding went on stage, his name was, "Doc."

The Captain's Daughter On Guam
On Guam, "I had my own jeep. I had pre-natal clinics all over the island," he said. Life was good. And then Fielding's life quickly changed.
"I had struck up a romance with a Captain's daughter," he said, and as a result he was transferred to the island of Truk, which was more than a thousand miles away in the South Pacific. "One plane a week went there," he recalled.

The Barber On Truk
He spent six months on Truk. "It was fun. We had a great baseball team," he said. "We played the ships when they came in."
He lived in a Quonset hut. "My barber was a native man, the son of the chief of that part of the island," said Fielding. The barber told Fielding that he and his father, the chief, were put in jail when the Japanese controlled the island. "Seven American fliers were on Truk in jail with the chief and his son. All seven Americans were told to stand up. All were blindfolded and led away… all were beheaded."
Once in a while, he made it back to Guam. One time, he met "a lovely Red Cross girl" on Guam. She was from Texas.

A Crying Girl From Texas
One day, he was suddenly transferred back to Guam. He called the decision "very peculiar."
Back on Guam, Fielding invited the Texas girl to meet up with him. She did. "But she said, 'I can't get near you.' Then she starts to cry." The girl told Fielding that she had gotten drunk one night with another man, and now she was pregnant. She didn't know what to do. This was long before the Supreme Court decided Roe v. Wade.
Fielding suggested she go to San Francisco, where where she could get an abortion. "Wherever you went, you were able to get this done illegally," he said. "The morality of it meant nothing to me. The danger of it worried me." He even managed to meet her there.
He lost touch with the girl, but he remembered her story.
"Subsequent to my medical career in the Navy, I took care of many women who had had illegal abortions," he said.

Hospitals After The War, & The Singer
When the war ended, Fielding, through various connections he had made, landed a job at Chelsea Hospital near Boston. He was in charge of delivering babies at Chelsea hospital from 1947 to 1948.
Another connection he had made in the Navy helped him get his next job, at Bellevue Hospital in New York,
"While I was at Bellevue, I met a singer, Sue Benjamin," he said.
They married, and had two children.
She was a big talent, who appeared on the nationally broadcast Kay Kyser's Kollege of Musical Knowledge, as well as Lucky Strikes Hit Parade, and other network shows during the live television era of the 1940s and 1950s.
"She was so good," said Fielding. "She could do things musically that other people would look at her and ask, 'How the hell did she just do that."
On one of the shows, she was the female vocalist and Mike Douglas was the male vocalist. They became friends, and years later he got his own national television show. Fielding was immersed in her world as well as his own.
Also, while he was at Bellevue, he said, "I had an uncle by marriage that was a big timer in show business… He had had a nightclub, that was western themed. Everybody dressed western style. It was a club and a stage. One night I was hanging out with the cast, and the next thing I know it, I'm in the show."
The club had a connection with Harvard's Hasty Pudding Club, he said.
"One night they brought a guy in to play piano. He was pretty good," said Fielding. "I found out subsequently that his name was Jack Lemmon."
While he enjoyed delivering babies at Bellevue, "I needed more than that," he said. "I wasn't getting my hands surgically involved." He knew what he wanted. "I wanted a residency at Harlem Hospital."
He went to Harlem Hospital, from 1950 to 1953. He saw many women who had had illegal abortions. Besides that heartbreak, it was a great experience, he said. "I had everything I wanted when I was at Harlem Hospital. Learning, working. You learn by doing. I learned to take care of, medically, virtually everything that could be in my specialty."
His last year at Harlem Hospital, he said, "I did 300 surgeries."
And he kept his own foot in show business, sometimes putting on shows at the hospital. In his last year at Harlem Hospital, he didn't have time to write the annual holiday show, but instead manged to track down Louis Armstrong, who was "as charming as could be" and happened to be appearing on a radio show in New York at the time. Fielding recalled that Armstrong said he couldn't play his horn that day but offered to come by the hospital and said, "I'll chirp a tune."

Boston
After three years in Harlem, Fielding was invited to join Medical Associates of Massachusetts Memorial Hospital. He started January 1953.
"I still continued to do programs emceeing," he said. He somehow – he doesn't remember how – became head of an advertising club group of people in advertising, even though "I had nothing to do with advertising. " The club was called the "Tub Thumpers."
"Think back to colonial days, where a guy would beat on big tub to bring the people in and give them the news," said Fielding. One thing the club did was roasts of celebrities, such as Governor Frank Sargent, William F. Buckley or Rudy Vallee.
After a year and and a half, "in the middle of 1954, I opened my own office with my father's old-time nurse who lived in Marlblehead commuting in to work for me. I was on Commonwealth Avenue, then Dartmouth Street, then 1180 Beacon Street."
Avruch, who became friends with Fielding because of his common show business background with Fielding's first wife, Sue, said, "They moved to Boston because of his job. (Sue) was probably the busiest gal in Boston doing voice over commercials. She had this knack. She could change her voice. She could do child voices. Sultry characters. Anything."
She appeared on the Mike Douglas Show. Fielding also appeared, discussing topics such as natural childbirth. He loved television, he said, and appeared throughout his career, including on the Phil Donahue Show, as well as for several years on local Boston television, answering OB/GYN questions.
"I enjoyed doing the TV," he said. "Oh I loved it. " He wrote a book, Pregnancy, The Best State of The Union (Crowell, 1971), that he promoted on several television shows.
Also, he said, "I was doing theater in Boston. such as Willy Loman (Death of a Salesman) twice, and was in 71 plays."
He continued after he retired from medicine. "He's very serious about it," said Avruch. "It's not a joke. He's at every rehearsal. He goes over his lines so he remembers it all."

Pre-Term, An Abortion Clinic
The Supreme Court ruled that abortion is legal on January 22, 1973 in the Roe v. Wade decision. "One day, I was sitting by the pool at my tennis club when a young couple came up to talk to me," Fielding recalled. They suggested to Fielding a need for an abortion clinic in Boston.
He had two very quick reactions inside his mind, he said. "Jesus, who wants to be known as your friendly neighborhood abortionist," he recalled thinking. And, also, it had to be. "I thought about it maybe eight seconds, and said yes," he recalled.
"I had to appear before the legislature four times arguing for the establishment of an abortion clinic," said Fielding. "I wanted to be licensed by the state."
Fielding described the hearings as "a vaudeville show."
"Each time they would hammer me," he said of the hearings. "And then one guy would pull me aside and say to me, 'Don't worry about it.' "
Everything was done for show, said Fielding.
When it opened, said Fielding, "My main job was not doing abortions. I was the head of the clinic. I hired the doctors that worked there. It was a beautifully run place. Within the first year in our clinic, of the 30,000 abortions done in the state, my clinic did 10,000."
His clinic provided a full-range of OB /GYN services to women, he said. Sbarra, Fielding's friend, said, "he had one of the biggest practices going. All the ladies in Brookline knew who he was, which suited him just fine. I can just imagine the same schtick he used in club and on stage was exactly how he was in the medical office," he said.
Sbarra described Fielding as "funny and charming."
Fielding saw plenty of protesters. "They all came from Rhode Island on a bus," he said.
He retired in 1990.
In 1994, he was driving from New York back to his home in Falmouth when he heard news on the radio that there was a shooting at an abortion clinic. "First of all, I didn't know it was my clinic. Then the story kept going on. Then it was on the news that it was my clinic. I was horror stricken, but what could I do."
The killer was John Salvi III.

Retirement
When Fielding retired from medicine in 1990, he continued acting in plays and performing with his first wife, Sue, until she died of cancer in 2001.
Through his life, he has always grabbed attention.
"I met him in 1997, 1998 at the Chart Room Restaurant," said Flynn. "I was the bartender
He used to drink bloody bulls, which is vodka with Au Jus. That's how you get a guy's attention."
In recent years, Fielding has made the rounds as a singer. "He has a repertoire of songs that's not limitless but it's pretty extensive," said Sbarra. "And he has a limitless array of one liners he can provide as well."
"I was not a singer." said Fielding. "I only became a singer about five or six years ago."
But Sbarra says, "He's a natural. He just takes over the room. They have an open mike kind of arrangement at the Quarterdeck. When Waldo gets the microphone, nobody else is getting on the stage the rest of the night."
Fielding said his style is "from the era of Sinatra. Not like Sinatra, from the era."
Flynn said of Fielding, "He talks a good song. But he's very charismatic. He has his own following. Of course, none of his peers, because they are all dead."
Fielding and his new wife, Anita McKinnon, spend half their time in Brookline and half in Falmouth. "As Anita will tell you, if there's a microphone Waldo will grab it," said Fielding.
McKinnon concurred. "If Waldo is in your company, it's going to be a good time. He's very smart and he loves to tell stories. He's very entertaining and he is happy entertaining people. As soon as he has a microphone in his hand, he can sing, he can dance, he can entertain."
Life is rich.
---

***** Please support independent local journalism. A donation of just $5 helps. Thank you! 
See the DONATION BUTTON AT THE TOP OF THE PAGE *****

---
– Please like us on Facebook.
For more stories like this, see Longform stories 
---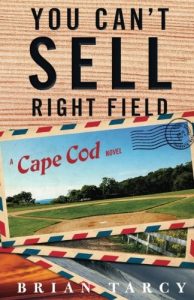 –PLEASE SEE You Can't Sell Right Field,  a novel from Cape Cod Wave about land for sale, a crooked developer, a softball team called, "The Townies,", and an election.
Based on the true story of a Cape Cod development.
---