HYANNIS – "When the patients need to be transferred to the ICU, that's when we see how stressed the nurses in the Covid unit are," said Bette Texeira, a registered nurse in the critical care unit of Cape Cod Hospital.
Texeira, 47, of Mashpee, was first interviewed by Cape Cod Wave Magazine on March 24 about the situation inside the hospital.  She updated us on April 3, and again April 17. She is a registered nurse who has worked for Cape Cod Hospital for 26 years, the last seven in the critical care unit.
Texeira has agreed to give updates, when she has time, to Cape Cod Wave Magazine on what is happening in the hospital and specifically in the ICU during the Covid-19 pandemic.
She began this update by talking about the situation throughout the hospital. "There is a lot of caregiver burnout going on," she said.
"The caregiver fatigue is real. Just because the hospital is running at optimal staff, it is not really a reflection as far as burnout goes because of the level of care these patients are requiring."
There are less than 20 Covid-19 patients in the hospital and less than 10 in intensive care, she said.  "We can only consider ourselves lucky and keep praying that those numbers don't hit us like they were thinking they might," she said.
"The caregiver fatigue is real," she said. "Just because the hospital is running at optimal staff, it is not really a reflection as far as burnout goes because of the level of care these patients are requiring," she said.
"I am not down there, but in the Covid unit, there are five patients, all with Covid, to one nurse," said Texeira. "If you can imagine being in one room with one patient for 45 minutes, and hoping that those other patients don't need something while you are locked in the room with that one patient," she said.
Texeira cited the equipment nurses have to wear to care for patients as well as the level of emotional and physical care that must be give to each patient as some reasons for the caregiver burnout.
Burnout is happening, she said, because of all the extra work required per patient. "I don't know if it's because their families aren't there and they are all requiring oxygenation so there is not even a regular telephone call," she said.
"But everything [the patient] does requires some sort of intervention. Everything they do is exhausting for them. They become extremely ill."

A Union Negotiation: Hoping For More Nurses
"At the hospital as a whole, we are all leaning on our union representation. They are speaking with administration and expressing our concerns about the overall burnout that we are seeing," said Texeira.
"We are negotiating for a few extra nurses on the floors for some assistance for these nurses inside these units.  Texiera said the nurses could be used for what they call "a runner."
As an example of what a runner would do, she said, "If I am stuck inside a patient room and another nurse doesn't have an assignment could run for medication I need or respond to another patient or whatever," she said.
Texeira called the union negotiations on the issue "a start. It's helpful when they can offer us extra help."

The Domino Effect, Staff Members Are Sick
"As a whole, everybody who in working in healthcare right now have all got to make adjustments in our lives to make sure we are strong and able enough because the patients in the hospital, with or without Covid, seem to be requiring a higher level of care," said Texeira.
People who are sick and, without a pandemic, might normally come into the hospital are instead, she said, "trying to manage their symptoms at home and are even sicker when they come into the hospital."
"That is presenting a whole other set of problems," she said. "Now something that was very small and easily managed is now very big," she said.
"We are seeing multi-system failure because they are managing their symptoms at home," said Texeira. "Then it's a domino effect."
Staff members at the hospital have become sick, she said. "A couple of staff members are out now with Covid. We're worried about them." Texeira said the staff is worried about those the sick staff members were around, including other staff. 
"The stress is overwhelming sometimes. Just the stress of being in this environment," said Texeira. "But we're still here and doing the best we can to take care of patients."
But Texeira speculated that the reason many health care workers across the country are getting sick is because "they are all so exhausted, their immune systems are not as strong."

Her Health, & Your Health
"My physical health is okay," she said. "I hit a little patch of stress, little back issues. I didn't really injure myself. But the 12-hour shifts are tough," she said.
"You have very little time in a 12-hour day to sit down and take a break, or go to to bathroom, or eat lunch. The care is just continuous," said Texeira.
Because of her back issues, Texeira said she has been seeing her acupuncturist weekly, meditating, and "trying to do an online gym."
She recommends everyone devote time to physical fitness, especially during the pandemic. "Keep yourself active. Keeping your lungs healthy and active would benefit everybody," she said.
"At the end of the day, this virus is about immunity. If you have a strong immunity and a strong physical healthy system, you have a better chance of not getting hit hard if you do get the virus," she said.

In Favor of Reopening The Economy, But Carefully
"In the healthcare field, we feel it is extremely selfish of people to think that we should open everything up and got back to life as normal. If we do that we will see a huge spike that our already exhausted healthcare workers will struggle to handle," said Texeira.
"If it's not done carefully, this whole thing could end up in a catastrophe," she said.
As for people demonstrating to reopen Cape Cod, Texeira said, "It's an oxymoron when people are standing outside with a mask on asking people to open everything up again."
"If it's not done carefully, this whole thing could end up in a catastrophe." Bette Texeira, ICU nurse at Cape Cod Hospital talking about reopening Cape Cod too soon.
On the other hand, she said, "I definitely feel there needs to be a plan to reopen."
There may be something like a "highest priority to lowest priority, she said. And while that can sound logical, Texeira said, "Every business is essential to the person that owns that business."
The hospital staff has had an outpouring of support from the community, said Texeira. A number of items have been donated, she said."We absolutely appreciate it," she said.
The staff is doing what it can to help as well, both those in the hospital and throughout the community, she said.
In the gallery below, Texeira is wearing a shirt designed by RN Jessica Letendre of ICU. Donations for the shirts go to a nurse who is out of work with cancer during the pandemic, said Texeira. Her orange mask donated by Cape Shark in Chatham, and the necklace was made and donated by Cape Cod Chokers, she said.
STORY CONTINUES BELOW GALLERY.
And the staff, knowing how the community is hurting, is "trying to buy locally and support local businesses as well," she said.
"We know they are hurting too," she said of local businesses. "At the end of the day, we are all trying to support each other."
"I 100 percent believe that these businesses should be allowed to reopen," she said. "But there should be a plan in place. Which businesses, number of hours, restrictions on the number of people, social distancing. I just feel in small increments, whoever is in charge, there needs to be a plan in place for smaller businesses to reopen."
And while Texeira hopes things can start to open soon, she said, "If anything opens before June 1, I'd be surprised."
"I feel real bad for the people that have to make those decisions," she said.

Thinking Of Others, Graduating Seniors
"For right now, what's important is for everybody to take a second and think about all our seniors who are supposed to be graduating," said Texeira.
Missing out on graduation is a big loss, she said. "Maybe we can find some way to support them."
Texeira suggested signs with pictures of graduating seniors could be put up to support the seniors.
"I hope people who are stressing out at least take the time to consider what other people are losing. It doesn't always have to be about the bottom line. We're all in this battle together. We're all losing something together."
– Please like us on Facebook.
For our other coverage see Cape Cod Covidispatches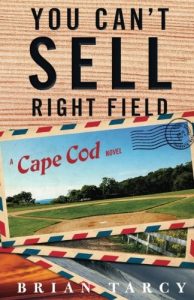 –PLEASE SEE You Can't Sell Right Field,  a novel from Cape Cod Wave…. about a huge piece of land for sale, a crooked developer, a softball team named The Townies, and an election. Based on the true story of a large Cape Cod development from the early 1990s, and Cape Cod softball.