CAPE COD – Two prominent conservative voices are among the 100 or so who have gathered and plan to gather again to rally in favor of re-opening Cape Cod "to keep the pressure on and to keep the conversation going," said Adam Lange, 
Ronald Beaty Jr., Barnstable County Commissioner, said, "We want a plan of action to be put in place… They dove into this thing without figuring a pathway out of it."
Cape Cod Wave Magazine reached out to the two with the hope of understanding the logic of the movement and what exactly the phrase "Re-Open Cape Cod" means.
According to state figures released this week, in the Cape's 15 towns, 860 people have tested positive for Covid-19, and 43 people have died from the illness. Massachusetts has the third highest number of cases in the nation.
Despite the lack of nuance in the phrase, according to both Beaty and Lange, their goal is not to get things back to exactly how they were before the Covid-19 pandemic hit the Cape. But they say, they do want action.
Lange, founder of the United Cape Patriots, which he described as "frustrated conservatives who are biased towards action whereas our Republican party is biased towards inaction."
The rallies, said Beaty, are "primarily to get the attention of the governor. There doesn't seem to be too much of a priority to get the economy going and get people back to work."
Governor Charlie Baker made a good decision to appoint a task force to work on a plan to reopen the economy, said Beaty. "But this is something that should have been in the preliminary planning stages weeks ago."
"We want to get the message out that people are suffering and this economic shutdown has its own economic consequences," he said. "I'm reading about a dramatic rise in domestic abuse, alcoholism and drug abuse. People have too much time on their hands and they really can't go anywhere."

What Kind Of Plan?
As for what the plan should be, Beaty cited things like figuring seating capacity in restaurants and how to run a regional transit authority safely. "It will be very complicated… I'd rather leave it to the committee," he said.
Lange said he specifically wants to the state to "embrace the federal, CDC-approved phased plan of action."
Lange said that on April 19, when the group was demonstrating, the Cape had met the phase one criteria by having a 14-day downward trajectory of cases.
At that point, by Lange's logic, the Cape should have entered phase one, allowing some business and strict social distancing. But, Lange said, it has since gone up because 60 people were found to be infected in a Brewster nursing home.
"There's an argument that says strip the nursing homes out of the metric," he said. Lange mentioned the argument but did not make it. 
At the time of the rally, Lange said, "It was designed to make people look at the metric and say, hey, we're not that bad."
And he said, "It's still less than one percent of the population." There is no steep ramp up of cases, he said.
Lange said he has been studying the numbers. "This is probably going to go on for a long time, onesie-twosie, a few more cases and a few people go home and that will be our story here in Barnstable," he said.
Lange said that the state should allow individual counties that are doing better, such as Barnstable County, to open sooner than a more densely populated county such as Suffolk County. "We want the governor to say, I'm going to open the state county by county."
In Barnstable County, where Beaty is a commissioner, Beaty said a working group to study how to reopen Cape Cod has formed. The group includes the county officials, the Cape Cod Chamber of Commerce, business leaders and boards of health.
"On Cape Cod, we're trying to customize it," said Beaty. "We're very different from other parts of the state. We're very dependent on tourism here."
The Cape is dependent on the hospitality industry, the hotel and restaurant industry and tourism. There's a large art and cultural community down here. They're hurting badly," said Beaty.
And, said Beaty, there is "a domino effect" that towns will lose tax revenue.
Lange said, "I hope the metric behaves itself and we can shift into phase one in the coming weeks, which is what I expect."

About Trump Support & More Than Just The Economy
The last rally that was staged by Lange and United Cape Patriots was about the Second Amendment and their argument that gun stores should be considered essential businesses.
That rally and the Open Cape Cod rally are related. One thing both had in common, besides Lange's involvement, was there are vocal, visual (with signs, Trump masks etc.) supporters of President Trump who attended each rally.
While there was overlap, Lange said, "it was different crowd" at the gun rally than at the Open Cape Cod rally.
Interestingly, both Lange and Beaty, while still strong supporters of the President, had somewhat mixed reviews of his performance during the pandemic. Cape Cod Wave interviewed them both at a pro-Trump rally during the impeachment trial.
"He gets a bad rap sometimes," said Beaty. "He has his good days and his not-so-good days. He loves the country and he's trying to do the best he can… He gets good press and he gets bad press."
"He's done a good job under the circumstances. He has a couple of issues and stuff," he said.
Lange said, "He owns it. He owns the economy. He owns the infection rates and the deaths from this virus. He didn't create this virus, but he owns the results."
As for what the President is doing, Lange said, "He's doing the right thing. He's balancing the economy and the health risks. His phased approach is great."
Beaty, a strong supporter of all Second Amendment rights, did not attend the pro-gun rights rally.
And both had other things, besides reopening Cape Cod, that concerned them about government's response to the pandemic.
Lange cited the "governor closing our gun stores" as a "rallying cry."
"There's no path now for a citizen to buy a bullet or a gun," said Lange.
Asked what was essential about a gun, Lange said, "The Second Amendment wasn't given to us by government, and they shouldn't be able to take it away."
Beaty said, "We still need to preserve our Constitutional rights. There is no emergency to the Constitution."
Constitutional rights, Beaty said, "have been trampled in this state."
Asked which rights, he said, "I can't go to church anymore."
Beaty cited a pastor in western Massachusetts who "is catching all kinds of flack" for holding services even when he is "taking all kinds of precautions like using hand sanitizers and keeping social distancing."
Both Beaty and Lange said they adhered to social distancing at the rallies.
"I did keep my distance from people except for one instance where I took my picture with Adam," said Beaty. "What's that, 30 seconds?"
LEAD PHOTO BY ADAM LANGE
– Please like us on Facebook.
For our other coverage see Cape Cod Covidispatches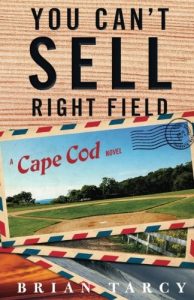 –PLEASE SEE You Can't Sell Right Field,  a novel from Cape Cod Wave…. about land for sale, a crooked developer, a softball team named The Townies, and an election. Based on the true story of a Cape Cod development from the early 1990s, and Cape Cod softball.