HYANNIS – "For me and probably most of the staff, not just the nurses but everyone at the hospital from doctors to housekeeping, I think we're emotionally and physically exhausted," said Bette Texeira, a registered nurse in the critical care unit of Cape Cod Hospital.
Texeira, 47, of Mashpee, first updated Cape Cod Wave Magazine on March 24 about the situation inside the hospital.  She updated us again on April 3. She is a registered nurse who has worked for Cape Cod Hospital for 26 years, the last seven in the critical care unit.
Texeira has agreed to give updates, when she has time, to Cape Cod Wave Magazine on what is happening in the hospital and specifically in the ICU during the Covid-19 pandemic.
"Unfortunately, we've had some deaths, and several admissions, she said on Friday. "It's been consistently high but the sense I have is that it's not going to go higher… I'm not saying that we've peaked. We're just kind of holding even."
"I think we're going to stay like this," she said. "We'll stay consistently busy for a long time. I don't think it's going to be busy and then over. The numbers are going to keep consistently coming in. Positive people will keep coming in."
"Four to six months," said Texeira. "That's what I myself am prepared for right now in my mind."
While Cape Cod has an older skewing population, Texeira said, "most of the patients, in my eyes, have been in the 40- to 70-year-old range.
"I'm not sure if it's because our elderly population has done such a good job staying home or what," she said, but most people affected have been middle aged to late middle aged.
"We've even had some as young as 30-years old, in that age range," she said. 
People who get ill, of all age ranges, she said, are getting "extremely ill. These people have single organ failure. Their lungs. They are extremely sick."
And even recovery will be daunting, she said. "When these people are getting intubated or requiring ventilation, they are just not able to recover to where they were," she said. "We're going to have to wait to see how people recover from this lung wise," said Texeira.
And getting that sick will mean people will have "a long-term co-morbidity. So say next year they get sick with pneumonia, because they had this virus their lung viability is worse than someone who was not sick with it."
And fewer patients have been showing up at the hospital because other testing places have opened up across Cape Cod. Patients who test positive for the virus manage their symptoms at home unless it becomes severe, she said.
But hospitalizations and people needing critical care have increased enough that Cape Cod Healthcare is opening two new Covid units outside of Cape Cod Hospital or Falmouth Hospital.
One is at the Royal Falmouth Nursing and Rehabilitation Center in Falmouth, another will be at the former Wingate at Brewster nursing home, and a third at Joint Base Cape Cod. Texeira said she will be working a day or two a week at the unit on Joint Base Cape Cod.
Personal protective equipment is holding up so far, said Texeira. "The hospital still has a stock that we're using… We're also using supplies that the community has donated at the times we don't have to be in our heavy gear."
While the hours are long and the stress can be high, Texeira said that because of the uniqueness of the Covid-19 virus in which family members cannot interact with patients, hospital staff members are providing extra emotional care. Over time that can take a toll, she said. 
"The problem is not just the care that the patients require, both physical and emotional but also the care that is required for yourself and your family," she said.
The staff of the hospital has been pulling together, she said. "It's extremely difficult. Other than my colleagues, who have become my family, we don't have our support system, our kind of shoulder to cry on right now," said Texeira.
"We're depending on each other right now. We making each other laugh. We're crying on each other's shoulders, and we're getting through this together," she said.
"We're managing because this is our community," said Texeira. "This is our family. These are our neighbors."
The sense of community has been reciprocal, said Texeira. "We're all getting an abundance of support from everybody outside of the hospital," she said.
"I can't say that people could possibly do more. The outpouring of support from the Cape Cod community from Falmouth to Provincetown, from businesses to people in their private homes, has been absolutely astounding," she said.
"Every day going into work there has been some token of appreciation from a business or from someone in the community. That goes for Falmouth hospital, fire departments, police departments, everyone on the front line has been feeling the appreciation from the community," she said. 
At this, Cape Cod Wave Magazine passed along that we had been asked by many people in Facebook comments to pass along gratitude to Texeira and the staff. "That right there is what helps us get through this," she said. "It means so much."
"One thing about the Cape Cod community is that in this time of despair, I feel like everybody is just one. We're all in it together."
"I literally want to thank everybody for all their support and to continue to share that support on Facebook all other types of places." 
"We all greatly thank our communities for doing their part and respecting the social distancing, she said. "It is allowing us to care for all of their loved ones inside the hospital while families cannot be there."
When Texeira gets some time off between her eight straight days of 12-hour shifts, she said she runs into people working outside of the hospital who are also putting their lives at risk to serve the community.
"It's extremely anxiety provoking walking into a grocery store, she said. "I praise the people working there. I am a lot more protected in the hospital than they are. I feel their stress pain and anxiety," said Texeira. "But like the rest of us, they probably need their job."
As for how she escapes her stress on her time off, she said, "I don't turn on the TV. I'm outside. Even before all of this, Cape Cod is known for its beautiful trails and beautiful beaches."
With everyday life mostly shut down, Texeira said, "just watching Mother Nature heal itself has given me a lot of satisfaction. Everyone is being asked to stay home. There is a lot less stress on the environment."
"Things are a lot more quiet and more serene. You can really sit and meditate and take in the quietness of the world," she said.
There are rules for walking outside, she said. "You respect each other's personal distance. I personally feel like people are really starting to respect each more more, as a whole."
"In such a horrible situation, in what we've all been going through," said Texeira, "if that is what we get out of this, that people will respect each other, I guess it was for everybody's benefit."
EDITOR'S NOTE: Texeiria has agreed to check in with Cape Cod Wave Magazine with approximately weekly updates – when she has time. We wish her and the staff at Cape Cod Hospital safety, and we know we are not alone in saying thank you to all health care workers working on the front lines of this crisis.
– Please like us on Facebook.
For our other coverage see Cape Cod Covidispatches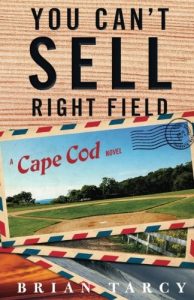 –PLEASE SEE You Can't Sell Right Field,  a novel from Cape Cod Wave…. about land for sale, a crooked developer, a softball team named The Townies, and an election. Based on the true story of a Cape Cod development from the early 1990s, and Cape Cod softball.