CAPE COD – The good news in the market for fish, with everyone cooking at home, is in retail. "We're booming," said Mark Achille, manager of Nauset Fish Market in Orleans.
Mac Hay, owner of five fish markets – in Provincetown Wellfleet, Eastham, Chatham, and Dennis, said, "Retail is definitely up."
And Matt Rocheleau, co-owner with his wife Susan of The Clam Man in Falmouth, said, "We're doing 70 percent more in retail" than usual at this time of year. "But that's only because the restaurants are closed."
While people are cooking and eating more fish at home, they are not doing so in restaurants, and that has decimated the wholesale fish business. Both Mac's Seafood and The Clam Man provide wholesale to restaurants, in addition to retail.
In addition, Hay owns four restaurants – Mac's Chatham Fish & Lobster, Mac's Fish House Provincetown; and two restaurants in Wellfleet, Mac's Shack, and Mac's On The Pier. "I get to see the whole spectrum [of the business]," he said.
"Our restaurant sales are down 75 percent," he said. "And wholesale is a fraction of what it was."
"We have a new mission. It's to survive." – Mac Hay, owner of Mac's Seafood
The Clam Man normally supplies about 30 restaurants and nursing home type facilities at this time of year, said Rocheleau. Since the shutdown order by Governor Charlie Baker, he said, The Clam Man is supplying "maybe about a half dozen," places with wholesale fish.
The few restaurants that are still ordering fish wholesale are not ordering a lot, said Rocheleau. "It's five pounds of this, two pounds of that… it's basically people staying open to keep employees working. Nobody's killing it as far as I know."

The Retail Scene
"Customers are really happy we're open right now," said Rocheleau.
"It's not a summer crowd," said Achille, "but there's definitely an influx of strange faces. I've been in this community for so long, I know a lot of people."
"They're coming in in their protective gear," said Achille. "We're getting a lot of people from New York and New Jersey. They're not quarantining. They're just coming up here and going at it."
Asked how the customers have been in Nauset Fish Market, Achille said, "There's been no granny fights or anything."
Achille said he is "obviously keeping the six feet social distance" from customers in the market. Customers, he said, do not stick around. "People come in and run out," he said.
Rocheleau said he has also seen new faces coming into The Clam Man, but he attributed it not so much to visitors as to customers who miss their restaurants and know that the Clam Man supplies many of those restaurants.
And Hay said he has seen some second homeowners come in, but that is the normal clientele at this time of year as folks often come in the spring to begin opening up their houses. 
What has been different, all said, is that people have been buying more fish and freezing it. 
"The old timers are still coming in every day," said Achille, "but a lot of people are getting stuff to freeze."
When the restaurants first shut down, said Hay, retail customers "were buying four pound of fish and freezing it. Then they realized they didn't have to do that."
The market is open and operating under social distancing rules, he said.
And Hay said customers "are following the rules on the Outer Cape. The further you get away from Boston, I think, the more people obey the social distancing."
"You get some people that are super conscious and clearly aware," said Hay. "And you get some older people that come in without masks and gloves and I think you might feel safe, but you're not," he said. 
"We're only allowing four people in the store at a time," said Rocheleau. "We're using a double glove system," he said.
"We have surgical gloves on our hands and a rubber glove for dealing with the fish," he said. The double gloves are changed for every customer with a hand washing in between, said Rocheleau. "We're going through a shitload of [gloves]."
 "We're requiring everybody to wear masks," said Hay. "We're doing sanitation on a regular basis. Everybody is wearing gloves like they normally do." There are hand sanitizers for use in the market, said Hay.
Hay said he is very aware of the behavior of others. "We had a delivery driver come in not wearing a mask," Hay said, and he politely raised the issue with the driver. "He's going from location to location and who knows what other companies are dealing with," said Hay.
Fish markets are mostly selling "the usual, "salmon, cod, haddock, scallops and swordfish," said Achille.
Rocheleau said, "lobsters are a crazy thing right now." They had been priced cheap but just jumped in price because China and the market in Asia opened back up, he said. 
Hay said that some customers have complained about the quick significant raise in lobster prices, but he said, "The fisherman are getting back to work and are able to sell some product."

Checking On Employees
While there are concerns for business and safety of customers, fish markets are also doing all they can to keep their employees healthy.
"I ask them every day if they are okay health wise, and also mentally," said Rocheleau. "It's a huge part of our communication system."
Hay said that he has worked with employees and allowed those that do not feel comfortable working now to leave and know that their job would be available again. "We would not hold it against them. We want them to feel safe. Everyone has their own health issues."
"Every employee is different," said Hay. "We try to staff ourselves to allow people to rotate out when they need a break."
It can be stressful to work in retail at any time. It is certainly stressful to work in retail in a pandemic.
"Customers are so understanding," said Hay. "There's a new level of patience I've never seen before. It's not just empathy and appreciation.   They're very thankful for the service that we are providing. We provide a glimmer of hope that there will be some normalcy."

The Wholesale Market & Friday The 13th Of March
"On March 13th, we knew," said Hay. "The dining room was definitely a lot slower. On Monday, [the state] announced it was the last day [that restaurants could be open for dining]."
With his restaurant slowing, Hay knew that other restaurants supplied with fish from his wholesale market were in the same boat. That meant trouble for his wholesale business.
Rocheleau said his wholesale business has suffered from bills not being paid. "When everybody shut down and the economy came to a screeching halt, the standup restaurant guys kept sending in payments every week even though they're closed."
Others, said Rocheleau, "disappeared from the face of the Earth. Some were longtime customers. " Calls Rocheleau placed to many restaurants owing The Clam Man money were not answered or returned, he said.
"Or if they answer, they're upset," he said. "But if you went into their restaurants and you ate and drank, you paid." When those restaurant owners don't pay for fish they purchased, it is not different, he said.
Whenever the economy does reopen, Rocheleau said, "the guys who aren't paying now are going to have to have a whole new business plan going forward."
And while the forced closing of restaurants has devastated the wholesale market, Hay said, "There has recently been a little bit of good news lately on the wholesale side of things."
As people have gotten a bit more used to the new rules of life, some restaurants are having a slight uptick in orders, he said.
"Things are starting to pick up a little bit… It seems there is a touch of optimism in the air," said Hay.

The Unknown Path Forward
Hay said he has been "watching the curve" and he feels things may be leveling off. "I was expecting the numbers on the Cape to double, and I haven't seen that," he said.
Unless there is a vaccine, Hay said, even when restaurants open they may be forced to operate at half capacity. "Maybe they'll allow outdoor seating and 50 percent indoor seating," he said.
"I'm expecting to have a 50 percent summer," he said. Just being down four or five percent would hurt a lot, he said. "Fifty percent is massive for us," he said.
And Rocheleau said, "I'm real worried. For us to let only four people in at time during the summer is going to cause a tremendous amount of traffic outside."
"It's going to have a ripple effect. It will be devastating across the board, he said.
Hay said there is no choice but to "adapt and shift to the obstacles and circumstances. We have to reinvent what we do."
Hay said he has already started that reinvention process by offering a delivered meal for two people for $20. "If somebody said I'd be doing this a year ago," he began, leaving the statement unfinished.
"There's so many aspects to this," he said. "There's the sales side, how do we continue to generate revenue. And then there's the whole side of how do we carry ourselves with no profits, with no money allocated to growing our business."
In business, Hay said, "You're either sinking or you're growing. You're doing one or the other."
The idea now is to make smart business decisions "in order to survive," he said. "We're not going to stick our head in our shell and hide. We need to keep moving forward."
"We're not trying to make money, we're just trying to keep the wheels turning," said Hay. "We're putting 2020 on pause as far as revenue. We have a new mission. It's to survive."
"That's what we did the first five to eight years in business," he said. "We didn't make money. We reinvested everything back into the business."
"Now it's a different landscape," said Hay. "We're learning every day." Hay said.
"I don't think businesses should throw in the towel for the summer," he said. "Businesses need to keep themselves going. It's so important for the micro-economy we have here on the Outer Cape."
And so Hay said he is optimistic. "I'm optimistic that even if it's a 50 percent summer, that's better than no percent."
– Please like us on Facebook.
For our other coverage see Cape Cod Covidispatches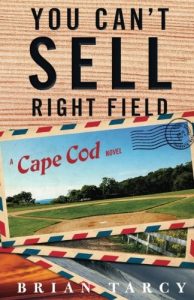 –PLEASE SEE You Can't Sell Right Field,  a novel from Cape Cod Wave…. about land for sale, a crooked developer, a softball team named The Townies, and an election. Based on the true story of a Cape Cod development from the early 1990s, and Cape Cod softball.