FALMOUTH – I am forming a band called, "Local Crap." We'll do story songs, just like Bob Dylan. Here's one that rocks. I call it, "Tangled Up In Boo":
     Late Friday evening the Facebook was streaming, and Steve Moulton was going to bed.
     He saw Cape Cod musicians called "local crap," and he started seeing red.
     The Casino FX Facebook page insulted locals, and that's when things got rough.
     When Steve shared the insults with his network, the anger couldn't spread fast enough.
This a story about a place called the Casino FX and a Facebook page, called "Boycott Casino FX," that got more than 2,000 likes in three days. This is a story about the power of mean words in this social media age.
Hometown pride can be a powerful thing. Falmouth Heights and specifically the spot where the Casino Wharf FX (the official name) now sits, is something of sacred entertainment ground for those of a certain age, especially for musicians. (See also, Very Cape Cod Proud)
Ryan Buckley, who created the Boycott page unbeknownst to Moulton, said the Casino's Facebook posts on Friday night were "an exercise in what not to do on social media" – which is anger someone so much that they start a Boycott page capable of getting more than 2,000 likes in three days, and then a front page story in the local newspaper.
"We're mortified and appalled," said Casino FX General Manager Tom Paulini, who said the posting was by a fired ex-employee who inadvertently was not removed as a Facebook administrator. "We're extremely upset about it" he said, stressing that he apologizes..
The Casino FX is owned by FX Messina Enterprises of Braintree, a company that describes itself on its website as "a leader in New England Real Estate." Cape Cod Wave left three message with FX Messina Enterprises asking for comment for this story. Calls were not returned.
The Casino FX is a high-end nightclub/condominium building on Falmouth Heights beach that a decade or so ago replaced a beloved divey beach bar, the Casino By The Sea.
When the worn-down Casino By the Sea building and spectacular beachfront property were sold, the town or maybe the land-saving 300 Committee, which buys lots of open space, should have probably bought the land and just extended the existing public beach. Or maybe someone could have saved the Casino By The Sea and kept it as the coolest place in Falmouth.
Could have, should have… did not.
---

** Please support independent local journalism.
See the DONATION BUTTON AT THE TOP OF THE PAGE **

---

Shared Anger
The negative power of angry people who feel they and their entire community have been insulted has been fascinating to watch in this little town – viral, emotional, and suggestible. As Moulton said, "Social media basically took down Egypt. It took down an entire country."
The Casino FX, obviously, is not Egypt. But social media is social media. Everywhere.
Raw, prideful, shared anger at a perceived common enemy is emotionally appealing, especially in the modern Facebook forum that allows little room for nuance. Of course, nothing Friday night on Facebook looked like nuance.
Insulting a community of artists, a community college (really!), and several other businesses is not perceived as the best way to ingratiate a business to a community.
Yet this story is more than just about a social media kerfuffle between a local business and a community of musicians with hurt feelings. It's more profound, because business schools should teach this story.
Especially what happens next. A whole lot of people are watching.

"It didn't sit well with me"
When the musicians at the Casino stopped playing for the night, the original "local crap" posting appeared on the Casino FX feed. The posting started as a brag about how great the night at the club was with great Boston bands, and ended with the phrase "not the local crap!"
Friday night, Steve Moulton was on vacation in Vermont, where he grew up, when he checked his Facebook feed. He was one of 500 or so people who had liked the Casino FX Facebook page, so the Casino's posts were part of his feed.
When Moulton saw the "local crap" comment," he said, "It didn't sit well with me."
He wrote on the Casino page, "Hey, you shouldn't call local musicians 'crap'" He suggested they take a course in social media marketing "and learn from your mistakes"
Things escalated. He was called "Stevie" and then a "backwards Cape Codder," and then "STEVERINO." In the Facebook conversation, the Casino FX poster said Cape Cod bands were only qualified to play yard sales off Cape, and ridiculed the value of a Cape Cod Community College education.
Moulton had enough. He shared the conversation with his network.
That same night, Ryan Buckley, a drummer with the Falmouth band, Third Degree, was online. Musicians tend to be up late, said Buckley.
Friday night. Late. Angry comments ensued, virally. By morning, Buckley, fuming over the insults, started the Boycott page.
Twelve hours after the original Facebook post, the Casino FX responded again to Moulton, suggesting that "90 percent of all businesses in Falmouth (would) fold before we ever did."
The message was also shared to the Boycott page. In less than 24 hours, 500 people had liked the Boycott page.

A Disgruntled Ex-Employee?
Back in June, according to Paulini, someone from an unspecified department at the Casino FX was fired for performance issues. That person was one of five Facebook administrators for the business, according to Paulini, who said he was not one of those administrators.
The Casino FX, said Paulini, has never taken social media seriously. Many times, social media consultants had asked to help and Paulini's answer had always been the same, he said. Not interested.
There was so little interest in social media at the Casino FX, that when the person who was an administrator for the Facebook page got fired, that person was not removed as an administrator, he said. In fact, there really has been no one in charge of social media for the Casino FX. That's how this happened, he said. Lack of oversight. He apologized for that lack of oversight. No excuses, he said.
The night of the "local crap" posting was very busy at the club, he said, and no one would have had time to even go on Facebook. He said he was sure he knew who posted it "by a process of elimination." That process, he said, pointed to "a disgruntled former employee," who he declined to name or to say what job the person had.
He said the employee had been fired in early to mid June.
Interestingly, the Facebook posting by the "disgruntled ex-employee" said nothing negative about the Casino FX. The "disgruntled ex-employee" made the Casino FX sound like a fun place full of great Boston bands, not local crap.

Who is The Bully?
Buckley said the original Casino FX posts were "a bullying stance." More than 2,000 people seemed to agree.
Paulini said he understood why the community was upset. "If I were out there reading that, you'd have to wonder. You have to think, what's going on?"
But he said, "We apologized profusely." On Tuesday, he was asked where that apology was, and he said it was on the Casino FX Facebook page.
The Casino FX Facebook page, containing that profuse apology, he said, was taken down on Saturday.
All who joined the boycott page after Saturday, never saw any apology.
Paulini insisted that there had been a public apology and he offered it again for Cape Cod Wave. He said the Casino FX is an active member of the community, always willing to donate money to local causes. He said the club has consistently hired 70 percent local musicians and the he himself has lived on the Cape since 1987.
"We love the community. We'd do anything we can for the Falmouth community," said Paulini.
And he added that he was "very upset by the boycott. We employ 65 people this time of year. Thirty year round. This affects them. These are local people. They shouldn't be punished for this." Paulini called the boycott page, "cyber bullying."
Buckley said, "We're not trying for anything malicious. We don't want anyone to lose their job… We have no intention of let's become a lynch mob and burn it at the stake." But there should be a very public apology, said Buckley, for the "very cheeky, stand-offish tone" of the original insults.
Paulini said the bullying led to the Casino FX having to remove their Facebook page, and lose their 500 likes. Nasty comments started piling up on the wall of that page, he said.
Meanwhile, the Boycott page grew beyond 1,000 likes, and then quickly above 2,000 likes. People began posting negative and specific comments about an experience at the Casino.
It grew far beyond complaints about the original Facebook posting about "local crap," although a screen shot of the original exchange between Moulton and the Casino FX was often cut and pasted into comments. Just to make sure everyone remembered what this was about, apparently.

Now What?
Moulton and Buckley talked Monday night, said Moulton, and they decided to rechannel all the anger into something positive. They are now positioning the Boycott page to be renamed and refocused on promoting local music.
There is talk of organizing music festivals for the community at various locations, including the Falmouth bandshell on Falmouth Harbor, and the baseball field in Falmouth Heights, across the street from the Casino FX.
Moulton said he had not reached out to the Casino FX, and the business had not reached out to him.
Paulini said he had not reached out to anyone from the Boycott page, and no one had reached out to him. "I'm not sure who to reach out to," he said. "If there was somebody leadng the charge, we'd definitely reach out… We want to reach out. It probably behooves us to reach out."
Paulini said that he also wants to do an event for the community in the fall. He did not know any specifics yet, but he said the Casino FX wants to reach out to the community, including local musicians.
His specific message to local musicians is, he said, "They call me and we book them… Sometimes one of us will go watch them at a local club. Sometimes we know of the band and we pursue them ourselves." Paulini said his audience is "geared toward an older crowd" and he is certainly willing to consider Cape bands for the Casino FX. But, he said, "We can't book every band on the Cape."
Still, despite what the Casino FX Facebook feed said on Friday night, Paulini said, "Cape Cod has some of the best local musicians anywhere. They are extremely professional, truly talented, and very easy to work with."

Turning a Negative Into A Positive
People try to do good things all the time in Falmouth, but it seems the cause of doing good would not be able to get 2,000 likes nearly as fast as this parochial Don't You Dare Insult Us page was able to garner.
Anger at a common enemy, especially an anger that generates a sense of us-against-them community, is very powerful.
"Sometimes, it takes a particular circumstance or a type of public bashing," said Moulton, "to create a certain group of people and get those people together."  He said he hoped something positive would come out of this.
Buckley said he hoped something positive would come out of this.
Paulini said, "It would be awesome if some type of positive could come from this."
– Please like us on Facebook.
For more stories like this, please see Longform stories 
Cape Cod Wave's music stories and videos of local bands playing original music.
---

** Please support independent local journalism.
See the DONATION BUTTON AT THE TOP OF THE PAGE **

---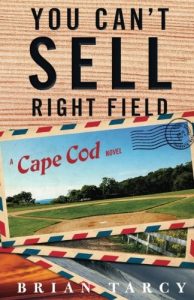 –PLEASE SEE You Can't Sell Right Field,  a novel from Cape Cod Wave about land for sale, a crooked developer, a softball team called, "The Townies," and an election.
Based on the true story of a Cape Cod development.