CAPE COD – April Cabral, owner of Sundance Clothing of Chatham and Sandwich, said she plans to open her Sandwich store on Friday and put 80 percent of her merchandise in a tent on a patio near the curb.
"I'm not allowed to open. I'm opening. I'm not breaking the rules since the terminology is such a loosely defined phrase. I am just as essential as Walmart. And if you say we are allowed curbside, well curbside is loosely defined too," she said.
"There is no definition of what is curbside," said Cabral. "There is no definition of what is essential."
Cabral said she began thinking about this after recently venturing out for the first time in weeks when she went to the Falmouth Walmart and saw the store was selling women's clothing, which she sells. While Walmart is open, Sundance Clothing can only sell online and, soon, by curbside service only.
"It got me mad," she said of seeing the merchandise she sells on sale in the open Walmart. "Instead of being sad like I was the first few months, the last few days I have been angry. And a little bit of frustration is good because it makes you take more action instead of lying in bed crying or feeling sorry for yourself."
The actions she is taking is to open this Friday, she said.
Walmart was full of people, Cabral said of her Walmart visit. "I can't understand how that is safe but my little clothing store, which I can personally monitor, is not safe."
Cabral said she realized that the definition of "essential" does not really exist.
"Clothing is essential," said Cabral of her merchandise. "If you don't think so, go out without your pants on and see what happens."
"It doesn't make sense that the big box stores can operate almost as usual when the small retailer has to operate almost completely online or not operate at all. A lot of small businesses don't have thriving websites," she said.
And while her website is actually doing well, it doesn't match her usual foot traffic and there is no way for a small business to get every item of inventory online as a large business can, she said.
"I cannot fathom that big box stores are thriving and almost every small business that I know is teetering on the edge of extinction after only two months," said Cabral. "That cannot be allowed to happen."
Allowing big corporate box stores to sell all their inventory while small local retailers selling some of the same types of products are not allowed to open is "completely not fair," said Amanda Converse, co-founder and CEO of Love Live Local.
Love Live Local is a Cape Cod organization dedicated to community advocacy and educating consumers on the importance of shopping local. It also has a retail store selling products made by local Cape artisans.
Love Live Local, through its festivals and community advocacy, has relationships with "hundreds of Cape Cod businesses," said Converse. "Countless retailers are increasingly frustrated," that the rules favor big box stores, she said.
"Why weren't [box stores] told to block off their aisles that sell non-essential items?" asked Converse. "They shouldn't be able to sell home goods while the store around the corner can't sell the same items."
"At this point, retailers are getting incredibly worried," said Converse.
Soho Arts Co. of Hyannis, which has been closed except for online retail and will soon be allowed like all small retailers to provide curbside service only, sells gifts, jewelry, artistic kitchenware and more.
But a while ago when Betsy Young, owner of Soho Arts Co., was talking about the items she sells, "somebody mentioned to me you could go into Target and buy those."
Walmart and Target remain fully open and both sell many of the same type of items that cannot be sold at currently closed small businesses. In both box stores, which are deemed "essential," all aisles are open.
"I've often thought of bringing in paper towels or hand sanitizer and calling ourselves essential," said Betsy Young, owner of Soho Arts Co. "But I don't want to be seen as flaunting the rules, she said. She added that she wanted to be "a team player."
Converse said that she reached "peak frustration" when the new plan to reopen was announced. "Retailers were hoping for something more," she said.
"I was hoping things would be a little more fair," said Young.
One thing Converse said that she was hoping for as a start was to be allowed by-appointment-only visits. "We're not talking about opening the doors and flooding our stores," she said.
Meanwhile, Cabral, who is opening her Sandwich location on Friday, said she is not doing the same with her bigger Chatham location because she does not have as much outdoor space.
"To be clear, I am not flinging open my doors and saying, 'Everybody come in and skip the masks.' Nothing like that… we will open with restrictions, the same restrictions and safety precautions everyone else is using," she said.
Young said, "I'm hoping for the best and trying not to have expectations. I am usually at the store all day but I had to leave [Monday, when the reopening plan was announced allowing only curbside service] because I was so upset by this news."
"We need to crack the door open a little bit and let some things start to happen," said Young. "We have to do something or there won't be anything left of this street [Main Street, Hyannis]."
Meanwhile, Cabral said she has adopted a new philosophy: "If it is safe enough for Walmart, it is safe enough for Sundance."
In fact, she said, her small store is safer. "I can police my store. We are a small business."
---
NOTE TO READERS: In these fraught times, Cape Cod Wave Magazine is hoping to survive, like everyone else and we are asking for your help.  There is a donation button at the top of every page.
We set the amount, after seven years of never asking, at $10 for a one-time donation. If you would like to give more, or less, you can send a check to Cape Cod Wave Magazine, Box 29, Falmouth, MA 02541
Thank you for reading Cape Cod Wave, and stay safe!
– Laura & Brian
---
– Please like us on Facebook.
For our other coverage see Cape Cod Covidispatches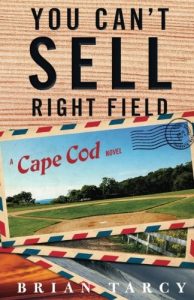 –PLEASE SEE You Can't Sell Right Field,  a novel from Cape Cod Wave…. about a huge piece of land for sale, a crooked developer, a softball team named The Townies, and an election. Based on the true story of a large Cape Cod development from the early 1990s, and Cape Cod softball.