CAPE COD – Why is the state of Massachusetts still selling lottery tickets during the Covid-19 pandemic? It seems to to be a mind-boggling state policy right now.
All lottery claim centers are closed through April 13, according to masslottery.com
The state office of the treasury, which runs the lottery, is closed.
But scratch tickets and other games, involving paper and often person-to-person contact with low-wage clerks, continue to be sold. Certainly the state budget it hurting right now. But still, we ask, who did the math on the cost/benefit of such a state policy as allowing lottery ticket sales during this time? 
We know that people are leaving their homes and going to convenience stores for the sole purpose of purchasing lottery tickets. These lottery tickets are increasing the traffic in the stores for a dubious gain.
On Saturday, we toured seven stores in seven Cape Cod towns to get a sense of what clerks are doing to protect themselves while at work. They are trying their best. We actually visited more than seven stores, but some declined to talk on the record.
One clerk who did talk on the record told us that about half of his sales were lottery tickets. Two others told us they sell a lot of lottery tickets. We understand stores make money on the tickets. We understand their struggle to make money and pay staff.
Our question is on state policy. We are are wondering specifically about the state's logic. Is a state lottery, at this time, really benefiting the population? Is the money that important to the state budget that it is worth risking lives?
We witnessed a customer come into a one store not in the video and blatantly push aside a plastic barrier separating the clerk from the customers so he "could see the tickets better."
We saw another in a hurry to get a ticket, crowd the person in front of them, and then again lean, this time on a counter with no plastic barrier. His hands were all over the counter. And of course, all exchanges, polite or not, involved money and tickets passing between hands.
Certainly stores need to be open. There are things that really are necessities. But it seems like lottery ticket sales represent a significant portion of traffic for some stores and to allow for this with an non-essential state product during a pandemic seems misguided.
Cape Cod Wave Magazine left a phone message with Michael R. Sweeney, Executive Director of the State Lottery Commission. We have not heard back. We called the Treasurer's office, and we reached out by email to the press office of Governor Charlie Baker. We have not heard back.
See UPDATE: Promised Answers, Then No Answers
– Please like us on Facebook.
For our other coverage see Cape Cod Covidispatch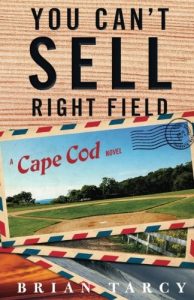 –PLEASE SEE You Can't Sell Right Field,  a novel from Cape Cod Wave….A review from Goodreads:
"Brian Tarcy knows Cape Cod and captures the attitudes, quirks and idiosyncrasies of its diverse residents. Beneath the witty banter and self deprecating commentary is embedded the most serious issue of the peninsula of Cape Cod – Development. Cape Cod needs jobs and economic impetus, but at what cost? Will the drive to build houses destroy the very nature of the Cape? Will greed push environmental ruin and development obliterate the natural beauty that natives and tourists both crave? Tarcy builds his story around the lives of a softball team of life-long friends, townies who have taken different paths and have opposing visions for the town they love."