HYANNIS – It was straight out of that famous Boston song, "Rock and Roll Band," because folks really were dancing in the streets of Hyannis yesterday.
The first of four Hyannis Open Streets, to be held this spring and fall, in which Main Street was opened to pedestrians for five hours, was held Sunday and the weather was sunny and, finally, spring-like. The street was crowded all afternoon.
Volunteer Pam Brown said the popular event was more crowded than previous Hyannis Open Streets.
"I think it's because it's the first nice day of spring," said volunteer Bob Phear of Hyannis. "It got everybody outside."
A number of people echoed the sentiments of Robert Carver of Hyannis, who called Hyannis Open Streets a great event for families. "There's not a lot for families to do that's free," he said.
And Carver said it was a chance for him to see people he hasn't seen in more than two decades. He ran into a high school friend. "He said, 'Where have you been?' and I said, 'Right here in Hyannis.'"
From chalk painting on the street to bands that enticed the dancing in the street, to games and jugglers and more – even a kids zone on the Hyannis Green – the event turned Hyannis Main Street into, for a day anyway, one of the most fun Main Streets in America. It looked like this.
Please like us on Facebook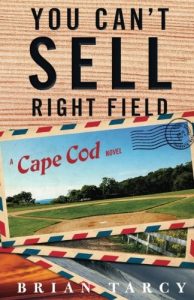 – A Novel By Brian Tarcy of Cape Cod Wave
"This is a terrific read. Brian Tarcy's style and sense of humor make it easy reading, while his subject matter is of more importance than most communities realize. If you care about growth in your community and the lack of thoughtful planning, you owe it to yourself to read this thoughtful piece of fiction that is all too real in smaller communities in our country." — YOU CAN'T SELL RIGHT FIELD, A Cape Cod Novel