WOODS HOLE – The $43 million new Woods Hole Ferry Terminal project is vibrating this village. When the project finally ends in four years, the hope is for good vibrations.
But a property owner on Water Street has informed the Steamship Authority "that she has experienced tremors and vibrations during our pile driving operations," according to a recent project update from the Steamship Authority website.
The Steamship Authority is in the early stages of a four-year project to rebuild the Woods Hole Ferry Terminal, including replacing three old slips with three new ones. There is a large crane and several other big excavation machines on site. 
"Obviously, we take anyone's concerns seriously," said Steamship Authority General Manager Robert Davis. Davis said that "with any pile driving operation, there are vibrations that go out." 
"From what our engineers have said, it usually dissipates by the time it gets to 200 feet away," said Davis.
The property owner who emailed is "well over 200 feet away" said Davis. 
Davis said that the Steamship Authority has begun monitoring vibrations at the site's property line at Luscombe and Railroad Avenues, and if the vibrations pass a certain threshold, the operation will adjust as necessary.
"You can really feel it when they go hammering away," said Beth Colt, owner of Quick's Hole Restaurant, which is directly across from the construction site, at Luscombe and Railroad Avenues. Colt is not the one who wrote to the Steamship Authority. "I knew there would be vibrations," she said.
Nevertheless, Colt said she has kept a close watch on her building. "Strong vibrations can crack foundations," she said. But, Colt said, she is "cautiously optimistic that it's not going to be too disruptive."
"Any project of any size can be disruptive," said Colt. "This is a large one and it's going to be going on for a long time." 
The project is expected to last four years, but will shut down every summer, from about May 15 until September 15, said Davis.
 Colt said "the whole face of the waterfront" is going to look different and a project of this scale affects the entire village. "Woods Hole is so small, we're an ecosystem. Everybody is related to everybody else in some important fashion," she said.
"Hopefully it enhances the village." – Steamship Authority General Manager Robert Davis
Colt said she expects the end result to be "really gorgeous," but also said of the construction, "It's bigger than I thought it would be."
And there are those vibrations.
The pile driving, up to now has been for temporary pilings to set up temporary fenders for the vessels for the summer, said Davis. Permanent pilings will be installed in a later phase, he said.
Colt said that "in order to reconfigure the docks in the way they talked about, they have to sink 35 8-foot-in-diameter pilings that go 100 feet into the ground. That's a piling the size of a car around going down 100 feet."
It's not easy to get those pilings in, said Davis. There is is not just soil to get through, but also rock, he said.
"Each time they do that, it could take a week to drive in one of those piles," said Colt. 
That's a week worthy of vibrations per piling, she said.
And while Colt has concerns, she said the Steamship Authority has "been very responsive when I have concerns."
Davis said the project needed to be done as the old terminal was more than 50 years old. "It was in dire need of reconstruction."
Currently, he said, "We're continuing to excavate where the old building was. In the fall, we'll start doing some permanent pilings. Between the fall and a year from now."
The scope of the project, besides replacing the existing slips with new ones, includes "re-aligning them so the approach the vessels make will make it safer. It will take into account vehicle loading and unloading," he said. "The vehicle ramps themselves will be made longer, said Davis, "because we have an issue with certain tide conditions."
Davis said, "We're restrained by the property we own and what we're able to do with it."
When it is finally finished, said Davis, "Hopefully it enhances the village."
Please like us on Facebook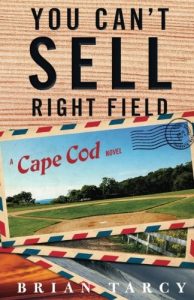 – A Novel By Brian Tarcy of Cape Cod Wave
"This is a terrific read. Brian Tarcy's style and sense of humor make it easy reading, while his subject matter is of more importance than most communities realize. If you care about growth in your community and the lack of thoughtful planning, you owe it to yourself to read this thoughtful piece of fiction that is all too real in smaller communities in our country." — YOU CAN'T SELL RIGHT FIELD, A Cape Cod Novel