FALMOUTH – As election events go, the Trump boat parade that we witnessed on Saturday going through Falmouth Harbor was a snapshot in time worth presenting to you as news. This kind of thing does not normally happen in American politics. Not on Cape Cod. Right?
While Cape Cod Wave Magazine does not endorse the current occupant of the White House, we obviously acknowledge his existence and that of his many supporters. And, in fact, on Saturday hundreds of boats with Trump flags cruised the coast of Cape Cod and Martha's Vineyard, past hundreds of boats without Trump flags.
The organized flotilla of the President's supporters seemed friendly enough. They waved and smiled.
The point of the flotilla, it seemed, was to point out to those who may be unaware, that the President has a lot of supporters who own boats.
It has always seemed an odd argument to us, since we don't own a boat and we assume most Americans do not own a boat. We'd like to own a boat. Boating is fun.
Still, in fact, the few people on Cape Cod that we do know who own a boat do not seem at all like the types of people to fly a giant flag with the name of a politician, and certainly not that one, off of it.
But that's just people we know.
The election is November 3. VOTE!
** If you would like to support this kind of  important, independent local journalism, please see the donation button at the top of the page **
See our other political stories
Please like us on Facebook.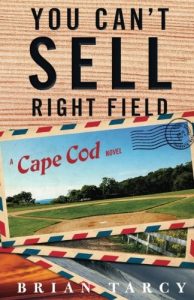 –PLEASE SEE You Can't Sell Right Field,  a novel from Cape Cod Wave…. about a huge piece of land for sale, a crooked developer, a softball team named The Townies, and an election. Based on the true story (the developer went to jail) of a large Cape Cod development from the early 1990s, and Cape Cod softball.