FALMOUTH – It wasn't until years later that Jessie Edgar, now 20 and a student at Columbia University, realized how it all happened in Brian Switzer's sixth grade class.
"When you are a sixth grader in his classroom, you don't really notice his talent," said Jessie.
She was on the staff of the school newspaper, the Inside Scoop, and the school television show, Catapult. "You think you did it all yourself, and that gives you confidence," said Jessie. "But it was mostly Mr. Switzer."
Switzer, 56, is retiring at the end of this school year after 30 years of teaching fifth and sixth graders at Morse Pond School. The last 15 years were spent running the Language Arts portion of the Talented Eager And Motivated (TEAM) program.
"I try to make it interesting. A teacher's job is to make things interesting and creative. That wakes minds up." – Brian Switzer
He made it cool for kids to be smart. And he made it especially cool for kids to be motivated to work hard.
While Switzer, in fact, did a lot of the work, the kids also worked hard. That was the whole point.
Jessie also remembered Switzer as a technical wizard, a guiding force of confidence, and a mentor who allowed her to be herself. "Whenever I was in the TEAM room, I felt safe and I could express my nerdiness in a way I couldn't in other classrooms," she said.
"We had kids who were dying to get in the program," said Switzer, "because it was so creative and so cool."
It was so much more than that.
He gave them an audience of their peers.
---

** Please support independent local journalism.
See the DONATION BUTTON AT THE TOP OF THE PAGE **

---

A Teaching Philosophy
"I don't call it work," said Switzer. "I call it going to school."
Switzer has always loved learning. And each school day for the past 30 years when he went, mostly by bicycle, to school, not work, Switzer tried to instill that love of learning into each of his students.
"I try to make it interesting," he said. "A teacher's job is to make things interesting and creative. That wakes minds up."
One of the main ways he made things both interesting and creative, especially in his last 15 years in the TEAM program, was to give kids an audience.
He and his TEAM students, through the years, have created a newspaper, the Inside Scoop; a magazine, MorsePonderings; a television show, Catapult; and an old-time radio drama that was called Lunchtime Radio Mystery Theater.
"I wanted to give these kids an audience," he said. He wanted his students to know that the skills they were learning had real-world applications, and he wanted them to be excited about those possibilities in real time, not some dream world in a vague place called the future.
"What really drove me was to make writing authentic," he said. "Usually, the only person who reads what a kids writes is the teacher." And those writing assignments were much different than, say, a writing assignment for the school newspaper, the Inside Scoop.
"All of a sudden, they have a writing assignment and they ask me how long should it be. The answer is as long as needs to be, or as short as it needs to be. You've got to go talk to the people. You've got to figure it out," said Switzer.
Students were no longer just trying to please a teacher. They were trying to please an audience. "We have the most discerning audience in the world," said Switzer of the student body at Morse Pond School.
He said that when he was given a chance to create a language program he knew, "I am not going to do more of the same. I wanted them to understand why they do this. Why is writing communicating? And it transitioned to where we are today, media. So much of today's world is driven by media."
And now Switzer is retiring as a teacher of media to work in media at his own company that is creating videos for businesses, non-profits and more. "My retirement is based on me wanting to scratch some other itches I've had. I want to do some more video work. It's about not wanting to regret not having tried."
That's what he teaches. It's what he was taught.

A Childhood Of Sports & Theater
He was born in the Bronx, in New York City.
"People ask me where I grew up," said Switzer. "I've got to give them more of a story than just say I grew up in one place."
It is a tragic story. It is a happy story. It is a story of resilience, a joyous soul rising from … "My father actually died when I was 6. My real father was a doctor. I had one biological sister. She died when my father died. It was a car accident."
His mother remarried. The family moved to Baltimore.
While Switzer's story includes "more than one place," the summers in his story, from the year before his biological father died, included one place: Woods Hole. "My mom and my father bought a house in Woods Hole right before he died," he said.
From then on, he said, "every summer we'd come up to Woods Hole."
Being from New York and then Baltimore, he said, "Woods Hole was magic to me. It was an otherworldly place. Woods Hole represented freedom."
He remembered the Woods Hole house had no television and so he "had to be outside all the time. I spent so much of my time at the ballfield, in town, with all these amazing friends. I had a lot of year-round friends and I remember I was just so jealous of them that they got to stay here year round."
By the time Switzer was the same age as his students now, "I probably would have said I want to be a professional basketball player. It was not too based in reality. But my loves were sports and theater. My mom was a great athlete, and also a theater director."
By the time he was 10, he "knew all the words to all of the Gilbert and Sullivan operettas," and a lot of baseball trivia. His mother, who began as a Brooklyn Dodgers fan, "was a great baseball trivia fan," he said.
"I had a love affair with the Miracle Mets (who won the World Series in 1969). They were my first team. We saw Nolan Ryan throw his 20-strikeout game for my 7th or 8th birthday," he said. He then became a Baltimore Orioles fan, and a great athlete.
"I was an all-conference Baltimore city basketball player, and an all-state lacrosse player," said Switzer. And he was very involved in theater.
Switzer went to a private school that was "very progressive but rigorous. It had a forward-thinking mentality about education and being well-rounded as a person, and that is an important part of your learning. Academics were important. Sports was important, as was theater," said Switzer.
He got his love of theater and sports from his mother. "She loved both," he said. "Be careful standing next to her at a game. She was very competitive. Oh my God, was my mother competitive."
His mother taught at the school he attended. "One of the things I really admired about the school was they made it possible for me to do both theater and sports." The different activities were scheduled at different times when he attended school, he said.
Through school heading towards college, he said, he was thinking about sports. "I was recruited to play lacrosse at hundreds of schools, as well as soccer," he said.
Switzer first attended Clark University in Worcester. He went there to play soccer, but injured his ankle in a practice and left school after a year and a half.

An Orange VW Bus & Some Tibetan Rugs
"I realized that I'd gone to college to play sports," he said. "I wasn't really motivated." He dropped out of school and took a half a year off.
He traveled to California. While he was there, he knew he had to get back to school and applied to the University of Massachusetts. He also bought an orange Volkswagen Bus. "I loved that bus," he said.
He then came back east and got a degree in multicultural eduction from UMASS. Switzer said he knew he was a natural teacher, and "I was not the kind of person who was going to be able to sit at a desk all day."
When he graduated, he took a job student teaching at an American International School in Kathmandu, Nepal. "I traveled all over the area," he said. "Thailand, Burma – it was a magical time of my life."
He was in Nepal for a year. While he was there, he said, "I met a Tibetan family in the Tibetan rug business. They wanted me to sell Tibetan rugs in America."
Switzer said he wasn't interested, but there must have been a misunderstanding because when he moved back to America, to Woods Hole, "I got a call. There were 110 Tibetan rugs waiting for me at Logan Airport," said Switzer.
"I got a trailer for my truck," he said. "And I sort of went into the Tibetan rug business."
The rugs were beautiful, made of natural dyes and natural wool, he said. The rugs were unique, and sold themselves.
Switzer started selling them by bringing them to a family friend who had a nice apartment in Boston and several well-off friends. "I could show up there and sell $5,000 of rugs a day." They were priced from $370 to $2,000," he said.
But he noticed that "If I had an amazing day making $5,000 in one day, I'd take the next month and a half off. I realized I wanted more from what I did."
He actually sold three shipments of rugs, and even went back to Kathmandu, but he soon realized that "in business, you really gauge your success by how much money you make. That wasn't enough for me."

Born To Teach, Destined For Woods Hole
When he came back to Woods Hole from Nepal, besides selling Tibetan rugs, he had a job teaching at the Penikese Island School For Delinquent Boys, a rustic island 12 miles out in Vineyard Sound without electricity. The boys had to cook and heat with wood.
"It really took these boys away from their environment," said Switzer. "These were very troubled boys. They came from a very troubled environment." Switzer said he worried that his background, from a private school and summers in Woods Hole, was so different than the boys at the school that he might have difficulty reaching them. But, "Sure enough, I was able to connect with a lot of the boys."
He said he went into teaching because, "First of all, I knew I was good at it. It was in my DNA."
After teaching at Penikese Island, Switzer wasn't sure he was ready to settle in Woods Hole so he took a job as a gym teacher with the Ethical Culture Fieldston School on Central Park West in New York City.
"It was a very prestigious school," he said. "Sean Lennon was a student of mine." As a gym teacher, he did not get a parent/teacher conference with Yoko Ono. He described Sean as "a really nice kid, a kind, gentle soul." And Switzer remembers there was a lot of security around the building. "He (Sean) didn't notice it, but it was for him," said Switzer.
In his time in New York, Switzer lived in the East Village. "What I found was I was spending a lot of my time in the park, enjoying the little bit of natural beauty that there is in New York."
He also found that "New York can be a really lonely place." Switzer said he actually knew more people well in Woods Hole than in New York and imagined it could take 20 years in New York to establish those kinds of relationships.
Woods Hole was clearly calling him. "The day that my school got out," he said, "I came back here for good."
He married his wife, Rachel, whom he met when both were in college and she was working at a restaurant in Woods Hole for the summer. She has an Etsy shop selling hand-dyed fabrics in a Japanese style called Shibori. They have two children: Sophie, the Director of Global Health at the University of Iowa Department of Public Health, and Elijah, a teacher at East Falmouth Elementary School.

Morse Pond
In 1987, at the end of summer, he went into Morse Pond and met the new principal, who had been hired one week before. He had a great interview, met the school superintendent, and was hired as a sixth grade teacher.
"I was amazed they gave me a paycheck," he said. "I loved teaching that age."
And while he loved it, he admitted, "The first year of teaching in a classroom is about as hard of a thing as you can do. But it was also invigorating."
Immediately, he wanted to do things differently. This was going to be hands-on learning. How? "When we were studying the Middle Ages, we built a bowling alley from the Middle Ages," said Switzer.
The principal, he said, understood that teachers have different styles and she encouraged him to "go with your style." He did. His class built catapults, and then pyramids made of hundreds of clay blocks, he said.
The idea, said Switzer, was to create "a love of learning, which is also a love of life."
He wanted to teach his students how to think. "One of my favorite lines when I was teaching was, 'I don't know, let's figure it out together.'"
In approaching his classes, he always understood that his students had varied skills, and some had not succeeded in previous grades. He would tell the students to forget about what happened in previous grades. "But talk is cheap. I had to go out and prove it," he said.
One lesson he learned from a writing instructor was "Give them a writing assignment and give them all A's. I didn't do that, but I loved the idea of working on the positive. No one works well when they are beaten down. I wanted the kids to have success."
He even let the kids sign up for their own grade in reading: A, B, or C. "I had reading contracts with them. I had the parents engaged. They had to sign these contracts."
It is challenging to work with the various skill levels, he said. "Some kids are brilliant, some are not. All kids are amazing in what they can do. And knowing their students is the hardest thing teachers do," he said.
Switzer was "very into the human side of relating to kids." And while talk is cheap, to kids as much as adults, Switzer said, "Over time they start to trust you. You really are being good to them. More and more, they are willing to try."
Not just try, but try new things.
And when that happens, he said, "The rewards you get as a teacher of these kids, it's almost indescribable."
Every year for his first 15 years of teaching, his class would put on a play, "a big show for the whole school," he said.
The show was by kids, and geared towards the student audience. "And what I learned from that is one of the great things you can teach kids is how to go from nothing to something, a big project."

The TEAM Program, Part 1
Talented, eager and motivated.
While schools often have programs in place for those with special needs, 20 years ago Falmouth voted for a tax increase that, in part, provided funding to start a program for motivated and gifted students, said Switzer.
When it started, he said, it wasn't really a program. "When it floundered, the principal came to me and asked me to help," he said. Switzer and another teacher, Kara Chase, who taught math and science, put together a new TEAM program.
Chase had started at the school the same year as Switzer, 1987, and they were already good friends who shared the goal of making it cool for kids to be smart, recalled Chase.
"So much attention gets put on kids who have challenges," she said. The TEAM program offered some attention to the gifted kids, she said.
For his part, Switzer took the lessons he learned about going from nothing to something, and applied them to his new job.
"He was unafraid to try something that didn't look so mainstream," said Chase.
Switzer wanted to create a school newspaper. So he met with the then publisher of the Falmouth Enterprise, Margaret Hough Russell. "She was very encouraging," said Switzer.
He wanted a newspaper that would be the school's own, not something that was printed inside of the Enterprise.
When he asked if that was possible, Russell answered, "From our end, we can print a weekly newspaper for you. But I don't know how you're going to do it from your end." After all, he was going to be working with beginning journalists, 11 and 12 years old.
But Switzer had a plan for the newspaper that would be called The Inside Scoop.
He had four groups of kids, and each group would put together a newspaper once every fourth week. It gave the students time to work on stories and layout. This was before computer layout, he said. "We had a newsroom, a waxer, we laid everything out. It was such an exciting and dyamic thing."
The paper was popular in the school, and it found a wider audience outside of the school as it was brought to local libraries and other schools. Switzer liked to say the Inside Scoop was the second biggest weekly newspaper in Falmouth, after the Enterprise.
The paper lived up to its name and had a number of scoops, he said. Some were outside of the school.
He recalled when a local toy store was closing and the owner wouldn't talk to the local press, but talked to a reporter from the Inside Scoop. "It's hard to say no to an 11- or 12-year-old reporter when they come asking questions," said Switzer.
[quid-slider initial=.99 min=".50″ text="Slide to leave a tip!"]
One student he had several years ago recently emailed him a photo of his new press pass at his "real" journalism job. Switzer, who seems to keep very good records, went to his computer and found a press pass the former student had when he worked for the Inside Scoop. He sent the old press pass to the former student, who loved seeing it.
That's right, he issued press passes that the kids wore in school when on assignment. "They loved that," said Switzer.
After the paper was up and running, he had a new idea, an old-time radio drama performed by kids. At the time, his students had never heard an old-time radio drama.
It was immersive education in history, drama, writing, performance, and even listening. And when the dramas were completed, he said, it was performed for the whole school.
"We'd have 250 kids in the auditorium for a half hour with the lights dimmed just listening to these stories. It was just magical."
There were four episodes each year. One year, the title was "The Grateful Dog," with a plot involving the school janitor's dog, Nobska, getting kidnapped by an evil man who trains dogs to swim and steal from tourists on the ferry to Martha's Vineyard. The evil man in the story happens to be the "permanent substitute teacher," a man named Mr. Knuckles.
The stories, created for the most part by Switzer, always took place in Morse Pond School with plenty of kid characters, including, for instance a kid in "The Grateful Dog" who only talked in rhymes, fancied himself a rapper, and called himself, Grandmaster Eugene.
"How to create something out of nothing" was the lesson of Lunchtime Radio Mystery Theater, said Switzer. "How do you make a story that actually works, perform it, and edit it so other people listening actually listen."

The TEAM Program, Part 2
A few years into the TEAM program, Switzer moved away from the radio drama and began producing a weekly television show the kids named, "Catapult."
"We focus on stories, a lot of fictional stories, a lot of parody," he said.
There has been the long-running "Morsterpond Theater," with titles like, "The Fraidy Bunch," "Harry Snotter & The Order Of Kleenex," "Lord Of The Onion Rings," and "Survivor Morse Pond."
In addition, Switzer said, students have created a number of skits that pretend to be apps kids can use on their phones. Apps such as: "Slapchat" – The ability to send your rude friends a real slap in the face; "Mooober" – Morse Pond's new transportation system (Involves cows Mooooing); "Insta-Gram-Ma" – An app that allows you to call up a grandma for all your needs; and "Hokey-Pokey-Mon-Go" – Collect all the Hokey Pokey Mon and then have a dance off!
"I want them to produce content," said Switzer. "So when they watch any video, they are not as duped by it. They understand the veil of how it is done."
The Inside Scoop closed down when the Enterprise closed their printing press. "For two years, we stopped publishing," he said.
But Switzer transitioned again, this time to a 32-page color magazine called Morse Ponderings.
It is like the Inside Scoop but much glossier, and Switzer said, more time consuming. "Initially it was two times a year," he said. "This year it was three."
And while the newspaper became a magazine and the radio drama became a television show, the kids kept creating. In recent years, they've been doing things like taking video cameras to recess. It was a paradigm shift. School was interesting.
"One of the comments I heard most from parents was, 'The day my kid has TEAM is the day I don't have to wake him up at all,'" said Switzer.
Nicole Hanflig's daughter, Mia is currently in TEAM program, in sixth grade. "I think he's had a transformative effect on Mia's life," said Hanflig. "He's built up confidence in her."
She said, for Mia, the TEAM room is "a place to go where they are doing things that are cool and different and also challenging."
Mia said, "He's really respectful and he treats you like an adult." And then she added this, "Mr. Switzer has become one of my really good friends this year."
She is not alone. He has friendships with former students who have sent their own kids through his class. "I am most proud of my relationship I have with my present students and my ex-students."
Arlin Moore, a 20-year-old student at Boston University studying video and media, said, Switzer's fifth grade animation class and sixth grade video class both had a big influence on him.
"He's very passionate about bringing out the creative side at an early age in kids," said Moore. "Maybe if I didn't have Mr. Switzer teaching me to be creative, I would have gone down a whole different path."
And fellow teacher Chase recalled, "He instantly made connections with kids."

Retiring To Try A Video Business
For many years, Falmouth schools have run an anti-bullying campaign called, "No Guff."
In recent years, Switzer began writing and producing No Guff videos for the school that have been seen and shared tens of thousands of times on social media. They are slick and sweet and well produced and especially poignant.
One video, "Catch The Wave Of Kindness," was seen on several different platforms, including Cape Cod Wave. "On the different platforms, there were close to a million views," he said.
Switzer also owns a drone and in recent years has been, on his own, producing amazing aerial videos of his beloved Woods Hole.
For years, Switzer has been teaching himself several technologies to help his students in this new media age and he discovered that he had developed a marketable skill.
A few years ago, he was contacted by a local non-profit to do a video for them. And now, he has a growing business with non-profit organizations and for-profit businesses as clients.
In addition, for 29 years he has been running a summer acting camp for young people in Woods Hole. In recent years, he has produced music videos starring the young acting students.

A Personal Story
For a few years, this Cape Cod Wave reporter volunteered with the TEAM program.
I first briefly helped at the school newspaper, and then with Lunchroom Radio Mystery Theater.
Together, we wrote a few scripts, including The Grateful Dog, and then in the last years we worked with the kids as they wrote the scripts. It was the most fun I've ever had writing.
After we were done putting together a 20-minute script, and the kids and Switzer recorded the voices, he would spend entire weekends researching and putting in sound effects. It was pure dedication and, to use a word he likes, magical.
Finally, one more note. Every year, the Falmouth Chamber of Commerce gives out a Citizen Of the Year award. Every year since I've first seen him in the classroom, I've thought the Citizen of the Year should be Brian Switzer. He taught your children well.
For more stories like this, please see Longform stories 
---

** Please support independent local journalism.
See the DONATION BUTTON AT THE TOP OF THE PAGE **

---
– Please like us on Facebook.
---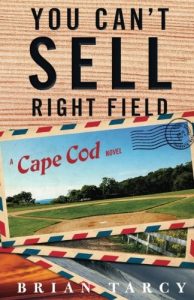 –PLEASE SEE You Can't Sell Right Field,  a novel from Cape Cod Wave about land for sale, a crooked developer, a softball team called, "The Townies," and an election.
Based on the true story of a Cape Cod development.