Some stories are more popular than others. And some we think should be more popular.
Every year, we put up a top 10 most popular stories, based purely on how many people saw the story.
We also put up our own lists of stories we want to make sure you remember – our personal favorites that did not make the readers top 10.
While all of our stories are well read, sometimes, we are quite surprised by which stories most popular, and surprised that some of these stories weren't more popular. This year, at least for a couple of stories, this is especially true.
Here are our Top 10 Cape Cod Wave Favorite moments of 2017 – five from Laura and five from Brian
LAURA'S FAVORITE 2017 CAPE COD WAVE MOMENTS OF 2017
1) Secrets of Hyannis Sound–Summer A Cappella on Cape Cod: It was time to get the inside story on those nattily-dressed collegians who sing a cappella on Cape Cod every summer. We asked the hard questions and got the scoop on Hyannis Sound, whose humorous performances are an annual highlight.
2) Actors Run the Show at Harbor Stage Company in Wellfleet: There is terrific community theater throughout the Cape but for those who love live theater one of the region's best kept secrets may by the tiny Harbor Stage Company set next to sand dunes overlooking Wellfleet Harbor. We spoke to two of the four leaders of this talented group to find out how it all got started. Get your season tickets now so you don't miss out!
3) A Broadway run for Wellfleet Playwright Paula Vogel: One of the theater world's most talented contemporary playwrights lives right here on Cape Cod. This summer Pulitzer Prize-winner Paula Vogel's thrilling play, "Indecent" was on Broadway and went on to win two Tony awards. But Vogel gets inspired when she comes home to Wellfleet and takes in the scenic beauty of Cape Cod, a far cry from the bright lights of Broadway.
4) A Vision for Falmouth's Dome: "Think Big" could be the motto behind an initiative to take a derelict structure and turn it into a world-renowned arts center. But that is the kind of attitude behind the enormous efforts to turn the Buckminster Fuller Dome in Woods Hole into The Dome of Contemporary Arts. We were fortunate to be at the kick-off event for the project, which looks to be an exciting endeavor for the region.
5) Generations of Women Turn Out for Chelsea Clinton in Falmouth: 2017 will go down as a year when women got active on a number of fronts. And so was not surprising that hundreds showed up at a book-signing for Chelsea Clinton's new book, "She Persisted: 13 Women Who Changed the World." Cape Cod Wave stood in the book-signing line for hours talking to generations of women who were inspired by Clinton's message.
BRIAN'S FAVORITE CAPE COD WAVE MOMENTS OF 2017
1) Ron Beaty's Political "Penance" – A Profile : One of the first things mentioned in any story about Barnstable County Commissioner Ronald Beaty Jr. is that he spent time in federal prison for threatening to kill President George H.W. Bush. But we got him to tell his own story, and we also looked at some of the other controversies that the Trump-supporting politician, who calls himself proud to be "deplorable,"  was involved in a 5,000 word profile of Cape Cod most controversial politician.
2) Fishing And Life On The Streets – Dana Parke's Cape Cod Canal Story: This story really stuck with me. Dana Parke, who is essentially homeless while spending his days in the cafe at Market Basket, has not showered in five years and he looks it. But upon meeting him, all cliches disappear. He is friendly, extremely nice, sober, and, he says, happy. Homelessness has a face. This is one. He's a good guy who just wants to go fishing.
3) Autumn VIDEO Mashup of The Shining Sea Bikeway; Music By Bert Jackson: I do not own a GoPro camera. So I used my GoAmateur to film this – essentially I rode the Shining Sea Bikeway from Falmouth Center to North Falmouth with on only one hand on my handlebars as I was using the other to hold my tiny camera. Midway through, I knew I would do a mashup. And then, Bert Jackson's music came to mind, somewhere around the Great Sippewissett Marsh. Bert Jackson kindly offered his music, and the video is on of my favorite because of it. Stick with it. After the first minute or so, my camera work was less shaky, and less dangerous.
4) What Happens Inside The Chatham Municipal Fish Pier – 3-Minute VIDEO: I had been to the Chatham Municipal Fish Pier many times, taking photos like any tourist. I'd always wondered what went on inside. So when I was granted access, I did a video of a fishing boat offloading mackerel on a freezing November day. It was fascinating.
5) Chandler Travis Three-O "Advice To The President" – Music VIDEO: This two-minute song, by one of my favorite musicians, Chandler Travis, features some of the best advice President Trump has ever received. Watch it. Tell others to do the same. Maybe the President will see it and take the advice. In the meantime, as the song says, "even the atheists are praying."
– Please like us on Facebook.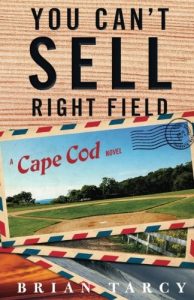 – A Novel By Brian Tarcy of Cape Cod Wave
A softball team called the Townies. A slick developer with a sketchy story. A town divided over a zoning change….— YOU CAN'T SELL RIGHT FIELD, A Cape Cod Novel
SEE ALSO…