BOURNE – The question is why? The answer, with all of its complicated tangents, said Dana Parke, 65, who has lived "on the streets" for many years, is: fishing.
Homelessness has many faces. This is one. "It looks worse than it is," said Parke, who spends many of his days in the cafe at the popular Market Basket grocery store on the Cape side of the Sagamore Bridge. He hasn't showered, he said, in five years.
"I'm happy." – Dana Parke, who lives on the streets
It is not a good look. He knows it. But there is a kindness that seems to revolve around his quiet presence at the store as a customer and solitary fixture.  Many people – other customers and, especially, store employees – seem to have welcomed him as something like family. He is a bit of a poster child for the old cliche of, Don't judge a book by its cover.
"I'm happy," he said.
All day long at the store, he drinks coffee or soda.  Or he sleeps in his chair. Or he eats, or walks outside and smokes. He buys his coffee and soda at the store. He buys his food at the store. He buys his cigarettes at the store. He buys lottery tickets at the store. Parke said he gets $600 a month in social security and he spends most of it at the store.
Parke has something of his own designated table in Market Basket. I have eaten lunch in the store several times, and he is always at the same table, eating, sleeping, or drinking coffee.
"I am Russian and Irish descent," said Parke. "I can drink. I can get drunk. But I don't need it. Once in a while I'll put on a good drunk and then I don't touch it for a month or two months."
Everyone there is friendly to him. I have seen employees treat him like a friend. And the customers are just as nice, giving him, unrequested, food and money. Sometimes, it shows up at his table when he is not there. I have seen him turn it down.
Asked about it all, Parke said, "It feels like everyone in every car in that parking lot are my friends." The parking lot looked full.
He pays back the store by doing what he can, he said, including helping gather shopping carts at the end of the night in the parking lot. It is obvious that other customers like him, and want to help. He asks for nothing. But his look… it says a lot.
When the store closes, especially in the winter, he is up all night, he said. So during the day he sometimes gets a bit of sleep at a table in the store and has, at times, awoken to find money or food. I witnessed it.
"I've always been a loner. I've always been a bit of a lone wolf," said Parke. "I think I've met more people here in the last year than I have in my whole life Everybody treats me nice. The employees, the customers, everybody."
Parke added that he also is nice to everyone. "I have always been taught good manners," he said. "Especially older people. If I meet a World War II vet, I will sit and talk to them, listen to their stories."
He tries to help other people. "If I win on a lottery ticket, I'll donate to the Salvation Army," said Parke.
I contacted store management, who referred me to corporate management. I called and no one called back. A manager told me Parke never caused any trouble, "and you can always see him fishing on the Cape Cod Canal."

Fishing The Canal Since 5 Years Old 
"I grew up in the oldest house in Concord," Parke said. His father was a caretaker for a 50-acre property a mile and a half from his house, and he was also an outdoorsman – a fur trapper, hunter and fisherman.
"I fished on the Canal with my father and grandfather since I was 5 years old," he said. He also learned to hunt, and be a fur trapper. He claims he could catch a coyote "dead or alive."
"We camped in the Scenic Park (along the Canal) every summer all summer long, and I fished," said Parke. Asked about his childhood, he said, "All I cared about was going fishing. I fished every day. It didn't matter what I was out fishing for, as long as I was out fishing."
He said he "won numerous contests, including the Ted Williams Fishing Contest two times." One of the years, he said, was 1956. Through research, Cape Cod Wave could not confirm this. Ted Williams appears to have held several fishing contests during this era but we could find no results.
There really is no way of confirming anything Parke told me. But I have seen him in Market Basket many times, and in the time I spent talking with him he was sober, intelligent and well spoken. He looked me right in the eye. Nothing seemed off, except his appearance.
"I had three sisters and one brother. I have one brother and one sister left," he said.
He said he hasn't talked to them in years, but he recently got a cheap cell phone and hopes to find their phone numbers and reconnect.
And while Concord isn't on the ocean, Parke said, "there's plenty of places to fish in Concord." Plus, he got to the Canal as often as he could, which was very often.
He graduated from high school in 1970. "The day I got my diploma I walked off the stage, handed the diploma to my mother and said, 'I'll see you down on the Cape."
He had a 16-foot wooden boat in Buzzards Bay. He said he basically lived on it in the summer, sometimes fishing 20 hours a day. And in the winters, he returned to Concord to hunt and fur trap.
But when the fish returned to the Canal, so did Parke. Fishing, he said, is "like a disease. It's like a cancer. I won't stop until the day I die. The canal is where I'll die. I'll fall in the water or I'll fall on the rocks. Unless I catch my 60-pounder," he said. "Then I can stop."
He has caught several 50-pound stripers, he said. "Death doesn't bother me, but I don't want to go before I get my 60-pounder."
He said he wants to write a book called, "60 Years of Fishing The Cape Cod Canal."
"When you fish the Canal, you can catch a big monster striper or bluefish at any moment, and it's dangerous," he said of the allure of fishing there. In recent years, because of the internet, it has become too popular, he said. "The internet has ruined this place," he said.
Despite all the people, he said, "I only fish the Canal. I don't fish anywhere else. I have set foot on every rock down there," he said. "On both sides of the Canal."

"I'm a survivor. Whatever it takes."
In the 1970s, he did some commercial fishing, some house painting, some fur trapping.
He met a girl, a friend's sister, and got married in 1980. He started a painting business, he said. They were living in Hudson, said Parke. "I had 15 kids working for me. We'd paint a colonial house in two days," he said.
He was married, he said, for 11 years, until 1991. "I never cheated on her. I worked, I fished, I came home. It's what the normal husband would do."
Asked why he was divorced, he said, "You tell me."
"I didn't plan it this way. It just happened."
Of course, there is more than one side to a story like this but perhaps the other side can be somewhat explained by his reaction to the divorce. "I just let my business fold up," he said. "I wasn't going to give her any money."
"I didn't plan it this way," he said. "It just happened."
His life on the streets was beginning. He moved to the streets of Framingham, he said. "I was picking cans for a living. I picked the Mass Pike from Newton to 495. Both sides of the road. I picked it clean. I made 75 to 100 dollars a day."
In Framingham, he started dating a woman. He lived on the streets and sometimes with her. Often, he was fishing on the Cape. They went together six years, he said. "She wanted to get married and have babies. I wanted to go fishing," he said.
He was back on the streets, but still getting occasional work painting houses. He was working in Wayland and Weston when an acquaintance of a co-worker offered him her garage in Weston to live in. It was unheated, but it was not outside. He lived there for 12 years, he said.
During the time he was in Weston, "I was commercial fishing. I came down here pretty much every day." He would walk the canal, and catch fish.
He moved out of the heated garage in Weston in 2011, he said. He declined to say why. He was back on the streets, and eventually, because of fishing found his way to a life based around the Sagamore Bridge. "If I'm not here, or fishing, I'm at the other side of the Canal at the Shell station."
There he is at the gateway to Cape Cod, the Sagamore Bridge, invisible to most people who might find him in their view. Having made his choices, he watches. "Most people in here are all tensed up. They've got to be somewhere in five minutes. It's rush, rush, rush all over the place and they get nothing done. Me? I don't give a shit."
He seems to mean he isn't in a hurry. And he reiterates, "I'm happy."
"It hasn't been a hard life," he said. "I'm a survivor. Whatever it takes."
"Don't go to sleep cold. If you go to sleep cold, you might not wake up. If you go to sleep warm, you'll wake up when you get cold."
One thing he has developed is his look. "I just wash. I don't think I've had a shower in five years. If you wash your head and you walk outside, you are more susceptible to the cold, influenza, that kind of thing," he explained.
And he wears many layers, all year long – winter and summer. That includes an olive green jacket that once belonged to his mother's brother, Parke's Uncle Luca, who was a Korean War veteran. He has one memory of his uncle, tossing him in the air and catching him when he was very young. That's it. "This jacket is sacred to me," he said.
The jacket, which "came out of a closet in Concord," is a down jacket, he said. Wearing that and another thick layer below it keeps the heat in and the heat out in the summer, he said. "I can wear this in 90 degrees right in the sun," he said.
Asked if he gets cold, he said, "You can always get warmed up," he said. "Just put on a hat and go for a walk," said Parke of how he warms up.
And one thing he said he knows is, "Don't go to sleep cold. If you go to sleep cold, you might not wake up. If you go to sleep warm, you'll wake up when you get cold."
Parke said he has been approached by various people wanting to put him in a shelter. "They all want me to find God," he said. "They want me to go into a shelter with drug addicts, drunks and thieves," he said of why he has no interest.
But he is hoping to find his own apartment, which he said would cost almost twice his social security check. "The only reason I am in the streets right now is because I can't afford a place to live."
For now, he survives on the fringes at the bridge to this tourist's paradise that is Cape Cod, insisting that his is a happy existence.
Besides eating at Market Basket, which he mostly does because of the warm food and low prices, he eats at other sub shops and places like that, he said. At Market Basket, he said, "I get the meatloaf here about six times a week."
Opening his green coat to show his aging male protruding belly, he said, "I don't go hungry."
As for the fish he catches, he said, "I don't eat fish," he said. So now, without his commercial license to be able to sell fish, Parke said, "I throw them back."
In the summer, he said, he will sometimes cook in the woods. Years ago, he said, "I was walking along and a deer took off onto the exit ramp and a car hit it. I came out of the woods, grabbed the dear by the ear and pulled it into the woods. I butchered it and ate in in the woods," he said. "When it's fresh, I'll even eat it raw."
But now he walks with a bad limp from a recent fall, and he has dentures from a time when he was fishing and a fish on his line pulled him face first by onto the rocks at the Canal.
"I hurt my back the other day. It will heal. I am kind of like an animal where I can heal myself. I broke my kneecap one time. That healed. I don't go to the doctor," Parke said. "I've got to be dying to do that."

"People that live on the Cape, they're almost a different breed of person."
Sometimes, unrequested, people at the store will give him money, especially when he is sleeping, he said. "A couple of times, I've woken up and seen people do this. I tell them not to but they say it makes them feel good. That's okay as long as they have enough money," he said.
"I get this sort of thing all the time. But if people give me money, I don't play scratch tickets with their money. It's only for food, or sometimes cigarettes."
"People that live on the Cape, they're almost a different breed of person," said Parke. "If they like you, they'll give you what they'd give their own family. And if they don't, you don't want to be here," he said.
As for Parke, he said, "I give you the benefit of the doubt. Prove to me that you are worth being my friend and then if you ever want my help, I am here for you."
People say what comes around goes around, and it does," he said.
Parke has no plans for Christmas. "Christmas isn't the same to me since I haven't had a family," he said.
For more stories like this, see our Longform Stories
See our fishing stories
– Please like us on Facebook.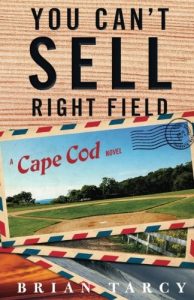 A Novel By Brian Tarcy of Cape Cod Wave
A softball team called the Townies. A slick developer with a sketchy story. A town divided over a zoning change….— YOU CAN'T SELL RIGHT FIELD, A Cape Cod Novel