FALMOUTH – This is what Cape Cod looks like in autumn, a six-mile stretch of deserted beautiful bike path with foliage, marshes and a cranberry bog.
Here, in less than nine minutes… and you can fast forward to anywhere for something a little different or a lot different… is a video mashup of the northern half of the Shining Sea Bikeway.
This is a condensed version of the ride on the Shining Sea Bikeway from Falmouth to North Falmouth, mashed-up and mixed with a perfect song, "Light Of The Sun," from one of Cape Cod's most talented musicians, Bert Jackson. The original song will be on his upcoming album.
The older, southern part of the Shining Sea Bikeway, from Falmouth to Woods Hole, is the "shining sea" portion. The less-traveled northern section from Falmouth to North Falmouth offered its own unique beauty and a path of more solitude than the route to still-bustling Woods Hole.
The scenic and sometimes bumpy ride passes the Little Sippewissett Marsh, the Great Sippewissett Marsh, and a cranberry bog.
This was filmed with our soon-to-be patented GoAmateur camera because we do not have a GoPro. I held the camera in one hand and the handlebars in the other while I rode. While you may call this amateur, I call it art. It's also somewhat mesmerizing. The music helps a lot.
– Please like us on Facebook.
For more photos from across Cape Cod, please see Scenic Cape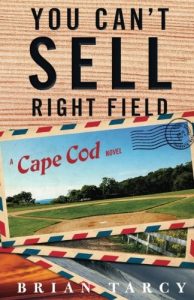 A Novel By Brian Tarcy
A softball team called the Townies. A slick developer with a sketchy story. A town divided over a zoning change….— YOU CAN'T SELL RIGHT FIELD, A Cape Cod Novel