BREWSTER – The Christmas Cavalcade For the Homeless has a new musical director, Fred Boak.
Chandler Travis, the man who dreamt up the Cavalcade more than a decade ago, said his reaction that his bandmate and valet, Boak, would take over organizing the event was, "Hallelujah! We'll have another Cavalcade after all!"
The Cavalcade, a fundraiser for the Housing Assistance Corporation of Cape Cod, will be held on December 16 at Ocean Edge in Brewster. Last year, the show raised about $10,000, said Boak. (Cape Cod Wave is a sponsor of the event.)
The concert features several of the best Cape Cod performers playing original, traditional and other versions of Christmas songs in a most fun atmosphere for a great cause. Tickets are $25 and available here. 
Boak, 56, of Harwich, is the son of a Presbyterian minister from Poughkeepsie, New York, or as he likes to say, quoting from a famous Dusty Springfield song, he is the son of a preacher man. 
His father always staged Christmas pageants at his church, said Boak, and when Boak returned from college he was his father's stage manager for those church pageants. 
That was decades ago, long before his life ambition came true and he found himself as a member of two of Travis' bands, with the job of "being on stage, with a drink in my hand, looking good."
Boak is The Valet – a title that allows the backup singer in the Chandler Travis Three-O, and the Chandler Travis Philharmonic, to be so much more than a mere backup singer. He is a big, on-stage persona.
He is also the man who saved Christmas, or at least the man who saved the Christmas Cavalcade — which is actually sort of the same thing for a lot of music fans. When Travis decided to quit the arduous task of organizing the event after 14 years, Boak stepped into the job.
"Fred's been indispensable in a million ways for us for years anyway, this is just the latest and possibly most extreme example," said Travis.

Becoming "The Valet"
Boak described himself as a "struggling computer programmer and website designer."
And while that is his day job, the two-time MIT dropout is also a singer. "I've been singing all my life," he said.
Christmas music, in fact, is where he got his start. "Somewhere, maybe in my basement, I have a recording of myself singing 'Rudolf The Red-Nosed Reindeer' at 2-1/2 years old," he said.
And while he sang in various choirs, his performing for audiences had mostly dropped from his life by the time he first saw the Chandler Travis Philharmonic at the Kirkland Cafe on the Cambridge/Somerville line. 
At the time, Boak was living in Brookline. It was about 1997. He was with a friend and they went out for his friend's birthday. He did not know what to expect, and found the band to be "amazing."
"It was one of the classic Philharmonic lineups, with four horns at least… I was kind of hooked from the get-go," said Boak.
The band had a residency at the venue, said Boak, and he went to see them a lot. It was a small scene, he said, describing it as "20 people in a bar really digging them."
About 1999, Boak decided to take a trek to the Wellfleet Beachcomber to check out Travis' other band, the Incredible Casuals. At the time, Boak said he "thought that the Casuals were Chandler's other little band."
And then he walked into the Beachcomber and saw the Casuals in a atmosphere of what he described as "insanity."
"I was almost 40 at the time," he said. "I don't know that I'd ever seen people my age moshing any more. There was just this frenetic dancing. I went up to Chandler later, after a Philharmonic show and asked if it is always like that. And Rikki (Rikki Bates, the drummer) said that it was pretty tame compared to the old days."
"Once we saw them that first time," said Boak, "we came down almost every weekend that summer."
At the time, Boak was married and going to the shows with his now ex-wife, Maia. "After we'd been going to a bunch of shows, Chandler called our answering machine." Boak said Travis asked if they would sell merchandise and Boak said he would.
"At some point for my birthday one year, Maia told Chandler that I had sung all my life but that I had not sung for a few years. She told him it might be fun to have me up on stage for my birthday," said Boak.
According to Boak, Travis told him afterward  that "you definitely can sing" and invited him to join again in the chorus for a song or two at future gigs.
Boak moved to Cape Cod in 2000.
And then, Boak said, at one point about 2001, a backup singer in the Philharmonic could not show up for a gig and Travis called and "said, 'You are my second vocalist.' I had a crash course in lyrics," said Boak.
And then at one point, Boak noticed that when he came on stage "there would be a mike on stage" ready for him.
Boak was slowly joining the band, but he had not yet developed the stage persona that is The Valet.
Here is the Chandler Travis Three-O playing the song, Graciously. Look for Boak.
At some point, the Philharmonic was in New Orleans performing at a benefit that also included Aaron Neville and Ernie K. Doe. Boak noticed that in the entourage of Ernie K. Doe was "a big guy in a white tuxedo and a cowboy hat not doing anything but dancing and holding a drink."
At the end of the set, the guy in the tuxedo "was like a hype man," said Boak. But during the songs, "he's not doing anything. I said, I can be that guy," recalled Boak.
He told Travis, "That's my dream gig, being on stage with a drink in my hand looking good."
And Travis responded, recalled Boak, "You can be my valet."
And thus a stage persona was born. "It leapt out, fully formed," said Boak.

Making The Cavalcade Great Again, Just Like All The Others
Boak said he is not planning any changes to the Cavalcade. He just wanted to continue a great tradition.
"When Chandler said he wanted to take a year off, I figured I knew all the musicians that play regularly," he said.
And so he took on the task of organizing the music.
"I knew it was a lot of work," said Boak. "Fortunately, we have a team of other volunteers helping us out."
Boak said he is "totally excited" for the Cavalcade.
"Being a minister's son, Christmas has always been sort of a big thing to me. Christmas at my Dad's church, there was a pageantry to it," he said. In his years after college, Boak stage-managed that church pageant.
Thus, said Boak, his appearance on stage as a performer in the Cavalcade over the last several years "always felt like a bit of a replacement for what I did for my Dad those last few years."
"There is something about doing something for Christmas that really made me happy," he recalled. "So I like being involved in the service of helping make this event happen."
Please see our previous stories and videos from past Cavalcades.

The Lineup At The Cavalcade
Performers for the 2018 Cape Cod Cavalcade:
Chandler Travis Philharmonic
The Ticks
Suede
Zoe Lewis
Tripping Lily
Tianna Esperanza
Cla da Bossa Nova
Fred Fried
Broadway Central
Christine Ernst
The Spampinato Brothers
The Greenheads
Toast and Jam
Trevor the Juggler
The Catbirds
Kathleen Healy
Catie Flynn
Stephen Russell
Sensible Shoes
Bert Jackson's Wicked Trio
Cumberland
Mary J. Martin
Santa Sax in Training
Scream Along With Billy
Kristin Knowles
Bitter & Broken Men's Chorus
Please like us on Facebook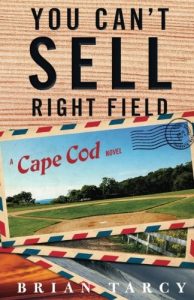 Please see, by Brian Tarcy of Cape Cod Wave —