CAPE COD – "You have to brace yourself, and then you keep going on," explained Pat Hatch, president of Cape Cod Grandmothers Against Gun Violence, of how her group continues to fight while the uniquely American gun carnage continues.
Six years after 20-year-old Adam Lanza, armed with his mother's legally-purchased guns, walked into the Sandy Hook Elementary School in Newtown, Connecticut and killed 26 people, including 20 first graders, the list of places whose names that have come to mean shootings to the outside world (When Orlando happened… When Pittsburgh happened…) continues to grow at an alarming rate.
"This is a long-term battle. We're not going to win it overnight," said Hatch. 
That Hatch and others in the Cape Cod Grandmothers Against Gun Violence are in such a battle at all is quite surprising to her and perhaps to every grandmother in the non-profit group started in the wake of the December 14, 2012 shooting in Newtown. 
There are about 400 members in the group, said Hatch, who has three granddaughters. For this story, Cape Cod Wave talked to three of the members. 
"One of the things we are fighting," said Donna Hannigan of Dennis, "is the stereotype of the word, 'grandmothers'. It elicits visions of emotional little old grannies with knitting needles. That is so far from what we are."
"Most of us have advanced degrees," said Hannigan, a retired high school literature teacher, who has 10 grandchildren. "We're not given to emotions at all. We are discriminating thinkers and fair-minded."
They are also, in fact, grandmothers.
Hatch had spent 24 years as a computer engineer and then a manager at Raytheon when she retired to Sandwich, and then Cotuit. "I was taking art lessons and helping in the wildlife center in Barnstable," said Hatch.
"I was retired and happy as a little clam," she said.
"And then Sandy Hook happened," said Hatch, the president of Cape Cod Grandmothers Against Gun Violence. "My youngest granddaughter was around 5 at the time."
"It was just stunning to me. I can't even explain how I felt when I heard of this. It struck so close to home. The horror of it did something to me."

"A Pervasive Sadness"
A quick way to get very depressed is to Google "mass shootings since Sandy Hook." Or just watch the news, read a newspaper, follow social media. There have been an enormous amount of thoughts and prayers in America since December, 2012. But the shootings keep happening.
The fight against gun violence, said Hannigan, "is like trying to put your finger in a dam."
"I think there's a sadness," said Marilyn Lariviere of Hyannisport. "There's a pervasive sadness, but a rededication that we have to do more."
Lariviere, a member of Grandmothers Against Gun Violence since 2015 and the former president of National Church Women United, has ten grandchildren and eight great-grandchildren.
Of all the mass shootings, Lariviere said, "We're just tired. Which is why there is all the more need to meet together as like-minded people to reinforce each other."
The group, in fact, started from that need. The group was started by Linda Alhart of Cummaquid, who was moved to action by the horror of the day of the Sandy Hook Elementary School massacre.
On the morning of the Newton shooting, Alhart told Cape Cod Wave in October 2013, she had attended a Christmas show at her grandson, Colton's elementary school off Cape. On the way home, she heard of the shooting and was instantly struck by how her happy day "was such a contrast to what had happened that very morning. We had come from singing and songs, and now the news was all about that massacre at that school."
As she and her husband, Don, drove home from Colton's school, Alhart turned to her husband and said, "I think my life is going to change." She explained to Cape Cod Wave in 2013, "I was galvanized to do something."
At first, she said she felt lucky the shooting didn't happen at her grandson's school, and then, she said, she realized that "Lucky shouldn't mean that you weren't killed in a school setting."
So Alhart did the only thing she could think of, she wrote a letter to the editor of the Cape Cod Times. "I said, let's band together as grandmothers."
She heard from 20 other grandmothers "who felt the same way," she told Cape Cod Wave in 2013. They held an initial meeting at her house, and then more meetings eventually moving to a library when there were too many people for her house.
The group invited speakers, and they started a monthly vigil just to "keep the issue alive" Hatch told Cape Cod Wave in 2013.
Six years after Sandy Hook, Hatch said the initial meeting at Alhart's house as a place of finding "common ground with all these grandmothers."
"They placed themselves with the parents and grandparents of those children. The horror is overwhelming and it's still with me if you hear me speak," she said. Hatch's voice cracked in just these few sentences of remembrance. 
But then Hatch talked about the "energy" of the meeting and the "determination" of the group at that first meeting. The initial goal, she said, was to bring awareness.
"We were reacting," said Hatch.
"We were motived and we were moved to organize and do what we could," recalled Hannigan of that initial meeting. "At the time, we really had no conception of where we were going. It was a brainstorming session."
"In the past six years," said Hannigan "we have really educated ourselves."
---

** Please support important, independent local journalism.
See the DONATION BUTTON AT THE TOP OF THE PAGE **

---

"A Complex Issue"
"In the past six years, we have seen a change," said Hatch. The idea of legislating change now seems increasingly possible, she said. When she first became involved in the fight, Hatch said, "It was a radioactive bomb to touch gun issues."
"Remember what happened after Sandy Hook," said Hatch, citing efforts to bring about background checks on all firearm sales. "It didn't pass. We were shocked."
"After Sandy Hook died down, the issue went away," said Hannigan. "People weren't concerned about guns. They were concerned about the economy. It took many more deaths before people began to pay attention."
"People don't want to hear thoughts and prayers any more," said Hatch. "We want to make people aware of how they can change this country. And the way to change this country is through legislation."
And so the group has organized, she said, and worked with national organizations on the issue. During the warmer months, the group meets the first Wednesday of every month at the Cape Cod Synagogue in Hyannis. They also hold a vigil at the airport rotary in Hyannis on the 14th of each month during the warmer months to raise awareness. (Cape Cod Wave first saw them at their vigil in October, 2013).
And while the massacres seem to have gone up, Hannigan said, "the data shows that the United States consistently has 32,000 gun deaths every year. It can go up or down, but the average is 32,000 gun deaths every year."
Finding numbers can be somewhat confusing as they tend to come from different places, or averaged out over different years.
This 32,000 average seemed true up until recently. In fact, the Center for Disease Control has reported gun deaths rose steadily over the past three years. According to the CDC, there were 39,773 firearm deaths by intent in 2017, the highest in nearly 40 years.
Both suicide rates by gun and homicide rates by gun have increased significantly since 2014.
Hannigan cited how many times higher America's gun death rates are over a long list of many other countries. "These countries all have violence. They all have robberies, rape, spousal abuse. Most importantly, they all have mentally ill people… the difference is that they [those other numerous countries] don't have the guns," she said.
"We slowly found out that it's a complex issue," said Hatch. "For the most part, gun deaths do not happen in schools. They happen in the inner cities. And 60 percent of gun deaths are suicides."
Hannigan said she is "not paranoid" about a mass shooting happening on Cape Cod, "but I certainly understand that it could. Some of the places where it has happened were nice quiet little places, like here."
"Gun violence happens mostly with people you know," said Hatch. While the mass shootings get all the headlines, Hatch said, gun violence happens mostly with domestic violence or suicide, or it is concentrated in poorer urban neighborhoods.
So while the Grandmothers Against Gun Violence met, organized and learned, and then demonstrated to bring awareness, they also knew they wanted to take action. Hannigan recently said, "We're looking for a solution. We do not just want to meet and ring our hands."

Optimism Despite The Numbers
"There was a problem some time ago with safety as far as cars and smoking and so forth," said Hannigan.
"In the 1990s, there were more car deaths than gun deaths. But now there are thousands more cars on the road, and fewer automobile deaths. Why? They started collecting data, doing research and finding out what caused the deaths," she said.
"We didn't take away the cars. We just studied the data, and did the research and made it more safe," said Hanngan.
But since 1996, Congress had banned the CDC from doing research on gun violence. That ban was lifted after the February 14, 2018 shooting that killed 17 people at Marjory Stoneman Douglas High School in Parkland, Florida.
Hannigan said, "We are of an age that we remember the Civil Rights movement and the changes that were brought about by young people." She said the effort by Parkland survivors to work on the issue has brought "a sea change."
"We are delighted with those young people," said Hannigan.
"The kids were so brilliant," said Hatch, of the students from Parkland. "It gave me faith."
"I've worked with teenagers my whole life," said Lariviere. "Young people aren't afraid to try something different. They aren't afraid to speak the truth. And they don't care who they offend, and that's a good thing."
But Hannigan added, "We understand the battle for social change doesn't happen immediately. It doesn't often happen overnight. These things happen incrementally, in very small steps. We are working for our grandchildren."
"All the other things, women's rights, fighting smoking, and fighting drunk driving, do you think those were overnight? It's the battle that's important and it's not going to be won overnight or in the next year or even in my lifetime," said Hatch.
"The beauty of grandmothers is they know how rough life can be," said Hatch. "I know instant gratification isn't going to happen."
While that instant gratification may not happen, Lariviere said, "I think we're at some sort of turning point. More and more people realize it is not going to go away."

"Looking For A Meaningful Dialogue"
Amendment 2: "A well regulated Militia, being necessary to the security of a free State, the right of the people to keep and bear Arms, shall not be infringed."
Amendment 2 to the the United States Constitution comes right after Amendment 1, like it or not. With that as a given, the Grandmothers Against Gun Violence seem to have struck something of a truce with the Second Amendment.
"I respect the Second Amendment. I would like to see some changes," said Hatch.
Hatch expressed optimism about Massachusetts. "It is one of the safest states for gun violence," she said. With strict guns laws, the state has the lowest gun death rate in the country.
The group  has joined with national groups and pushed for legislative changes tightening background checks, ending gun show loopholes, and restricting semi-assault weapons. 
Hatch said that one change she would like to see is a limit on how much ammunition can be loaded at once. "When you go out hunting, there's a limit to how many bullets you can put in a rifle, and what kind of bullets… You can't shoot Bambi with a semi-automatic weapon. There's better rules for animals than there are for humans."
While there are many topics, including bullets and ammunition, for discussion, Hannigan said, "We are looking for meaningful dialogue."
"To keep preaching to the choir, that's no good," she said. "We want a dialogue with gun owners."
"We are not looking to demonize gun owners," said Hannigan. "We realize that many members of the NRA are responsible gun owners. They do not reflect the irrational opinions of the leadership." 
"We are not against the Second Amendment," said Hatch. "We work very hard to explain that to people. Me, personally, I don't care about the people who go to gun clubs. Enjoy. The hunters. Those are not the people I am concerned about."
"I do have friends that belong to gun clubs," said Hatch. "They are great people. That's what they do for fun and recreation," she said.
"There are a lot of people on the East and West Coasts that don't understand the culture of gun owners. We have to learn to understand."

"Let's do something." – The 'Lock It Up' Campaign
"There are two things that gun owners and gun prevention people can agree on," said Hatch. "Gun safety and suicide prevention," she said.
"There are 20 percent of gun owners who, no matter what you say, think you are coming to take their guns away. And there is that other group that wants no guns and distrusts all police," said Hatch.
"We're trying to reach the middle people," she said. "The reasonable middle people. There's a lot of them."
"We thought, Let's do something," said Hatch. "I think we are unique," she said. "We work with anybody for gun safety. We're non partisan."
The group has hosted the owners of Cape Cod Gun Works, said Hannigan.
"Pat Hatch and I took the safety course so we could be licensed to own a gun if we wanted to." They do not own guns, she said.
And, Hatch said, crediting the help of Yarmouth Police Chief Frank Frederickson, the group launched a "Lock It Up" campaign creating rack cards with a few specific points under the headline: Lock It Up! It could save your child's life.
The card specifically does not have statistics. It merely has information on how to secure a gun. "We thought a non-threatening campaign would do some good," said Hatch.
The cards started by being available in Yarmouth for people coming in to the Yarmouth Police Station to register their guns, said Hatch. The cards are now available in Brewster, Dennis, Harwich, Truro, Wellfleet, Falmouth, Barnstable and Sandwich, said Hatch.
"Our material is all over the place," said Hatch. "It's not just in police stations. We put the cards in libraries, country stores, and restaurants that have bulletin boards," she said.
"Our target audience is gun owners," said Hatch. "That's what makes it so wonderful. It's just a reminder."

Grandmothers Against Gun Violence
In September, 2015, Lariviere, a retired school crossing guard with a degree in religious education, was the national president of Church Women United, a multi-denominational group of women working for peace and justice.
That month, Cape Cod Grandmothers Against Gun Violence came to her group and gave a workshop, said Lariviere. "I was totally impressed with what they were doing and with the women individually," she said. She joined the group.
Lariviere cited "Their passion. Their absolute passion. They wanted to make the world safe for our grandchildren." She was especially impressed with their knowledgable lobbying of legislators, their curiosity to learn more, and their tenacity to gather facts. 
"They were going to court whenever there was a case involving a shooting," Lariviere said.
"One of our programs," said Hannigan, "is monitoring gun cases in court. We don't influence. We monitor. And most of the gun cases on Cape Cod are connected to opioids. Most of these cases are settled by plea bargaining. The defendant will plead guilty to some lesser charge," she said.
Asked for a reason for those pleas, Hannigan said, "I am not educated enough to know the complicated workings of the court system."
And so six years after the elementary school massacre that became the genesis for the group Cape Cod Grandmothers Against Gun Violence, the group continues its work to monitor and prevent gun violence, hoping to continue to shine light on the issue.
"We are encouraged that it is now a topic of conversation," said Hannigan. "Now it's got to be addressed. Before, there was this great silence."
And so when the group goes out to speak, she said, it uses facts as a basis to start the conversation.
"The first thing we do is establish there is a problem with guns in the United States," said Hannigan. "After we state the facts, it's important for us to engage in a meaningful dialogue."
In fact, said Hatch, "We crave the conversation…. We just want a safer country."
See also, Stop The Gun Madness – A Personal Essay
---

** Please support important, independent local journalism.
See the DONATION BUTTON AT THE TOP OF THE PAGE **

---
– Please like us on Facebook.
For more stories like this, please see Longform Stories
Here are our Political Stories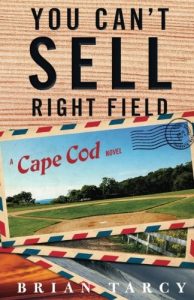 – A Novel By Brian Tarcy of Cape Cod Wave
You Can't Sell Right Field; A Cape Cod Novel
"This is a terrific read. Brian Tarcy's style and sense of humor make it easy reading, while his subject matter is of more importance than most communities realize. If you care about growth in your community and the lack of thoughtful planning, you owe it to yourself to read this thoughtful piece of fiction that is all too real in smaller communities in our country."