PROVINCETOWN – This was my close encounter with Pete Buttigieg, who visited Provincetown on Friday as a candidate for President of the United States of America. 
As he was leaving an event in Town Hall for a private fundraiser in the West End, I was in a small crowd of folks that watched him get in a large black SUV, wave, and then get out and come over and shake hands.
His husband, Chasten, was with him and the crowd loved it.
The breaking news, that I gathered due to a crowd member asking, is that Chasten is not interested in running for Vice President.
Buttigieg spoke first at Town Hall, where he gave a speech inside to those lucky enough to get a ticket.
Before the speech, he talked on the steps of Provincetown Town Hall for 2 minutes and 24 seconds, according to someone I met who taped it.
Then he talked inside for almost an hour. Later, he went to a private fundraiser in the West End.
But first he came over to the crowd where I shot this video.
It was quite different than when I was in town four years ago for a Hillary Clinton fundraiser. Then I needed my best zoom lens to get a shot for maybe a second when she waved to the crowd, hundreds of feet away, after talking only to rich donors.
Mayor Pete, instead, when leaving his free speech inside Town Hall, did this.
It was refreshing on a lot of levels. And yes, that is my very subjective opinion. 
Even so, my little brush with American Presidential politics was not without disappointment. I ran into a guy selling Mayor Pete T-shirts, who asked me if I could tell him how to get to Cape Cod. At first, I thought he was joking, but he had no idea that Provincetown was part of Cape Cod.
That was fine, but then I found out that neither the guy, nor his partner, had any real interest in politics or Mayor Pete. They were merely selling T-shirts.
It reminded me of the time I met a professional petition gatherer. American politics is certainly an interesting place to make a living.
Anyway, as for our close encounter… Mayor Pete, have your people call my people. We'll do lunch next time you're on the Cape.
Like a lot of folks I met outside of Town Hall, I and the entire Cape Cod Wave Magazine corporate staff are very intrigued by your message but we've still got questions. Same as with all of your two dozen friends running for President.
We already tried to ask President Trump questions… but he's clearly afraid of talking to Cape Cod Wave. 
(Special thanks to the two unknown guys in front of me who graciously allowed me to step in front of them to shoot this video with a clearer view.)
See our other political stories
Please like us on Facebook.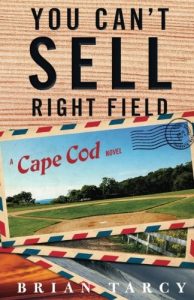 Please see, narrated by the town garbageman who plays shortstop for a softball team called The Townies, this novel based on the true story of a Cape Cod land deal. From Cape Cod Wave,  YOU CAN'T SELL RIGHT FIELD, A Cape Cod Novel
Seen in the West End. CAPE COD WAVE PHOTO