FALMOUTH – Somewhere on the fine line between nature's artistry and stormy chaos was the blizzard of March 13, 2018 in downtown Falmouth, where downed branches and yellow warning tape were as much part of the scenery as Katharine Lee Bates's new white silhouette.
The statue of Bates, Falmouth native and "America The Beautiful" author, was just one of the many sights in Falmouth, if you could see with the snow slamming into your face.
Yes, it was windy. Here's ten seconds of a flag on the Village Green.
We saw some power lines down on Hamlin Avenue and Main Street near Steve's Pizza, and plenty of artistic snow that was a good final burst of winter – we hope – before what have now come to expect as the best summer ever.
We are owed.
– Please like us on Facebook.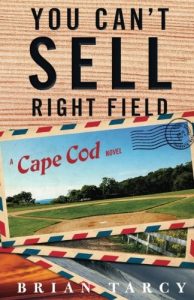 – A Novel By Brian Tarcy of Cape Cod Wave
"This is a terrific read. Brian Tarcy's style and sense of humor make it easy reading, while his subject matter is of more importance than most communities realize. If you care about growth in your community and the lack of thoughtful planning, you owe it to yourself to read this thoughtful piece of fiction that is all too real in smaller communities in our country."
Be careful out there. CAPE COD WAVE PHOTO