WOODS HOLE – The Woods Hole Oceanographic Institution is delivering gloves, masks, protective suits, and boot and shoe covers to Cape Cod Hospital to help healthcare workers deal with the Covid-19 crisis.
According to Christopher Land, General Counsel and Vice President for Legal Affairs at WHOI, the institution has already donated supplies it had on hand for its own emergency response team. The institution since spent time, "looking at what we have in labs" to see what else can be donated.
By early Thursday morning, with the WHOI campus mostly shut down, Mark Abbott, director and president of WHOI, "asked me to develop a plan" to look at what can be donated, said Land.
Several things happened almost simultaneously with Abbott's request, he said. Scientists, responding to a staff-wide email, began suggesting that equipment could be donated. Then, he said, "Cape Cod Healthcare reached out to me to see if we have any spare inventory."
The initial donation, from the WHOI emergency response team, said Land, was 3,000 pairs of gloves, 600 N95 masks, and "several protective suits with and without hoods, and boot covers and shoe covers."
"We have five to 10 more labs that have this sort of equipment," said Land. "Two or three of them have the most."
Ken Buesseler, an oceanographer in the chemistry department with WHOI said, "The things we wear to protect ourselves as chemists is what first responders need to protect themselves from the virus."
Buesseler, whose official title is senior scientist, said he is working from home but one of technicians is in the lab to keep some of the instruments running. "He put a pile together," said Buesseler.
In the chemistry lab that Buesseler and six others work in, there were 1,500 pairs of gloves, several dozen booties and some some protective clothing, he said.
"There will be other labs that have even more stuff," he said.
Buesseler said he was encouraged to see that other research and academic institutions are following suit.
"It's such an obvious thing," he said. It was one thing he and his profession could do, he said. "I am a doctor of science, not a doctor of medicine," said Buesseler.
As for how the lab will adjust when the crisis ends, Buesseler said, "We're not thinking too much about the future. It's more about what can we help with right now."
Land said that a small bit of protective equipment will remain at WHOI because, "We still have labs that could have accidents. We still have risks. We want to be sure we are keeping our staff safe and that we have the ability to respond to accidents."
While WHOI's on campus activity is mostly shut down and most people are working from home, Land said, there are some labs that have minimal staffing to keep instruments running and "specimens we need to keep alive."
The leadership of WHOI is evaluating "what critical systems do we need to keep running," he said. "Since this all started two weeks ago, we have been evaluating and changing that every day as new facts come in."
Meanwhile, he said, the institution is gathering material from its labs and should have more equipment to Falmouth Hospital soon.
"You keep hear about people hoarding," said Buesseler. "This is an attempt to do the opposite."
– Please like us on Facebook.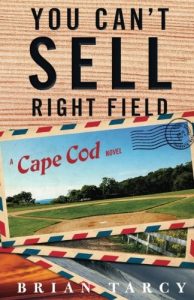 –PLEASE SEE You Can't Sell Right Field,  a novel from Cape Cod Wave…. about land for sale, a crooked developer, a softball team named The Townies, and an election. Based on the true story of a Cape Cod development from the early 1990s, and Cape Cod softball.