FALMOUTH – Bomb + Cyclone? Cold? Wind? A bit of rain and then snow? Really? Is that all you got, Grayson?
Okay, sure my face hurt from the pelting wet, I couldn't stand up straight in the wind, and my fingers were numb after this inside the truck/outside the truck trek from Falmouth to Woods Hole at noon to 1 p.m., which was high tide during winter storm Grayson.
But let's get this straight: in recent storm lore – Grayson is no Juno.
So, unafraid, we ventured out at high tide to see what this highly-hyped storm offered. The most fun characteristic was how it evolved during a 20-minute drive  – from Falmouth Harbor, where it was sleeting to Woods Hole, where it was snowing.
This video includes Falmouth Harbor, Nobska Lighthouse, and the famous skiffs and not famous ducks at Eel Pond in Woods Hole.
If you like this video, please go to the Pickle Jar Kitchen and eat the best breakfast in Falmouth, and thank the owners for their help in producing this video.
– Please like us on Facebook.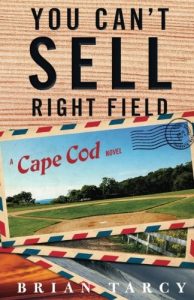 – A Novel By Brian Tarcy of Cape Cod Wave
A softball team called the Townies. A slick developer with a sketchy story. A town divided over a zoning change….— YOU CAN'T SELL RIGHT FIELD, A Cape Cod Novel