FALMOUTH – Four thousand yards of new sand and two loaders to spread the sand were brought in this week to Surf Drive Beach to help fight erosion, especially erosion caused by an October storm.
Surf Drive Beach, Bristol Beach, and Menauhant Beach – south-facing beaches – are most in danger to what Falmouth Beach Superintendent Bruce Mogardo called "a confluence of two types of events."
The two factors that most endanger the beaches, he said, are sea level rise and storm damage.
This video featuring Josh Clark and Jorge Mendes of the Falmouth Highway Department driving loaders carrying sand shows a slight glimpse into the work requested by Mogardo "to preserve and protect our resource."
Clark said the two had already done this work on Bristol Beach. He said the work is done at different beaches different years "when it's needed."
"Every town on the Cape has to deal with, in some way shape or form, erosions," said Mogardo.
"Whether it is rebuilding parking lots, rebuilding fencing and steps sometimes an an annual basis, sometimes less frequently, but just about every town on the Cape has to deal with some version of this," said Mogardo, who is entering his 49th year working for the Falmouth Beach Department.
This work, said Mogardo, is the third time the town has replenished the beach in this way since he began working for the town. The first, he said, was after Hurricane Bob in 1991, when the dunes that had been there "were in the road."
The second time Surf Drive was replenished was about 15 years ago, around 2005. 
There is no real way of knowing when it will need to be done, he said. "We know our weather is unpredictable," he said. "The best we can do is pick up the pieces in the spring."
But it is more than just picking up the pieces, he said. "If we follow the seal level rise, we know it is important to maintain the dune if not make the dune grow because there are utilities behind the dune in front of the houses."
There are houses across the street from the beach.
As for Menauhant Beach's erosion issue, which Cape Cod Wave wrote a longform story about in July 2018, Mogardo said, "It's in rough shape right now. It's worse than a couple of years ago."
Menauhant will also be getting beach nourishment, he said.
"The erosion rate on our south facing beaches has become more and more serious over the last five years," he said.
It's important to remember that beaches are living systems, said Mogardo. "You are not just putting sand down and it is going to stay there."
Sand moves, he said. Even sand on different parts of Surf Drive are different. "In some spots, it's very fine sugar sand. In some spots it's stoney and in places it's pebbly. That's just the nature of a beach and the way the tide hits it," he said.
The sand was brought in from a couple of places, he said. 
"They have my sand stockpiled behind the leaf dump," he said. About 2,500 yards of the sand replenishing Surf Drive Beach came from that stockpile, he said. That sand had been dredged from Rand's Canal and Wild Harbor in North Falmouth, he said.
In addition, about 1,500 yards of sand was brought from a recent dredging of Falmouth Harbor.
The sand that has been added to the beach is safe and clean, he said.
"In Falmouth, in order to add any material or take away any material from a wetland, which is a beach, it has to be reviewed and inspected by the town conservation agent," said Mogardo.
– Please like us on Facebook.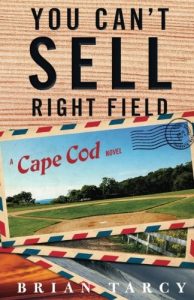 Based on the true story of a Falmouth development and a crooked developer.
From Cape Cod Wave: YOU CAN'T SELL RIGHT FIELD, A Cape Cod Novel
If you like this, and find a local journalism alternative valuable, please slide the below slider and support Cape Cod Wave. We do not charge for content. We do need your support. Thanks!