CAPE COD – Horn beeps, thumbs up and flashing middle fingers was the participation of drivers going by a Trump rally in Hyannis on Thursday, and also that of drivers going by an anti-Trump rally in Falmouth on Saturday.
We are not that different after all.
See also, Talking to Trump Supporters At A Rally On Cape Cod.
See also, Talking to Anti-Trump Demonstrators At The Weekly Falmouth Rally.
As Americans, we express our emotions from our automobiles in a unified way.
Demonstrators, at either rally, felt the love as each had mostly supportive horn beeps and thumbs up. They all mostly laughed at the middle finger salutes.
I laughed at how similar it all was, and wondered, almost seriously, whether the people driving by were the exact same demonstrative drivers doing the opposite thing at each rally.
Ain't that America? We all have a voice.
While Cape Cod Wave has made very clear our feelings on this President who has called our profession "an enemy of the people," we were interested in the perspective of supporters who felt passionate enough to stand out and hold a public peaceful demonstration.
And while we had seen the Falmouth folks on the Village Green many times, and even profiled Paul Rifkin, one of the demonstrators, we were interested in why specifically they stand out there holding their public peaceful demonstration.
This president generates great passion.
While we at Cape Cod Wave like to think of America as very divided place on the other side of the Cape Cod Canal but a unified utopia over here, we are not naive enough to believe such a thing.
One County Commissioner, whose resignation we called for after his suggestion of a civil war, models himself after the President. 
That commissioner, Ron Beaty Jr., was at the Hyannis rally. We went up and shook his hand. 
When asked about whether more civility is needed, Beaty said, "it goes in cycles."
It will become more civil again, he said.
Coming from Beaty, we found this encouraging.
As for his role in escalating or de-escalating the rhetoric, he said, "I do what I do." We found that discouraging.
Still, respectful dialogue is our hope for all sides.
Perspective, we learned long ago, explains everything.
Talking to people at two different rallies certainly gives an interesting look at some of the most passionate, caring political perspectives on Cape Cod.
Each side sees the world differently. Neither side understands the other.
The lack of an agreement on truth is what we find most concerning of all. The water has been muddied. And yes, we'll pick sides here.
We blame President Trump. The media is not the enemy of the people.
Traditional print media is not fake news. It is news and it is real. When mistakes are made, they are corrected. Unlike false statements by the President.
There were things we were told at the Trump rally that were false, and frankly, scary to us.
And it always frightens us when anyone thinks they are always right. It is most frightening to meet people who think one man is always right. Blind faith in any human is something we find to be disconcerting, and very dangerous.
On the other hand, we generally liked all the people we met, at both rallies. So are there good people on both sides? At these rallies, at least to us, yes.
A Little Ditty About Jack & Diane
The first people that I met at the Trump rally were Jack and Diane Elliott of West Yarmouth. Jack with his friendly way, gray hippie's pony tail and loving talk of his grandchildren and Diane with her big smile both greeted me and welcomed my questions. 
Standing at in a group of 50 Trump supporters, I knew I disagreed with probably everything they stood for politically. But just talking to Jack and Diane, I liked them.
We're easy to remember," said Diane. "We're Jack and Diane, like the [John Mellencamp] song."
To paraphrase that song, Oh yeah, life goes on but there is a divisive election approaching; please talk to each other, not at each other. And listen to each other too, before your country is gone.
This country, flawed and divided, needs you to please understand there is still way more commonality than differences.
Oh yeah, life goes on. We hope.
– Please like us on Facebook.
See our other political stories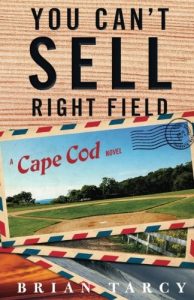 Please see, from Cape Cod Wave, a novel about a land deal, a softball team and an election: YOU CAN'T SELL RIGHT FIELD, A Cape Cod Novel
If you like this, and find a local journalism alternative valuable, please consider supporting us. We do not charge for content. We only ask that you pay what you can … if you find value. Thanks!