FALMOUTH – Paul Rifkin's T-shirt says, "Civil Disobedience," his lips are liable to say anything, but his actions speak loudest of all.
For instance, there was his third trespassing arrest on Pilgrim Nuclear Power Station property, on Mother's Day 2015. Rifkin, 73, is facing up to a year in jail. His next pretrial court hearing, to decide whether to go to trial, is scheduled for October 14.
"I've been arrested at Pilgrim three times," he said. "They want to stop people from doing this shit. They want to teach me a lesson. It wastes their time. They are not likely to dismiss."
"I stick with this crap because it's a moral imperative," he said. "I do it because my conscience tells me to do it. I'd rather be home smoking a joint, drinking some wine and relaxing on my couch with a beautiful woman, watching a movie."
"I do it because I'm scared for all of us," he said of his activism against Pilgrim. "This is a real palpable fear for me. I don't want to wake up one morning and listen to the sirens we could have prevented."
An American flag flies outside of his restaurant, the Moonakis Cafe in Waquoit. "I consider myself a patriot if it means supporting the people who live in my country, "said Rifkin. "Not if it means supporting the government of my country. I don't believe in corporate patriotism."

Master Media Manipulator
"It's a much bigger splash than a letter to the editor," Rifkin said of the strategy of getting arrested to bring attention to a cause.
He has been arrested with others, members of the group, Cape Downwinders, protesting Pilgrim. "We want publicity for our cause. This is the way to get publicity for our cause. The newspapers fucking love it," he said.
On Mother's Day, Rifkin, of Falmouth, and Elaine Dickinson of Harwich, were arrested for trespassing at Pilgrim. On September 1, Rifkin sent off an email blast with this information, "On July 15, 2015 Elaine and I were offered one year probation, a $50 dollar a month probation fee for 12 months, and a do not return to Pilgrim NPP for one year sentence if we pleaded guilty. Elaine pleaded guilty, I did not."
"You called me, didn't you?" he said to a Cape Cod Wave reporter. "We get our message out with civil disobedience."
Rifkin thinks if his case is not dismissed and he goes to trial or then jail for trespassing, more people and then public officials will pay attention to the danger of the nuclear plant.
Rifkin said he believes the Pilgrim nuclear plant, which is the same design as the infamous Fukishima plant that failed after an earthquake and Tsunami, is a grave danger to everyone in southeastern Massachusetts. For those on Cape Cod, he said, there would be no escape if there were a catastrophe, as the Bourne Bridge and Sagamore Bridge would be temporarily closed down.
While Rifkin and other Cape Downwinders have made their views well-known, Rifkin has described the movement as "a bunch of old people doing civil disobedience."
Later, when describing the protests against Pilgrim, he added, "we never get a lot of people."
His case may be dismissed. If that happens, Rifkin said his feelings are, "You can dismiss the case but you can't dismiss the issue."
"A judge could be sympathetic," said Rifkin. "But their hands are tied. I did trespass. It is illegal."
If the case is not dismissed, Rifkin said he will ask for a jury trial. "This charm thing and this eloquence thing will maybe work in my favor," he said. "All I need is one woman on the jury to either think I'm cute or charming, or even gets the righteousness of my cause," said Rifkin.
"If I have a trial and the jury finds me guilty, which they very well might, my chances of going to jail are large," he said.
If he does go to jail, he can already envision what he calls "a pitchfork rally" with people carrying a big sign that says "Free Rifkin, Close Pilgrim" and other folks with pitchforks and tar and feather to finally "convince the establishment they have to close Pilgrim."
Closing Pilgrim is worth going to jail for, he said.
"I am a publicity hound for the cause, not for Paul Rifkin," he said. "I am not important. I am nothing, but the cause is of utmost importance."
---

NOTE TO READERS: In these fraught times, Cape Cod Wave Magazine is hoping to survive, like everyone else and we are asking for your help.  Our product is our content. We hope you understand. There is a donation button at the top of every page.
We set the amount, in 2020. after seven years of never asking, at $10 for a one-time donation. If you would like to give more, or less, you can send a check to Cape Cod Wave Magazine, Box 29, Falmouth, MA 02541
Thank you for reading Cape Cod Wave, and stay safe!
– Laura & Brian

---

"You should be worried"
The Pilgrim Nuclear Power Station began operating on December 9, 1972. It is currently owned by Entergy, a Louisiana company. Early this month, the Nuclear Regulatory Commission downgraded its rating of the plant to one of its lowest performance categories. There have been several shutdowns and equipment failures at the plant.
"The facility is old," said Rifkin.
There are concerns that the plant with the same design as Fukishima could have the same type of catastrophe. Rifkin said, "On the Cape, the issue is a particularly poignant situation," he said. The bridges will be temporarily closed to allow people who live closer to the plant, such as in Plymouth, access to the highways, he said.
"That's fine for those people, and I have no argument with them," he said. "But for anyone to pretend that this is okay, they have their head in the sand on Cape Cod. So unless you have a helicopter or a boat, you're stuck on the Cape."
"Our families, our pets, our property are going to be subject to a very horrible possibility," said Rifkin. "This is not acceptable to me or to a number of other people who have been working very hard over the years to close that plant."
"The plant is failing," he said. "The most susceptible, the people who are going to get it the worst are the young people, as the radiation sets into their growing bones."
If an accident were to happen, he said, "Other than the dangers to our health, if the Cape gets radiated, this area becomes uninhabitable. When the bridges open, you'll be able to leave. You will not be able to come back."
"I'm not the only one worried," he said. "You should be worried."
About those who are not worried, Rifkin said, "They trust their government to take care of them, and that's a foolhardy proposition."

The Education Of An Activist
Rifkin describes himself as "the acorn that fell right from the tree."
"My father got arrested numerous times, probably more times than I have," he said.
His father, Bernie Rifkin, was a well-known union organizer in Brooklyn. When he died in 1995, the New York Times ran his obituary, which said he "helped create the country's first fully accredited labor college." He had traveled all over the world organizing workers into unions.
Rifkin recalled his father as a tough but compassionate man who kindly helped "hobos" that most people avoided, but also got in fistfights with "scabs trying to cross the picket line of the United Auto Workers."
In 1960, Rifkin enlisted in the Army "to avoid being drafted."
He served six months and then was in the reserves before being called up in 1961 during the Berlin crisis. "I got to kick some ass while I was in the Army," he said. "There were a lot of rednecks and a lot of anti-Jew and anti-black stuff."
Rifkin described himself as "a hot-headed Jew from New York."
In between his two stints in the Army, he got a job with Senator Harrison Arlington Williams Jr. from New Jersey. "I got the job through my father," he said. "My father was a political animal."
While working in Senator Williams office, Rifkin said he used the Senator's auto-pen, which signed his signature, to sign a letter that he drafted excusing himself from the Army. He used the auto pen instead of asking the Senator for his actual signature "because I didn't want to bother the Senator," said Rifkin.
"I believe the statute of limitations is up on that," he said.
He enrolled in George Washington University and studied history "because I could not understand a word they were talking about in calculus."
While he was in college and working for Senator Williams in late 1963, Riflkin's father was kidnapped by tin miners in Bolivia and held captive, along with other foreigners, for 11 days. It was about one month after President Kennedy was assassinated.
Rifkin flew down to be with his mother in Bolivia, and when his father was released, the family got to meet President Johnson. Rifkin had admired Kennedy much more. "If it had only happened a month earlier," he said, "I could have met Kennedy."
"Instead, I shook hands with Johnson," said Rifkin. "His handshake was like a dead fish."
During college, he spent some time hitchhiking in Europe, and developed a bit of wanderlust. While the Vietnam War heated up, and he participated in some anti-war protests, he found himself more in tune with the counterculture movement. And that was headed west, to San Francisco.

American Hippie
There are parts of Rifkin's true story that resemble fictional Forest Gump's trip through history, if Forest Gump was stoned.
"I lived at 609 Ashbury," said Rifkin. It is, essentially, the corner of Haight and Ashbury. He moved there in 1965, just after graduating from college.
"I had orgies in the apartment with, like, 75 naked people. This is all on the record," said Rifkin. "I'm not embarrassed about any of it. We were naked. You wish you were there."
"If you take LSD and it works for you, you love everybody," he said.
Rifkin became a loving trusting hippie in San Francisco, but he found out on his hitchhike out there that not everyone in world was so trustworthy.
"I got picked up by a real nice guy somewhere in the middle of the country," he said. When they stopped in Rock Springs, Wyoming, Rifkin came out of the bathroom and discovered his ride, and his two suitcases in the trunk, were gone.
"I went out and screamed at the top of my voice to God, how was I going to make it in this world if I was this stupid," he recalled.
But then, after this brief one-way conversation, he calmed down and continued on. While the experience made him wary of people, he also realized that "You're not done just because you're down. You're only done if you quit. Learning this really bolstered me moving forward," said Rifkin.
He made it to San Francisco and lived what he described as a free love hippie lifestyle. Then Rifkin met and married a woman named Barbara Meier, who had previously dated a then-unknown musician named, Jerry Garcia, founder of the Grateful Dead. Years later, "she ended up dumping me," said Rifkin.
Rifkin loved the Haight-Ashbury hippie scene. "But when the drug scene got nasty with all the bad drugs, the pretty hippies – and I was beautiful – left," he said. "The pretty hippies left."
"Before the drug thing turned dirty, the whole hippie thing was beautiful," said Rifkin. "We were listening to the Beatles, we were all stoned on acid, and finding God. It was beautiful."
But then the scene changed. "One of the ways we left is we stopped taking drugs and we took up meditation," said Rifkin. He studied at Tassajara, a Zen training monastery, 60 miles south of San Francisco. It opened in 1967 as the first Zen training monastery outside of Japan.
"I was the first person to get in a fistfight in a monastery in over 100 years," said Rifkin. The way Rifkin described it, he told someone that he had not liked their tone of voice, and the other person, in a dark room, mistook Rifkin scratching his nose as an aggressive movement. "One punch was thrown," said Rifkin. "Not my punch, my jaw."
The other guy "had a full-bred wolf as a pet," said Rifkin. "He was a tough guy. I am not. I'm just a hot-headed Jew."
So when the first punch in 100 years in a monastery was thrown, there was a Zen way of dealing with it. The two were made "to sit in the same room, in meditation," said Rifkin. "The whole eight hours, I was devising ways to murder him. I did not reach enlightenment."
Instead, he moved to the mountains, lived on a commune in Nevada City, California, and grew marijuana. He had another plan, which was the beginning of what became his career.
"I opened a restaurant because I wasn't clever enough to do anything else," said Rifkin. The restaurant was called the Rainbow Mountain Inn. "The food was traditional American food. But it was a hippie restaurant. Everyone who worked there or ate there was a hippie," he said. "Everyone was either stoned before they got in, after they got in, or when they left."
And although he was an activist against the Vietnam War and for civil rights in the 1960s, and he has been an activist on Cape Cod for several years, both against Pilgrim and against the Iraq War, Rifkin said, "There was a gap caused by an overwhelming attraction to hedonism and the hippie lifestyle, receiving pleasure from drugs and womanizing."
In the 1980s, he came to Cape Cod. "When I got to the Cape, I was fortunate to meet a lovely woman, Ellen," he said. They opened a restaurant, Moonakis Cafe. "I stopped womanizing. I stopped being a vagabond," said Rifkin. "And I got rooted for the first time in a community."

Cape Cod – Food, Photography & Protesting
"Ellen and I were the two cooks for the first 15 years," said Rifkin. "She was the master chef. I was the mule chef."
They served breakfast and lunch, and they both worked every day. "We were exhausted all the time," he said. "We'd come home, decompress, fall asleep, wake up and do it again."
It was hard work but Rifkin enjoyed it, especially when he got out of the kitchen and walked around and talked to his customers. Describing it now, he said, "I get to do theater with people I've known almost three decades. And their children, and their grandchildren."
"The restaurant is theater," he said.
"I have 25,000 anecdotes," said Rifkin. "I am a storyteller. Some people call me a bullshit artist. But I love people and I love turning everything into a show. Life is a show. You can sit there and be bored, or you can engage people."
Around the time that they hired cooks and Rifkin moved out from full-time in the kitchen, he began taking classes at Falmouth Community Television. He took the classes because he always liked photography.
He recalled having a Polaroid camera as a young man, and he would take a picture of a pretty woman, and then give it to her. "I was learning how to compose, and I was meeting girls," he said.
"I can't paint. I can't sing. But I've always had an eye. I was born with an eye, and very little else," he said.
At FCTV, Rifkin learned how to make films and became involved in a grass roots effort (since successful) to save and restore Highfield Hall. He began making more videos, including one that won an award at the Boston Film & Video Festival. "That empowered me," said Rifkin.
He got recognition in the community and started getting hired to do videos, he said. Decades after just missing out on meeting President Kennedy, Rifkin got to meet his brother, Senator Ted Kennedy, for a video he was doing on a local Falmouth citizen of the year, Kitty Baker.
"I got to go to Kennedy's house," said Rifkin. "It was like a museum. Kennedy was just sitting there at the kitchen table. There was no security there. It was just me and him. Can you imagine. I got to tell him a few jokes."
Most of Rifkin's politics are not a laughing matter, although he often seems to be laughing.
He joined up with a group in Falmouth protesting the Iraq War. "The Iraq war pissed me off to no end. I knew from the beginning we were going in for reasons other than what Bush and Cheney said we were."
He began going to marches against the war. "The first time I got arrested, I marched with Cindy Sheehan in New York." Sheehan is an anti-war activist whose son, Casey, was killed in Iraq. "That was my first political arrest," he said.
He also had what he calls "two youthful indiscretions, including spending five days in jail in the Bahamas for possession of two joints. That time in jail, he said, made him not afraid of jail if he is sentenced for trespassing at Pilgrim.
Trespassing at Pilgrim is a way to get arrested, said Rifkin. And getting arrested brings attention to the cause.

The Contradictory, Politically Incorrect Showman
For this story, Rifkin described his statement to the media about Pilgrim after he was arrested as "the most eloquent motherfucking shit you ever heard."
He is well versed on the subject. But he is more than merely knowledgeable.
He has a Trump-like confidence in his abilities, and even a Trump-like ability to put others down. But it is mixed with Woody Allen's self-deprecating sense of humor, and Ghandi's moral compass. It's a bit discombobulating, even before you throw in his Hugh Hefner-esque love of women.
He and Ellen, after 29 years together, split up last Thanksgiving. He is dating again.
After telling a story about how he made a female judge laugh during one of his court cases, Rifkin said, "I am funny as shit. I can make a rabid dog laugh in the middle of an attack."
He said he has lost patience with some of his fellow activists. He imagines some have lost patience with him.
"I don't get along well with people in general, and I don't suffer fools at all," he said. "I've been going to meetings about this Pilgrim issue for four years. When you go to these meetings, you don't get to choose who else is there. But there's a lot of egos and straight-out stupidity that wastes time at these meetings."
"I'm a big mouth and a lot of people are insecure," he said. "I say a lot of smart things. They say a lot of dopey things that no one gives a shit about."
"He does sometimes appear contradictory," said Rev. Nell Fields, Rifkin's minister at the Waquoit Congregational Church. Yes, the self-described "hot-headed Jew" converted one year ago.
He does like people," said Fields. "He doesn't like all the nonsense. Paul is very bright. I find people who are very bright can be very funny. He's pretty witty and self aware, and one step ahead of everybody. He doesn't take himself seriously, which is an essential quality these days."
Fields acknowledged that Rifkin is proudly not politically correct. If he says something outrageous, she said, "He says it with a twinkle in his eye."
Much of what Rifkin says with a twinkle in his eye revolved around his love of women. He said prison would be worth it because he has been jokingly promised conjugal visits. During a phone interview, Rifkin yelled to someone leaving his restaurant, "Don't leave, the restaurant needs more pretty women."
"Paul is not a womanizer," said Rifkin's friend, Preston Simpson. "He's a lover of women. Sure, he'd like to sleep with a million women. But he would ask their permission."
The subject is part of this story because Rifkin, laughing and smiling always, makes it so much a part of his story. He even suggested that his desire to find a new lover be in the first sentence of this story. Despite what is maybe his other hope, it's not the end of this story either.

"When we say things about America"
"I call him the cantankerous Jesus," said Simpson, who goes to the same church as Rifkin. "That means he's passionate and feisty but at heart I mean he's the epitome of what it means to be Christian-like. Not Christ-like. But Christian-like."
"I've seen him do so many things for so many people, myself included," said Simpson.
Rifkin said that when his 29-year relationship collapsed last Thanksgiving, it was his friend Donna Zeger who kept him going. Zeger said, "He's always talking about how I helped him. But he's helped me and so many people."
He is involved in more than just protest causes. "I've always found him to be generous, civic-minded, socially aware person out there doing the hard work for all of us," said Zeger. "He works on so many different causes," she said.
Simpson said, "Some people say they're going to do something and they don't actually follow through. He follows through."
Rifkin said, "My bottom line is that in Genesis, Cain asked God, 'Am I my brother's keeper?' And my answer to that question is, absolutely yes. I am in servitude to the answer to that question."
Fields, his minister, said, "The spirit of God has been working through Paul for a long time." She described Rifkin as someone belonging in a big city. His story, his outlook, his background is so interesting, Fields said, "to have a treasure like that like that in Waquoit, on Cape Cod, is special."
Zeger said, "The world needs more Paul Rifkins."
Unprompted, Fields later said the exact same sentence, "The world needs more Paul Rifkins."
"He is who he says he is," said Simpson. "He walks the talk… He believes the principles that we espouse when we say things about America. It's about lifting each other up."
For more stories like this, please see Longform Stories
– Please like us on Facebook.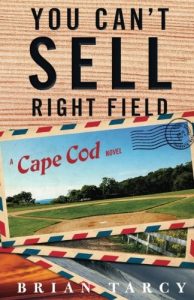 –PLEASE SEE You Can't Sell Right Field,  a novel from Cape Cod Wave…. about a huge piece of land for sale, a crooked developer, a softball team named The Townies, and an election. Based on the true story of a large Cape Cod development from the early 1990s, and Cape Cod softball.