TRURO – Three 14-year-old girls had a close encounter with a large shark just after 7 p.m. today, August 8, at Longnook Beach.
Cape Cod Wave, which often does shoe leather journalism, was in the midst of some barefoot journalism when there was yelling and everyone on the beach went running.
Just after it happened, we shot this video of the three teenage girls, Caroline Cannata, Lucia Dwyer, and Mary Kate Mylod, from Milton, and a fisherman, Tim Cooper from New York City who witnessed it.
We did not see the shark. But having talked to these four… well, what do you think?
On August 8 and the previous day, Head of the Meadow Beach, about two miles north, was closed for an hour each day after a shark sighting.
We did not see this shark. We did see a lot of seals.
We know that sharks eat seals.
We're glad sharks do not eat teenagers… at least not Caroline, Lucia and Mary Kate, who we expect may be telling this fish story long after they are past their teen years.
See also A Cape Cod Shark Story
– Please like us on Facebook.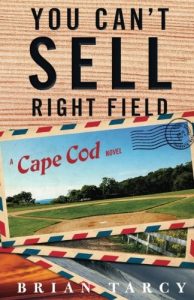 –PLEASE SEE A Novel By Brian Tarcy of Cape Cod Wave
"This is a terrific read. Brian Tarcy's style and sense of humor make it easy reading, while his subject matter is of more importance than most communities realize. If you care about growth in your community and the lack of thoughtful planning, you owe it to yourself to read this though