FALMOUTH – This big hole on Palmer Avenue was a small part of a large project replacing a 12-inch water main, installed in 1899, with a new 16-inch water main that will extend 18,000 feet from Locust Street to Oxbow road, said Raymond Jack, director of the Falmouth Department of Public Works.
This 30-foot section of new water main was installed on Palmer Avenue, also called Route 28, last week, causing a road closure on part of the very busy way to Woods Hole.
Watching the process, one thing was clear. "It's not easy getting a 16-inch main into the ground," said Jack.
The $6 million project started in January of 2019 at Oxbow road, said Jack. About 6,000 feet of new water main has already been installed, he said. "We worked all the way through June, and then had a summer cessation of construction. We picked it up again after Labor Day, and we'll continue working as long as the weather holds out," said Jack.
This video is from last week,  just before the storm.
The DPW is scheduled to install a pipe to go under and across the road on Thursday (October 24), said Jack.
The next step, he said, will be bringing the water main along Main Street. "The main along Main Street was designed back in the horse-and-buggy days," said Jack.
"Main Street is what it is," he said. "It's narrow and dense, but there's not too many underground structures to be concerned about," he said. "Further out, by Davis Sraits and Teaticket Highway, there's other utilities," he said.
The "absolutely necessary" project, he said, has been "a long time coming…. It was breaking regularly."
And, Jack added, good progress has been made. The project was scheduled to take two years, he said, but "if they make sufficient progress as they did in the spring, this could be completed by next summer, which means six months early."
– Please like us on Facebook.
More Falmouth stories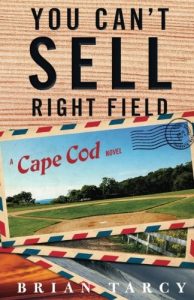 –PLEASE SEE A Novel By Brian Tarcy of Cape Cod Wave
Based on the true story of a large development in Falmouth.
If you like this, and find a local journalism alternative valuable, please consider supporting us. We do not charge for content. We ask that you pay what you can if you find value.