WEST YARMOUTH – Karen Wren, a deacon at the West Yarmouth Congregational Church, loves autumn. She loves the whole fall spirit, and pumpkins and even pumpkin pie.
As for Halloween, said Wren, "I like Christmas and Easter."
And yet there she was, smiling while wearing pumpkin earrings, on the lawn of the church running the 13th annual church pumpkin sale. The thousands of pumpkins were delivered in two 40,000 pound shipments. They were displayed on the lawn of the historic church, which was built in 1840 as a meeting house, said Wren.
Wren said she has told people in town about her church and some don't know the name of the West Yarmouth Congregational Church, which is right on Route 28, but they do know of the pumpkin sale. "We're known as the pumpkin church," she said.
Wren said the pumpkins come from New Mexico. "We happened to come upon this deal the Indians in New Mexico have. We get a percentage of the sales. The more we sell, the bigger our percentage," she said.
The sale is a fundraiser for the church, which has about 175 members, said Wren.
Last year, the church sold $35,000 worth of pumpkins. Wren does not know what percentage the church earned.
Pumpkins are priced by the size, she said, holding a special pumpkin tape measure with a metal ring that attaches to the stem of the pumpkin. After attaching the ring, the tape measure is wrapped around the pumpkin.
The markings on the measure are not evenly spaced but seem arranged by some special pumpkin measurement algorithm that then determines price.
The most expensive ever sold at the church was $50, said Wren. This year, the most expensive was about $30, she said. "The mini pumpkins cost 75 cents," said Wren.
Wren said she hasn't carved a jack-o'-lantern in a few years, and doesn't usually dress up. "If I dress up, it's usually in a pilgrim costume," she said.
– Please like us on Facebook.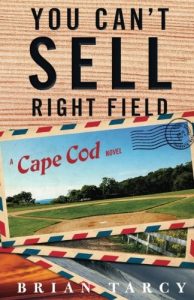 A Novel By Brian Tarcy
A softball team called the Townies. A slick developer with a sketchy story. A town divided over a zoning change….— YOU CAN'T SELL RIGHT FIELD, A Cape Cod Novel