PROVINCETOWN – It was a bright and storm-less day but what happened Saturday during four-and-a-half hours on the lawn of the Provincetown Library, mere feet from the bustle of Commercial Street, was a poetic mystery full of good advice, adventures at sea, romance, pirates, plenty of murder, and a whole lot of Cape Cod.
[quid-slider initial=.99 min=".50″ text="Support Cape Cod Wave"]
There was a gathering of authors on lawn of the Provincetown Library. Writing has often been called the loneliest profession. But there they were; more than a dozen writers talking to each other and their fans.
It was second annual Provincetown Book Festival.
"It's invigorating, frankly," said Elaine Anderson of Provincetown, author of several mysteries including "The Lighthouse Murder."
"It gives you a reason to keep going. You see that you are not alone," said Anderson. "Venues like this help with exposure."
Since they were set up on the lawn of the library, I was compelled to ask a dumb question of the library's lead librarian, Nan Cinnater: Why have a book festival?
"Because we're a library," said Cinnater. The festival, she said, brought in many speakers, including Pulitzer Prize winner, Richard Russo. On the lawn, immediately accessible, were the local folks.
Where better to have a book festival than on the lawn of the Provincetown Library, in a town with a rich literary tradition? And, said Cinnater, "Most of the work is inspired by the region, or set on Cape Cod."
"I like the idea of being part of the Provincetown literary tradition," said Robert Winter of Provincetown and Washington D.C., an author of romance novels including "September."
Next to him was Richard Gifford of Harwich, author of "MacMillan Wharf," a mystery set in Provincetown. Like many authors, Gifford said, "It's great exposure." And he added, pointing to one of the other authors, "I made a new friend here. He bought me a coffee. It's fun seeing what other authors are doing."
And next to him was perhaps the best marketer of the whole group, Larry Austin of Brewster who had with him an oversized legal pad for people to write ideas that go along with his "The Seer" series, which is about the end of the world. On that oversized paper, Austin had asked, "What would you bring to the end of civilization as you know it?" and people wrote answers.
"I had quite a long conversation with someone on whether bringing water is a good idea," said Austin.
On the lawn, there were self-published authors with companies such as iUnverse and CreateSpace, authors who had created their own publishing houses, and authors from mainstream publishing houses. In the ever-changing book publishing landscape, all points of view are logical.
John Ives and his daughter, Justine Ives of Truro, have started their own publishing company, Boheme Publishing, and have published several books including "The Keeper," by John Ives, set in Provincetown in 1899. He also published a collection of interviews with filmmaker John Waters.
"Participating in the book festival is not so much about selling books," said Justine Ives, "as it is about being part of the community."
Angela Howes of Brewster, editor of the two-year old Bass River Press, which publishes poetry, said, "I just really value the poets and writers that live here."
A.C. Burch, of Provincetown, is the author of several books including, "A Book of Revelations," and the founder of HomePort Press, which he founded to be "supportive of local writers."
Burch also created the Homeport Collaborative, which promotes local authors published by HomePort Press and others. One author he promotes is New York Times writer David Dunlap, who wrote a history of every building in Provincetown.
One of the HomePort Press writers is Jeannette de Beauvoir of Wellfleet, who has published several books including, "Our Lady Of The Dunes," and a series of Provincetown theme week mysteries.
"Primarily the people who read my books. Those are the people I want to hear from," – Jeannette de Beauvoir
"You sit in a room and you write most of the time," said de Beauvoir. Therefore, it is nice to get out and meet people at the festival, she said. "Primarily the people who read my books. Those are the people I want to hear from," she said.
Everyone works in a factory. For writers, that factory is a room where you sit by yourself and write. This festival was a step outside of the place where the words are put together. This was about selling, or at least exposing those words.
For some of the authors, selling was fun and easy. For others, such as Lynne Hugo of Oxford, Ohio, and Provincetown, who has done several book tours for her fiction and nonfiction, including her most recent book, "Remember, My Beauties," going to such things are "encouraged and expected," she said.
"I'm a friendly outgoing person," said Hugo. "I am not a natural salesperson… For me, sometimes this is hard. Extending yourself, reaching out and drawing people in."
But she has done it before, mostly on book tours and also at the much bigger Kentucky Book Fair. "This is more intimate," she said.
One poet, Rose Auslander of Hyannis, was at the festival with her fourth book of poems, "Wild Water Child," published by Bass River Press. She could have probably spoken for all the writers when she described hers as, "a book of love." She added that it was, "a book I worked on for four years."
There it is. Love. Somehow or another.
Someone once said that writing is easy since all the words are already in dictionary and all a writer has to do is put them in order. He was right, of course. But putting them together so they fall in love… that is something very different.
Someone once said that writing is easy since all the words are already in dictionary, and all a writer has to do is put them in order. He was right, of course. But putting them together so they fall in love… that is something very different.
But why?
That, "Why?", is the title of 94-year-old poet Hilde Oleson's new book of poems. Oleson, of Provincetown, said that when she decided to publish her book she ordered only one copy because, "I just wanted to see my name on the cover of a hardcover book."
Her publisher said she should get more, so she did because, "I was brought up to be a good girl."
Oleson's most unlikely story goes like this: "My husband died and I had to have something to do. I took a class in reading poetry, but it turned out it was a class in writing poetry."
And so, in her 80s, Oleson became a poet. And much to her surprise, the new old poet who thought she was writing merely for herself years later became something of a famous poet with her own (with help from a videographer) viral video.
"Why?" is her second book of poems. She has also published "Coffee At Hilde's" which featured herself and three other poets, including Lorraine Kujawa, who was also at the book festival.
Kujawa said she enjoyed being at the festival for "knowing the simple fact that people are reading your book."
Meeting readers was important to many of the authors. "People who are interested in the book want to meet the author," said Daphne Geanacopoulos, of Brewster and Washington D.C.. "And I like to meet the reader."
Geanacopoulos, author of "The Pirate Next Door," summed up the thoughts of many when she said she also enjoyed meeting the other authors to "get ideas, camaraderie and communication."
Katherine Arnup, of Provincetown and Ottawa, Canada, and the author of "I Don't Have Time For This! A compassionate guide to caring for your parents and yourself", said, "I like talking to people."
"My book is about caring for the people you love. And I like talking about that," said Arnup.
Arnup said of her sales at the festival, "I've sold some. But it's slow." But that did not seem to be the point.
"All the writers bond. We have time to talk to each other," she said. And then she added, looking at Commercial Street, just off the library lawn, "It's a great place for people watching."
Sheila Norris, a poet from Denver and Provincetown, said, "What's been amazing to me is talking to other writers." And then she paused and said, "You write because you have to write. We all have something to say."
Oleson said it like this: "People say, 'You wrote that book for me. You wrote that about my problem.'" She smiled and added, "But I don't know you or your problem. I wrote that for me."
– Please like us on Facebook.
[quid-slider initial=.99 min=".50″ text="Support Cape Cod Wave"]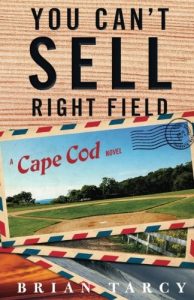 Please see, OR EVEN BUY, from Cape Cod Wave, a novel about development pressure (sound familiar?) and softball in a small fictional Cape Cod town called Vermouth, FROM CAPE COD WAVE — YOU CAN'T SELL RIGHT FIELD, A Cape Cod Novel