PROVINCETOWN – The Monkey Bar Johnny Thai, in its 27th year as a Memorial Day to Labor Day business, will not open for the summer of 2020, said owner Johnny Pak.
Pak announced the closing on Tuesday on Facebook.
"When I posted that, in my mind, when I was watching the news, the way they were calculating things, just within a week it changed," said Pak. "I try to be an optimist, but the major issue I see with it is that the nation is not locked down."
With things already being cancelled in Provincetown, Pak said it appeared he would lose half the summer at least.
But his number one reason for not opening, he said, is "I've got twins, a year and a half old." He does not want to expose his twins, a boy and a girl, to crowds until things are safe, he said.
Pak, who is in Fort Lauderdale, Florida, said he plans to stay there for the foreseeable future.
"Down here in Florida," he said, "people are supposed to eat at home but they're eating takeout… No one in these restaurants have been tested for the virus," he said.
And as long as people continue to go out, he said, he will worry.
"In order for the virus to disappear," said Pak, "people have to stay home."
As for summer in Provincetown, he said, "It will be lost."
"Provincetown is a place where people come to relax and have fun and enjoy yourself," said Pak. "If you can't be with crowds, why are you going there? If you can't go out to dinner with friends, why are you going there?"
"The main thing really is safety," he said. "Nobody knows too much about the virus. It's killing healthy young people. It's not just attacking the elderly."
Pak is not just the owner. He is also the chef. "I'm there every single day from opening day," he said. "I enjoyed seeing the same people the same week every year."
"It's a very difficult decision," said Pak.
PHOTO AT TOP OF STORY BY DAVID NUGENT.
– Please like us on Facebook.
For our other coverage see Cape Cod Covidispatch
For more Provincetown stories.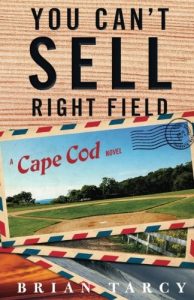 –PLEASE SEE You Can't Sell Right Field,  a novel from Cape Cod Wave….A review from Goodreads:
"Brian Tarcy knows Cape Cod and captures the attitudes, quirks and idiosyncrasies of its diverse residents. Beneath the witty banter and self deprecating commentary is embedded the most serious issue of the peninsula of Cape Cod – Development. Cape Cod needs jobs and economic impetus, but at what cost? Will the drive to build houses destroy the very nature of the Cape? Will greed push environmental ruin and development obliterate the natural beauty that natives and tourists both crave? Tarcy builds his story around the lives of a softball team of life-long friends, townies who have taken different paths and have opposing visions for the town they love."