CAPE COD – Live music didn't miss one day on Cape Cod and now that summer is practically here, it is being reshaped for the second time since the worldwide pandemic swept onto the peninsula.
"If the state gives the go forward for folks to sit down inside a restaurant, I don't see why one person can't sit down with a fiddle or a guitar and play," said Josh Shea, owner of O'Shea's Olde Inn in West Dennis, which featured music seven nights a week during pre-pandemic times.
"But certain musical acts won't work inside," he said.
As for outside, that's already happening – in outside courtyards of restaurants, and also in neighborhoods where bands practice. The Falmouth band, Crooked Coast, even put themselves on the back of a truck and took their show to a few different neighborhoods.
Amy Marie, lead singer of Just Like That, recently had an outside, socially-distanced practice at her parents house in Brewster, she said. "It was absolutely a beautiful thing," she said. "The whole neighborhood came out."
And yet one thing was clear to the handful of musicians interviewed for this story. As Vose said, "Plans change."

That Was Then, Those Were The Good Old Days
Last August, Crooked Coast hosted a five-hour concert by Falmouth Harbor called, Coastfest, which sold 1,500 tickets, said Luke Vose, guitarist and singer in the band.
"It was a dream come true," he said of the concert featuring Crooked Coast and three other bands. There were plans for a second Coastfest, he said "We had the permits and everything," said Vose. But that has been cancelled.
(PLEASE SEE OUR EXTENSIVE COLLECTION OF LOCAL MUSIC VIDEOS AND PROFILES OF MUSICIANS)
"It was mentally and emotionally pretty heartbreaking to know that Coastfest wasn't happening," said Vose. "It was too much of a risk. That was sad, but kind of obvious."
Crooked Coast was also planning a trip to California to record with a producer who had recorded hit records, including producing Good Charlotte records, he said. "We were reinvesting in the band," said Vose of the band's strategy.
"Plenty of bands were on a good roll and things were happening for them when this [Covid-19] all went down." – Johnny Spampinato of Johnny Spampinato & The Value Leaders
"But when we cancelled our California trip in late March, it sort of sunk in that we were drastically changing our plans," he said.
This spring, Johnny Spampinato's band, the newly christened Johnny Spampinato and the Value Leaders, had just returned from a tour of Japan and were gearing up for a planned a tour of Sweden. They had also begun recording a CD of new material. 
"Plenty of bands were on a good roll and things were happening for them when this [Covid-19] all went down," said Spampinato. As for his band, Spampinato said, "We couldn't have been playing better. All of us were on the same page as to where the album was going."
"Having the rug pulled out at that time was just really crushing," said Spaminato.
---

NOTE TO READERS: If you like this kind of journalism and want it to continue on Cape Cod, please support Cape Cod Wave. In these fraught times, Cape Cod Wave Magazine is hoping to survive, like everyone else and we are asking for your help.  There is a donation button at the top of every page.
We set the amount, after seven years of never asking, at $10 for a one-time donation. (For perspective, the "local" corporate owned daily paper costs $3 a day, and $5 on Sundays) If you would like to give more, or less, you can send a check to Cape Cod Wave Magazine, Box 29, Falmouth, MA 02541
Thank you for reading Cape Cod Wave, and stay safe!
– Laura & Brian

---

Friday The 13th of March, Or Maybe It Was St. Patrick's Day – The Day the Music Died
Spampinato's band had a regular gig the first Saturday of every month at O'Shea's Olde Inne, but, he said, the band cancelled its gig in early March.
"When this was all coming down, we didn't know how bad it was going to be," said Spampinato. "We basically played it more safe than sorry," he said. One member of the band is immune compromised, he said, "and I'm over 60."
"As it was approaching," said Shea, "it was becoming more clear that things could be closed."
"That last week before St. Patrick's Day," Shea said, "We definitely saw it coming. We started ordering less food because we knew it could come any day."
The day the order came to close restaurants in Massachusetts was Friday, March 13. It became effective on March 17, St. Patrick's Day.
Caroline Brennan, a singer-songwriter who plays in a number of groups, including with her husband, Sean, said, "That period in early March, it was still unclear on how everything was going to develop. But based on Italy and China and the news we were getting, we were worried."
They both play Irish music and when St. Patrick's Day was approaching, she said, "Both of us got really nervous."
Brennan, who has a compromised immune system, had a gig planned in Plymouth on St. Patrick's Day but the thought of performing "in a crowded bar made me really nervous, so I cancelled beforehand," she said.
Kathleen Healy, who is one of the hosts of open mic at O'Shea's, as well as a solo performer and lead singer in the band, Heyday, said, "My band played the Thursday before everything got real. It was a real quiet night. People definitely had it on their radar."
"There was one older woman who kept saying, 'Alcohol kills the virus,'" recalled Healy. "It was kind of funny. She had to be about 70 and it didn't slow her down at all."
Healy said another O'Shea's performer, Sarah Burrill, had cancelled all upcoming gigs. "We knew the writing was on the wall," she said.
Considering the older demographic of much of the audience and many of the bands, or band members, concern was spreading fast.
Larry Grab, lead singer of the Grab Brothers of Provincetown, said, "In early March, there was already talk in the news about the virus." 
Grab recalled a final gig at The Lanes in Mashpee in which people were "joking around about social distancing, and doing foot-tap handshakes."
"Rob [Rob Scott, the keyboard player in the Grab Brothers] was even joking, although it came to fruition, that this might be our last gig for a while," said Grab.
When the order came that restaurants and bars were being ordered closed, Amy Marie, lead singer of Just Like That, thought, "Hopefully it all blows over in a couple of weeks."
Marie said, "When everything went down in March, Just Like That had our final gig at the Loft in West Yarmouth. It was touch and go," she said. The band even called the bar's owners to see if they still wanted the band to play, and they did, she said.
"The Loft usually gets pretty crowded," said Marie. "It's a fantastic venue. But it was maybe a quarter capacity." The band ended up stopping an hour early, she said.
When the order came that restaurants and bars were being ordered closed, Marie said she thought, "Hopefully it all blows over in a couple of weeks."
"We were confused," said Grab. "We were watching the news trying to figure out what happens now."
While all musicians were contemplating the future, others, especially musicians who play Irish music, were facing a reality of St. Patrick's Day without gigs. 
"When everything shut down on St. Patrick's Day, that's one of the biggest money-making days if you are an Irish musician, that was a huge economic hit," said Brennan. "Sean sometimes has three back-to-back gigs that day at double pay, or triple pay."
Vose was proactive, cancelling a scheduled Crooked Coast St. Patrick's Day gig at Grumpy's Pub before the official order because "we didn't want to be part of the problem… It was a no-win situation, so we bowed out gracefully."
Initially, the reopen date was April 7. "They said they were shutting it down for two weeks," recalled Vose. "Everything seemed unbelievable until it happened. And then it kept happening and everything was sort of more mind-boggling than the last thing."

Screen Time, Video Saved The Live Music Star
The drummer in Healy's band, Heyday, is her husband, Bill Kwaak. "We didn't know what to do with ourselves," she said of the shutdown of venues for live music.
"The first thing we did was a live stream on St. Patrick's Day," she said.  "I crammed all this Irish music into my brain. I didn't want it to go to waste."
"We didn't put a tip jar out," said Healy. "But it was well attended."
Brennan said, "My sister Monica contacted me the day before St. Patrick's Day and said, 'I know a lot of people who would like to hear you and Sean play Irish music on St. Patrick's Day."
They agreed to do a Facebook Live show, said Brennan. "It was insanely successful. We made a good amount of money in virtual tips."  There were "thousands of views," she said.
Because it was so successful, Brennan said, the name Solidarity Sessions was created as a virtual concert venue for musicians to share their shows.
The idea is that musicians share their shows on their own Facebook page of loyal followers but also get to share it to Solidarity Sessions page to grow their audience on a page with people who clearly are interested in local music, said Brennan.
Since the pandemic began, Brennan said when she was interviewed in early June, "We've reached 70,000 people with 55 events." It is helping musicians make money, she said.
Marie, who has taken time off to heal her voice, said she is one of the fortunate musicians who does not rely on music for a living. She has donated when she can and said she has noticed many others, fans and other musicians have been donating as well. Marie called the generosity of so many, "a really incredible human movement."
Grab and his brother, Marc Grab have been streaming their shows on Facebook Live from venues all over Cape Cod for a while, said Grab.
"Marc always sets up Facebook Live because fans from all over the country, even other countries, like to watch," he said. "Knowing that, we started playing a Facebook Live setup in the house."
Performing for video without a live audience is like "breaking through the fourth wall," said Grab. "It's like theater. You're not going to get the clap back."
"It's more talking. Me and Marc talking. It's more banter. More talk, more joking around," said Grab.
"They're there," Grab said of fans at a virtual show. "You just can't see their smiling faces, their happiness."
"We have great fans. When we play, they have been sending in tips, which is nice," said Grab.
Meanwhile, Healy said that many of the musicians who had attended the open mic through the years at O'Shea's reached out to her asking if she can set up something up virtually. "It took me a week," she said. 
"Zoom is not meant for music," said Healy of the O'Shea's virtual open mic. "The sound quality of our open mic is definitely not fantastic, which is a shame."
"But it's still way more about the community. We're accustomed to talking to each other and sharing songs and sharing ideas. The vibe of the open mic is still there," said Healy.
The open mic does take donations, which has raised money for musicians and for O'Shea's for "building maintenance and to help pay the bills when it is closed." Because O'Shea's has long dedicated seven nights a week to local music, Healy said, it is beloved and cannot be lost.
"Our staff was blown away by that," said Shea.
Eighty percent of the money raised has gone to the staff, said Shea, and 20 percent went towards utilities, mortgage and repairs. 
As for the live online shows, Shea said, "I think it's awesome and wonderful that people are continuing to share their art."
Brennan said that while virtual shows like Solidarity Sessions help bring music to the community, "It is very weird to finish a song and not have that physical audience responding and clapping."
"What we found was really helpful was the comments you get on a live feed," she said. "It makes it awesome to connect with people on a live feed."
As for the sound and lighting, she said, "We're getting better at the technical stuff."
Spampinato said his band decided they will put out a couple of music videos instead of streaming live shows. "We weren't geared up for that," he said of live streaming.
Vose said that video has always been part of Crooked Coast's overall strategy as a band "both because we love creating visual stuff, it's a different way of expressing ourselves, and for the business it helps."
And while some bands and acts have done several Facebook live shows, Vose said the band's plan, even pre-pandemic, had evolved into, "Let's pull back on playing so many shows and focus on making them impactful."
That strategy continued, though it morphed into the world of streaming shows, he said.
In past years, Crooked Coast has, in fact, released several music videos of original songs and even hosted world premieres of their music videos at a local Falmouth theater. So since the pandemic hit, Vose said, the band has "gone harder into video."
"Either you take a break, which makes sense for some people, or you can move into whatever this new world is," said Vose. The band recently released a song, "Rise & Shine," which rose to number 5 on the iTunes reggae chart, said Vose. The band also released a lyric video for the song featuring some cool, decades old, public domain cartoons that were edited to fit the song, he said.
And, said Vose, Crooked Coast did one live stream show at Soundcheck Studios in Pembroke. Tips were collected and split with the studio.
The show, with lighting, a stage and professional sound, seemed in all ways like a live concert except for the lack of applause and the pace of the show. "It's a more theatrical show," Vose said of the online show. "The flow, the energy, the way the songs are placed."
"We worked for a long time to have less spaces between our songs in our live shows," said Vose.
And yet with a live streaming show, "we spent a little more time between songs."
"It's very strange," Vose said of playing a concert to a large flat screen television that has the concert and the Facebook comments section open. "In a weird way, it's a more intimate communication happening," he said.
"You are having a conversation with people. It's a loose intimacy," he said. "It definitely took a couple of songs to get used to it," he said. "We try to embrace whatever the situation is."
On the other hand, he said, "You better know your parts and play them well. If you flub in a packed crowd, not many notice. But if someone is watching on TV, you need to have your parts down."
And yet, all agreed as Brennan said, "You miss the clapping. You miss the person to person interaction… I miss hugging people. Just those little simple things."
"When we finish a show, when we walk off the stage," said Vose, "we are hugging every person who came to see us. Sweaty hugs, what you're not supposed to do."

Summer's Here And The Time Is Right For…?
"I don't think in the long run, musicians are going to be able to sit in their houses and quietly broadcast," said Spampinato. "They're going to have to come out. There might be a price to pay, but humans are not meant to live this way."
Still, Spampinato said, to be safe his band has cancelled all their gigs for the summer. "By next summer, we're going to have some sort of semi answer," he predicted of a way to bring music back. For now, Spampinato said, "I'm glad I have my kayak."
"I've been hearing from musicians," said Shea. "They are antsy.
"Music can be played in a different, safer kind of way," said Shea. "Outdoor venues lend themselves to safer playing of music," he said. O'Shea's, he said, is not set up to for outdoor music.
Healy said her outdoor gigs scheduled for the summer have not yet been cancelled. One, at Flying Fish in Wellfleet, she said "is outside on a large ample deck that was set up for social distancing before this even started."
Healy said she also plans to "keep doing some online stuff."
Grab and his brother have already moved their online concerts outside, and soon they hope to be playing outdoor venues. "If you keep social distancing further back, you should be fine," said Grab.
Among the many ironies of the pandemic is the fact that music, and specifically singing, which brings so much joy to so many is also something that, because a singer expels more moisture than a talker, could also be dangerous.
"We figured out a solution," said Grab. "We're ordering headsets and we're going to take shields and place it over the headset so we cannot expel any moisture when we sing…. It [the headset] can probably even work if you put on a mask too."
Marie said of singing, "According to some it's dangerous. But do the risks outweigh the benefits or do the benefits outweigh the risks? I am of the thought that there's a way to do everything safely."
Marie said she has a brother who is a microbiologist who gives her good information.
As for how or when or where to perform, she said, "I think it comes down to the individual. Nobody is right or wrong. There's a lot of opinions so it is whatever that individual is comfortable with."
In a band, she said, it can be complicated. "One of the hardest parts of being in a band right now is that there are so many differences of opinion," said Marie. "People get very passionate. Luckily we've [Just Like That] been together for six years. In band terms, that's a long time. But we love each other like family. We work well together."
Still, she said, band members are different ages with different beliefs and "some have family members who are immunocompromised. Rightfully so, they are extra careful. But I don't feel like I need to be in the group that needs to be extra careful. I don't stay at home. When I go out I wear a mask."
Vose said he doesn't anticipate Crooked Coast putting on "any traditional live music shows. I don't see any clubs or bars." Vose said he could foresee individual band members, as they always have, "doing some individual solo acoustic stuff."
As for Crooked Coast's return to a stage, Vose said, "We're really looking at spring of next year, or maybe winter before that."
The goal, said Vose, "is to come out of it a strong band." 
"I think a lot of people found themselves through this," said Spampinato. "I think everybody has sort of figured out what kind of limitations they have, what they can handle, what their needs are, what they can let go of, what you can cut back on, your baggage. We [the band] were laughing about it. Will we ever complain about anything again?"
Healy, a songwriter, said her creativity levels have been hit by the pandemic. She cited a songwriter's circle she participates in which songwriters are supposed to write a song to a word prompt, such as "hearts' or "snowy days" or any kind of prompt. "When I pick up a guitar, nothing comes," she said. 
Vose said he totally understands those who are "taking a pause right now," but said for him, there is "more time to write about stuff and more time to explore new sounds." 
As for the pandemic, Vose doesn't anticipate writing about it for a long time, if ever. "I feel like there's a lag time for what I write about," said Vose. "Maybe when I'm 50 I'll write about the pandemic," said Vose, who is 38.
Marie said she actually welcomed the break from playing live. "I worked so much, I burned the candle at both ends," she said. Taking an extended break "really did me and my body and especially my voice a load of good."
Marie, who also runs a gym and teaches group classes, said the last two summers have been hard on her voice and so she took a break from performing.
She said did not do streaming shows because "sadly, it's virtually impossible to replicate the performer/audience energy exchange. There's nothing like it. That's why we stay up until two in the morning… We love what we do. It's a good gig. It's wonderful," she said.
Marie said she is resigned to the fact that it's "not the kind of summer that we normally would anticipate." But she also said that, like her upcoming wedding that had to be downsized and changed, "it's still going to be beautiful and magical."
Finally, Grab had a message that seemed to be echoed in one way or another by all those interviewed for this story. "Don't quit on your fans. Music really is a big part of people's lives," he said.
Grab, then talking of summer music said, "To me, just stay away from being indoors. That's the change for the season. In the summertime it's fun to be outside anyway, so why not?"
– Please like us on Facebook.
For more stories like this, see Longform stories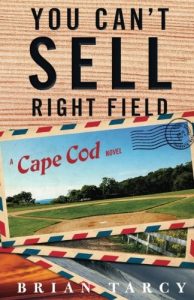 –PLEASE SEE You Can't Sell Right Field,  a novel from Cape Cod Wave…. about a huge piece of land for sale, a crooked developer, a softball team named The Townies, and an election. Based on the true story (the developer went to jail) of a large Cape Cod development from the early 1990s, and Cape Cod softball.