NORTH FALMOUTH – The red tie is too short and the body much too thin, but the blow up doll on Route 28A outside of the plaza that contains the North Falmouth Post Office is unmistakably President Trump.
The doll is next to a pop-up shop selling Trump gear that recently appeared on the lawn between the plaza and the road.
The person selling the goods, who only gave a first name, is actually not a Trump supporter.
He is part of is a second economy in American elections that shows up on Cape Cod from time to time, and this is one of those times.
The first time we saw this was when we met a professional petition gatherer in Bourne.
Then last summer, when Pete Buttigieg came to Provincetown, we ran into a guy selling Mayor Pete T-shirts, who asked me if w could tell him how to get to Cape Cod. At first, we thought he was joking, but he had no idea that Provincetown was part of Cape Cod.
Neither the guy, nor his partner, had any real interest in politics or Mayor Pete. They were merely selling T-shirts.
At least this salesman, born and raised in Mashpee, knows where Cape Cod is. He is a part-time landscaper who also works in booths at carnivals and such selling wares. As for the Trump booth, he said, "I'm just trying to support my daughter."
Cape Cod Wave Magazine reached out to the owner of the plaza at 634 North Falmouth Highway, Clive Gummow, but our call was not returned.
---

NOTE TO READERS: If you like this kind of journalism and want it to continue on Cape Cod, please support Cape Cod Wave Magazine.
There is a donation button at the top of every page.
We set the amount, after seven years of never asking, at $10 for a one-time donation. (For perspective, the "local" corporate owned daily paper costs $3 a day, and $5 on Sundays) If you would like to give more, or less, you can send a check to Cape Cod Wave Magazine, Box 29, Falmouth, MA 02541
Thank you for reading Cape Cod Wave, and stay safe!
– Laura & Brian

---
See our other political stories
Please like us on Facebook.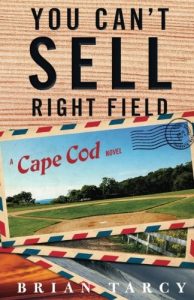 –PLEASE SEE You Can't Sell Right Field,  a novel from Cape Cod Wave…. about a huge piece of land for sale, a crooked developer, a softball team named The Townies, and an election. Based on the true story (the developer went to jail) of a large Cape Cod development from the early 1990s, and Cape Cod softball.