FALMOUTH – We give thanks for marching bands and touchdowns in crisp fall air, and thanks to Falmouth High School and Barnstable High School for a great Thanksgiving day football game.
The two teams have played each other in football since 1895, making the Falmouth/Barnstable football series one of the longest running high school football series in the nation. They have played each other on Thanksgiving for almost 90 years.
So the kids for both teams had a lot to live up to on Thanksgiving morning at Guv Fuller Field, and they sure delivered.
It was a fun, entertaining game. It was won, in the end, by Falmouth by a score of 50 to 32. At halftime, Barnstable was leading 26-20. It was a see-saw game, until it wasn't.
There are local sports pages to find the box score and the play-by-play, but Cape Cod Wave can bear witness to a fantastic football game with lots of touchdowns and some very exciting players.
This rivalry on this day is an event. It is so much more than football. What happens outside the lines is the just as much the stuff of community, and a reason for thanks.
Mothers danced with daughters to the beat of the marching bands, while fathers tossed footballs to little boys who ran with the assurance of varsity athletes. Outside of the main event, at least five touch football games were being played by big groups of other boys.
The marching bands were such an integral part of the the day, as you will see in the video.
And the game featured more exciting plays than my favorite NFL team (the 0-10 Cleveland Browns) have had in 20 years. So I was sort of scouting. But I digress.
Many wore the school colors – red for Barnstable or maroon for Falmouth. Generations stood together, while alumni of both schools had their own sideline reunions.
It was the family of Cape Cod, two towns at least, gathering for a meaningful holiday ritual that will spawn stories and memories for the next several decades of Thanksgiving day football games.
Happy Thanksgiving.
– Please like us on Facebook.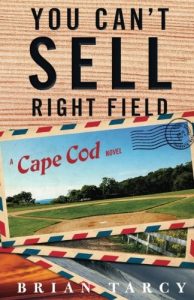 A Novel By Brian Tarcy of Cape Cod Wave
A softball team called the Townies. A slick developer with a sketchy story. A town divided over a zoning change….— YOU CAN'T SELL RIGHT FIELD, A Cape Cod Novel