FALMOUTH – How does it feel to be a turkey journalist? I asked Ted Reinstein, reporter with the long-running, award-winning Boston television news magazine, Chronicle, which was in town on Friday to report on the turkeys of Falmouth.
"It has come to this," said Reinstein with the grin of a man who understands all of the ramifications.



He had just asked me a similar question for his upcoming story, which is expected to air on Wednesday, November 8 at 7:30 p.m. on Channel 5, WCVB-TV.
So just after I asked him about turkey journalism, Reinstein referenced how some people are called turkeys.
Welcome to my world, Ted.
Yes, the well-respected Boston television news magazine interviewed me for an upcoming Chronicle story about turkeys, but don't worry. To protect your televisions, I refused to allow my face to be used. If you've ever met me and seen my face, you know that mine was a face specifically made to be seen only on the radio. Plus I have little interest in being famous, much less TV famous.
Ted Reinstein interviewed me because apparently he needed to talk to a turkey.
But mostly, I am afraid of backlash from the turkeys if they see me on the street.
Reinstein, who has been coming to the Cape since he was a kid, said Chronicle is on the Cape a lot but that the calendar usually dictates the stories.
November is the turkey time of year.
And so there we were on the Falmouth Library lawn talking about turkeys and turkey journalism and, well, you'll have to watch Wednesday.
He talked to others, including someone from Board Stiff, which sells turkey shirts, and the principle of Mullen Hall School, Nancy Ashworth.
Reinstein interviewed me because apparently he needed to talk to a turkey. Oh, also because I shot the world famous, "Turkeys Attack Falmouth Mailman 'Every Day'" viral video, which has more than 1.6 million views and was seen on the Tonight Show, the CBS Evening news and many others, and soon to be seen on Chronicle.
– Please like us on Facebook.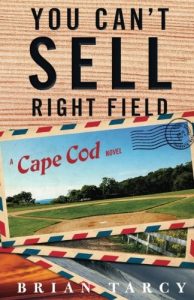 A Novel By Brian Tarcy
A softball team called the Townies. A slick developer with a sketchy story. A town divided over a zoning change….— YOU CAN'T SELL RIGHT FIELD, A Cape Cod Novel