HYANNIS – The sign beckoning folks into the annual Home, Garden & Lifestyle Show was stuck into a snowbank.
Meanwhile, inside Barnstable High School, Peter Ripley of Bourne was clearly not alone in thinking of not just spring but also the recent three storms that battered Cape Cod. "Of course, we just talked to the generator guy," said Ripley.
The show featured more than 150 exhibits and even a performance by The Oh Boys!, also known as Where's Sarah?
John Wadman, sales manager for Briggs and Stratton generators, said "the interest level is very high." For generator sales, Wadman said, the timing of the show "is excellent based on three storms in ten days. Obviously, with the last storm, people are kind of at their breaking point."
In fact, the generator salesman intends to finally buy a generator. Wadman, who lives in North Falmouth, said he lost power for two days in the recent storm. "I don't have a generator, but I will now. My wife got to the breaking point and with a 96-year-old mother-in-law, we can't put her through this again."
While a generator salesman can make their living on folks reaching their breaking point, the random sampling of people Cape Cod Wave spoke with were all hoping winter is also at that point.
"You have to pay to come find flowers," said Judy Kostka of Bourne. The show, she said, "gives you hope that spring might come up." She, like all we spoke with, were at the show out of curiosity and also for inspiration for ideas for her house.
Rob Trainor of Hyannis said, "I like to come and get ideas. It's good to know what's in the area in case you need something done to your house," he said.
But he was not too optimistic about spring arriving any time soon. "Maybe not until June," he said.
Fred Syrjala of Centerville, standing near a kayak, said he believed spring-like weather would arrive soon because of "the power of positive thinking."
Larry Baker, also of the seemingly optimistic village of Centerville, said, "Spring is just a couple of days away, right?" Baker lost power for 22 hours. He was interested in talking to the generator guy.
– Please like us on Facebook.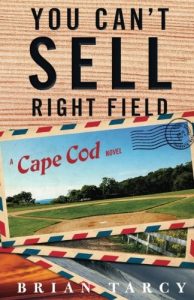 A Novel By Brian Tarcy
A softball team called the Townies. A slick developer with a sketchy story. A town divided over a zoning change….— YOU CAN'T SELL RIGHT FIELD, A Cape Cod Novel