CAPE COD – On February 5, EOM Offshore of Bourne, with 10 employees, was sold by the Woods Hole Oceanographic Institution to private investors, who are bringing on an experienced CEO with the goal of growing the new private company.
The spinoff of the company, which hopes to commercialize a technology developed at WHOI, is exactly the kind of growth that the Cape Cod Chamber of Commerce is hoping to promote in its recently launched Blue Economy Project.
"We're trying to do a pivot with Cape Cod's economy. A pivot to the next 100 years." – Wendy Northcross, CEO of the Cape Cod Chamber of Commerce
EOM Offshore is one of a growing cluster of companies on the Upper Cape that have spun out of, or are related in some way, to the scientific institutions in Woods Hole.
** This story was originally published February 28, 2018 **
While the Chamber's Blue Economy Project is focused on promoting and growing all aspects of Cape Cod's water-based economy, "building the marine tech cluster is our greatest opportunity," said Chris Adams, Chief of Staff for the Chamber.
David Aubrey, the new CEO of EOM Offshore, is a former WHOI scientist who thinks that existing WHOI technology could spin out several more companies in the near future. "There have been a handful of spinoffs," he said. "There are dozens more that are almost ripe enough, mature enough to spin off."
"There is a lot of technology that they are developing that could spin off," said Aubrey. "But it takes money to spin something off, and a management team to spin something off."
And while most scientists at WHOI are more interested in being scientists at WHOI than spinning off a company, Aubrey said, "There are a lot of people out there, business people, who have an interest in the ocean. It doesn't take an oceanographer to do this."
So, yes, Aubrey thinks that promoting the Blue Economy is a great idea. But when asked, he said, "I don't know anything about this Blue Economy Project. I am a little bit surprised I hadn't heard about it."
According to Wendy Northcross, CEO of the Chamber, "We're on the cusp of trying to socialize this idea… We're trying to do a pivot with Cape Cod's economy. A pivot to the next 100 years."

"Not Just About Branding"
If you name it "The Blue Economy," jobs will come to Cape Cod. That is the hope.
And so thanks to the Cape Cod Chamber of Commerce, part of Cape Cod's economy that has existed forever now has a name. It is supposed to be more than a mere ocean of dreams. The Blue Economy Project is a plan for the future of the region, which in the report includes Cape Cod, Martha's Vineyard and Nantucket, and the off-Cape towns of Wareham and Plymouth.
"It's not just about branding. It's about building upon what's here," said Bert Jackson, Director of Community Engagement for the Blue Economy Project, which is a creation of the Chamber.
One significant part of the whole Blue Economy Project is that it could almost as easily be labeled the green economy project.
Adams said that, in six listening sessions with people from every town on Cape, "the wide and popular consensus was that the environment is our economy here."
One significant part of the whole Blue Economy Project is that it could almost as easily be labeled the green economy project.
The project was conceived in 2014, soft-launched in 2015, the report was grant-funded in 2016, and the report was finished in December 2017. The idea is to bring attention, growth, and hopefully funding, to the water-based economy of Cape Cod, which is currently about 12 percent of the overall economy, according to a 52-page Blue Economy report put out by the Chamber, the Blue Economy Project.
"It could take years for everybody to figure out the four corners," said Northcross.
The $300,000 report was funded by a grant from the state, said Adams. A 501c3 nonprofit foundation, the Blue Economy Foundation, has since been set up to raise money to implement the plan, said Eugene Curry, an attorney who serves on the Board of Directors for the foundation.
"We believe there is grant money available for economic development," said Curry. "It can be any number of things… there's a variety of grants out there."
Jackson described the foundation as "a charitable organization that can take donations and raise money to sustain what we're doing and fund infrastructure projects in the region in partnership with the county."
The Foundation is not just eyeing infrastructure. It is focused on human capital as well, including workplace training, plus promotion and marketing of the whole idea of the Blue Economy.
"At some point the money will start flowing," said Northcross. "We want to make sure it's flowing to the right people."

Pointing Out That Cape Cod Is Surrounded By Water
According to the report, Cape Cod has 559 miles of coastline, while the region, including Martha's Vineyard, Nantucket, Wareham and Bourne has almost 1,000 miles of coastline.
Interestingly, Jackson said, "Access to water is one of the issues."
But while many people are on Cape Cod because of their relationship to the water, said Adams, "it's never really been at the front of the mind to people."
It is an interesting case to make, considering that Cape Cod is surrounded by water and is a tourist/beach destination heavily promoted by the Cape Cod Chamber of Commerce. And yet there it is. "I don't think that people stop to think, Why do I live on Cape Cod?" said Adams.
The goal is to change that. "This is a public conversation about regional identity," said Adams.
The report is an ambitious, wide-ranging, specific and yet still somewhat general plan for this big part of Cape Cod's economic future.
There are three areas of focus, or themes, to the plan:
A healthy environment equals a healthy economy
Vibrant maritime and technology economy
Prepared and educated workforce for the future
There is a lot to unwrap in these 52 pages that lay out the case: look at what is here, and what could be. The report identifies "dark blue" business – business directly dependent on the water, and "medium blue" – businesses that dark blue businesses rely on for goods and services.
Within that, there is a vision for the eight identified business sectors that includes the three themes and an implementation plan that then has nine action plans under it, each with several bullet points.
In the midst of all the bullet points under each action plan, full of words like "develop and strengthen," "evolve," "encourage new growth," are several ideas like a foundation to raise money (already created), and goals to grow products and technologies to export from Cape Cod, and thus create new jobs.
"We're not just pulling data together and taking a pretty picture. "There's some things we want to be doing to move this effort forward." – Bert Jackson, Director of Community Engagement for the Blue Economy Project
Some of the most interesting pages in the report are in the three long appendixes, full of a fascinating deep dive into the numbers of businesses, employees, revenue etc. from each town and industry.
"Our focus is definitely action," said Jackson. "We're not just pulling data together and taking a pretty picture. "There's some things we want to be doing to move this effort forward."
There really is a there there, and it is blue. The challenge is to convince people and turn a plan and an existing economy, forever without a name, into something more.
"The 'Blue Economy' is our name," said Northcross. "Our mission is really specific."

Why Blue?
In spring 2014, the Cape Cod Chamber of Commerce was brainstorming, looking for the next economic driver of Cape Cod's economy.
"We were throwing spaghetti at the wall," said Northcross. "What do we have that no other places have? What's our value proposition? We were throwing out ideas."
Late in the day, someone uttered the words, What about the blue economy?

"I was standing at the flip chart with a pen in my hand, and I heard, 'What about the blue economy, things related to the water?"
And then, in Northcross's words, "a thought bubble was released in the room… my eyes got big, I started getting goosebumps and I thought, 'My God, this could be it.'"
And that's how what has always been here got a name and, perhaps more importantly, some help to grow.
The Cape Cod initiative is just one of many blue economy efforts that are underway worldwide.
"The focus is on economic development," said Leslie Anne McGee, Project Manager for the Blue Economy Project. McGee spoke of  "having robust and diverse economies," and "focusing on the blue trades and blue jobs and blue careers."
According to the report, the blue economy is growing, and the growth is accelerating.
"As a whole, in 2016 the Cape Cod regional Blue Economy was comprised of at least 1,872 businesses with 20,530 employees," said the report. In studying and categorizing the existing blue economy, the report produced a "heat map," a digital geographic representation of  business clusters.
Between 2003 and 2014, according to the report, "The number of blue establishments increased 42% (from 2,180 to 3,104)," and "the number of employees employed by blue business increased 50% (from 14,412 to 29,093)."
It is a significant increase, and the apparent point of this Blue Economy initiative is to fuel and continue to accelerate this growth.
"We want to draw out the sense that the blue economy is a really big piece of who we are as a region," said Adams.

4 Billion Reasons To Start A Business 
There is a long-running Cape Cod story about wastewater, a single-source aquifer, a lawsuit and an expensive solution to a worsening problem.
The bottom line, according to Adams, is that Barnstable County is going to have to spend "about four billion dollars over the next 20 to 40 years" for wastewater solutions, because of something called the 208 Plan.
The 208 Plan is a water quality management plan for Cape Cod that is mandated by the state. Asked when Cape Cod is supposed to be moving forward on the plan, approved in 2015, Adams said, "Yesterday."
The difficult part for the county is to "figure out how to come up with four billion dollars," said Adams.
But also, $4 billion is a lot of money to pump into environmental cleanup. And since the environment is the economy as something of a mantra, Adams said, "Water cleanup is a big piece of the blue economy."
In fact, Adams said that there are developing technologies that, if proven effective, could "create a new industry based on wastewater renumeration."
Northcross described Cape Cod as "the best laboratory" for "great ideas and concepts and innovations" to clean up water.
"Come to Cape Cod," she said. "Get incubated. There's about 4 billion dollars we're about to spend in the next few decades cleaning up water around here."
"If we could solve our wastewater technology problem here, imagine what we could export," said McGee.
The cleanup must be done, said Adams. "When you stop to think about it, if we don't take care of our water, who is going to come stay in our hotels."
"The Chamber has been really, deeply involved in the wastewater issue," said Adams. "We're working pretty hard trying to find some funding for it."
Chamber officials acknowledged that it is unusual for any chamber of commerce to talk so aggressively about the environment, but all said Cape Cod calls for it.
"The Chamber took a leading role in trying to develop a response to the crisis as a result of our groundwater issues," said Curry. "In most communities, businesses can be hostile to environmental issues, but this Chamber was unusual in that it took a leadership role in trying to solve the problem."
"We are recognizing a link between a healthy economy and a healthy environment. It is not development or growth at any cost," said McGee.
And that is one of many links between the Blue Economy and the Cape's traditional economic driver, tourism.

Tourism & The Blue Economy
Tourism and recreation are covered in The Blue Economy report.
Not surprisingly, promoting tourism was the Cape Cod Chamber's reason for forming almost a century ago, said Northcross. According to the report, tourism and recreation account for 46 percent of regional blue economy revenues.
There is already synergy between tourism and the overall Blue Economy.
For instance, the Chatham Fish Pier is one of Cape Cod's top tourist attractions, attracting 3,000 visitors per day in the summer. The municipal fish packing facility is also part of the blue economy and is used by 87 fishing boats, with one to three fishermen on each boat. More than 10 million pounds of fish move through the facility each year.
There are many examples like that, and places across Cape Cod that are part of the blue economy, said Adams.
Adams said the Chamber is, in fact, "creating an experiential trail, an interactive trail that will link our maritime heritage with the modern blue economy."
That maritime trail is scheduled to be in place by the end of June, said Northcross.
The idea is to increase awareness, especially about the Cape's fragile environment, said Adams. "That translates to the tourism side of things, and helps bring us an environmentally conscious tourist," he said.
And part of the Blue Economy Project is to actually promote the whole idea of the blue economy. "As much energy as we put on travel and tourism," said Northcross, "we now need to apply that to promoting that Cape Cod is a great place to live." By that, she means, a great place to live with great jobs.

Jobs & Young People In The Blue Economy
"There's jobs to be had, and there's going to be more jobs," said Northcross.
The challenge, said Adams, is to get that message out. "There's this myth on Cape Cod that there's no good jobs. In reality, there are good jobs here," he said. And many of those existing jobs, as well as expected new jobs, are in the Blue Economy, he said.
Northcross admitted that, "It may be true that there's not enough jobs at a certain dollar amount," what she called "family-sustaining wages." But, she said, "we're putting attention on that," and she added that those types of jobs are growing in the Blue Economy.
One goal of the new initiative is not only to bring in more jobs, but to let people, especially young people on the Cape, know that good jobs do exist.
Jackson said, "We're reaching out to students to help them identify potential career paths. Giving them a roadmap to what's in the blue economy now."
"The young workforce don't really understand the opportunities here," said McGee. "They just want to get the hell off Cape. They only see seasonal opportunities." And she added, "there's a difference between jobs and careers."
And Adams said, "We want to get this in front of kids. They are the residents and leaders of tomorrow. If we want to make this more of a conscious thing, the Blue Economy, then we need to start talking to young people about what they think of this place."
For instance, the report and many of those interviewed pointed to Cape Cod's burgeoning aquaculture industry.
"It's a six million dollar industry in our little town," said Michele Inseley, Director of Wellfleet SPAT, (Shellfish Promotion and Tasting Inc.), a nonprofit organization devoted to sustaining Wellfleet's shellfishing and aquaculture industries. "Just shellfishing."
Insley can talk about Wellfleet oysters in a way that you can taste them and "the sense of place" with "perfect oyster taste" from "clean, cold waters with swift moving tides moving in and out twice a day" with "really amazing nutrients," not to mention that "the salinity in our water is actually perfect."
Including staff, she said, about 300 people work in the shellfish industry in Wellfleet, bringing those delicious oysters to a growing market.
"This is a pretty significant industry. We want to recognize it, and promote it even further," she said.
Insley said that she sat in on some working group meetings for the Blue Economy and believes it will lead to growth in many areas. "We all have little mini-economies in our larger economy, and sometimes they overlap," she said.
The project helped people "get out of our silos and work together,"  said Insley.

The Woods Hole Ecosystem
The concept of an entrepreneurial ecosystem is not a new one.
Silicon Valley, essentially, sprung up out of Stanford University and there is also a thriving entrepreneurial community that has evolved in Cambridge and Boston from MIT and Harvard.
On Cape Cod, in the little village of Woods Hole, there is WHOI, the Marine Biological Laboratory, the National Marine Fisheries, the United States Geological Survey, and others, including including a leader in climate research, the Woods Hole Research Center.
"There are some of the premier marine science institutions in the world sitting right there," said Curry.
The institutions themselves are, of course, major employers. "People think it's just a bunch of Ph.D.s and scientists, but WHOI hires everybody from machinests to carpenters to engineers," said McGee.
Besides being Program Manager for the Blue Economy Project, McGee is also the Assistant Director for the Center For Marine Robotics at WHOI. She is very aware of the role WHOI can play in helping to grow the Blue Economy.
"It has been growing organically," said McGee. "No one would say that WHOI is decidedly an incubator… But there is a lot of technology and licensing." Some businesses have, in fact, started on the Upper Cape to the point that McGee said, "It's quite a hub. Can you imagine if we could actually focus the efforts."
But unlike Stanford, MIT or Harvard, the Cape scientific institutions do not have a large population of energetic students ready become entrepreneurs. Instead, there is ground-breaking science.
"The folks down there are doing world-class science," said Adams. "They are, in fact, scientists." The scientists, though, are not necessarily interested in starting businesses.
"Woods Hole has for so long been an insular population, kind of collegiate-like," said Adams. "It's a closed group, so our efforts have kind of fallen flat."
But that is changing, he said, and the hope of Blue Economy Project is to encourage growth from this cluster, said Adams.

"It has a lot of potential."
According to Christopher Land, General Counsel and Vice President for Legal Affairs at WHOI, said, "We're definitely aware of the Blue Economy Project."
In fact, said Land, "our mandate, as part of of the federal government that supports so much of this work, is to get the things we created and developed spun out into the world."
EOM Offshore, the company that spun off on February 5, "was a company made exactly for that purpose," said Land.
EOM was created in 2009 as a WHOI-owned company that had created highly stretchable, fatigue-resistant hoses to transmit power and data to and from undersea sensors, and can be used for several purposes, some of which are still evolving.
"WHOI tried twice to stand the company up," said Land. But the company went through tough times and "couldn't meet its payroll and had to take a loan from WHOI," he said.
While the WHOI-owned company went through some management changes and became leaner, Land said the technology "is completely unique. It's one of those transformative, new things. The question is where and how you apply it." The challenge for the new company, he said will be "entering new markets."
The new CEO, Aubrey is a former WHOI scientist who set up his own consulting company while working at WHOI, and eventually left WHOI and grew the company, called the Woods Hole Group, into a 45-person operation.
After selling his company, he was recruited by WHOI to become CEO of the company that was about to spin off.
"We were looking for someone that had experience, and then we found him," said Land.
Aubrey described EOM as "a sleepy little company set up ten years ago." The technology is unique, and there is no competition, said Aubrey, but "nobody was focused on sales. What WHOI does is focus on research."
But now, he said, the focus is on, "who can benefit from this technology. It has a lot of potential."
– Please like us on Facebook.
For more stories like this, please see Longform stories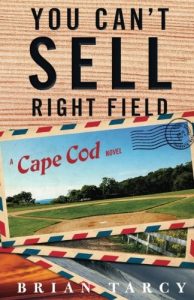 – A Novel By Brian Tarcy of Cape Cod Wave
"This is a terrific read. Brian Tarcy's style and sense of humor make it easy reading, while his subject matter is of more importance than most communities realize. If you care about growth in your community and the lack of thoughtful planning, you owe it to yourself to read this thoughtful piece of fiction that is all too real in smaller communities in our country."