CAPE COD – Bart Weisman, founder of the Provincetown Jazz Festival, educator, and leader of four local jazz groups is also known by several informal titles.
"He is the jazz mayor of Cape Cod," said Jen Villa, co-owner of The West End in Hyannis, which hosts Weisman's Jazz Jam (like an open mic) on rotating Sundays.
Natalie Sheeler, music teacher at Sturgis Charter Public School East, where Weisman is the Jazz Band Director, said, "the kids refer to the band as the Bart Band. They love him. They call him Mr. Bart."
"I refer to him as Mr. Jazz on the Cape," said Sheeler. "He knows everybody."
(See also, Bart Weisman Jazz Group, Music VIDEO.)
Alan Clinger of Barnstable, a guitarist who has worked with Weisman said, "Bart is the local impresario of the jazz world. He keeps a good many people employed."
That local impresario keeps a good many more entertained.
"If you like jazz music and you live on Cape Cod and you don't know Bart Weisman, something has happened to you where you are trapped in a basement or something," said Villa.
---

** Please support independent local journalism.
See the DONATION BUTTON AT THE TOP OF THE PAGE **

---

He "knew" His Path When He Saw Drums For The First Time
When Weisman, 62, of Orleans, was 13 years old growing up in Washington D.C., he improvised the path of his life and became a musician.
It happened like this: He had an older brother who was invited to a party and Weisman tagged along.  There was a band set up at the party. Weisman said, "I saw the drum set and I just knew. It was love at first sight."
Weisman prophetically thought upon seeing the drums but not yet ever playing them: "I will play this instrument and I will play it the rest of my life, and I will play it well."
"In my family, there's a bit of mysticism that happens," said Weisman. "Visitations from dead relatives and things like that," he said. Thus, he said this "knowing" was not unusual.
"Three times in my life, I've had this feeling," said Weisman. "It happened when I saw the drums for the first time. It happened when I saw Cape Cod for the first time. It happened when I saw my wife [to be] in high school. There's a connection. You know."
Weisman, whose father worked in purchasing for a construction company, said he did not grow up in an especially musical family, although he has fond memories of his grandparents taking him "to the symphony a few times."
Just after the party when he saw his first set of drums, he bought a used set of drums and began to learn to play. He joined the school band. "I started studying with professionals." He learned "all the classical techniques."
"When I started studying with teachers, they said, 'You're really good,' " recalled Weisman. "I was a very organized teenager. I was highly compartmentalized."
"I worked very hard," he said. "I was practicing six, seven hours a day."
At the time, Weisman was training in classical music, and all his friends were immersed in rock and pop music, but he was discovering jazz. "We were fortunate to have two jazz stations in D.C. at the time," he said. "I started to immerse myself in jazz, jazz history. I started going to concerts."
"One thing about jazz that immediately appealed to me is I love to improvise. I love to make things up as we go along. In rock and pop, you basically do the same thing every time."
Of course, in the 1970s Weisman was an outlier among his friends. Jazz? 
In fact, he was listening to all types of music except for country & western and bluegrass, he said. "Once I got to age 16 and I was out playing professionally, I was also out listening to live performances. Free performances." He recalled "Hair, The Musical" being performed. In Washington. "There was all sorts of stuff going on," he said.
While he listened to everything, he performed rock and pop. "Also a lot of disco at the time, and Latin [music]," he said.
When he was 16, he traveled with a rock band to Chicago and Wisconsin. "I came back and said I never want to do that again," said Weisman. Life on the road was not for him.

Improvising To Mozart
When Weisman was 18 years old and still discovering his love of jazz and the improvisation that is intrinsic to jazz, he was playing with a symphony when he improvised Mozart. It didn't go well.
He was playing in his hometown of Washington D.C. on Capitol Hill with the Washington Sinfonia. They were performing Mozart.
Weisman, who began playing drums at 13 and was immediately recognized by teachers as "really good," was playing a public performance with the symphony when he decided to add two notes in.
The conductor confronted him afterward. "I said I felt that if Mozart were alive today, he probably would have put those two notes in.
He said, 'You don't belong in the symphony,' " recalled Weisman.

Playing For Presidents – The 4-Piece Air Force Band, "The Diplomats"
Growing up in Washington, Weisman said he was exposed to free concerts by military bands – air force, army, and navy bands – all over the city. So when the drum position for the four-piece Air Force band, The Diplomats, opened up, Weisman, 19 and not even in the military, tried out.
There were a lot of drummers who wanted the coveted position. The Diplomats – drums, guitar, bass and piano – were a sort of house band for any diplomat or dignitary, up to and including U.S. presidents, who needed entertainment. It was a high profile gig.
"Every drummer in the field bands and professionals from around the area wanted it," he said.
The audition was supposed to be one hour. But when that hour passed,  the other members of The Diplomats kept playing and so Weisman did too. His one hour audition stretched into three hours.
At some point during the audition, Weisman recalled, "I realized this was pretty cool and we were working together and things were going pretty well. Was it magical? Probably not. But was it really good? Yes."
He was into the music they were playing. And his mindset fit with what they were looking for, he said. "I got the concept early on to leave your ego at the door," he said. "This is a group. That part jells with the military."
When the audition was over, he had a good feeling. But it wasn't until he got a call telling him he was chosen that he knew. "I remember getting the call and thinking, 'Okay, now you've got to join the military."
As he prepared to go to basic training, he was advised not to tell anyone in basic training, especially his instructors, that he was joining The Diplomats. "They knew I would outrank my instructors," he said. That could have been awkward, so he kept quiet about his future.
He said he did well in basic training, although it was July and August in San Antonio, Texas. It was hot, he recalled. "It was the first and only time I ever shot a rifle and a gun."
He did well with the physical training, although, he said, "I'm 5 foot 4 inches tall, and the highest wall was a bit hard to get over. And KP was cleaning pots that were bigger than me. It was an experience. An introduction to military life."
Weisman, who described himself at that age as "self sufficient and organized," got through basic training fine and soon he was on call 24/7 as a member of The Diplomats. He was not allowed to travel. The band was his job, a duty to fulfill.
Besides playing for Presidents Carter and also Reagan, Weisman said, "I spent a lot of time at Walter Mondale's house. He even played my drums."
Weisman said his time in The Diplomats was "never routine."
"It set the stage for everything I've been doing since," he said. He learned to work with an audience. "When Mondale looks at you and says to play some Glen Campbell, you play Glen Campbell," he said.
As for further stories of his time in The Diplomats, Weisman said, "As they say, what happens in Vegas stays in Vegas."
"A lot of times we were wearing tuxes, not even wearing Air Force attire," he said. He approached it as a job, though a great one. "I kind of isolated it. There is the event. When do I arrive? What are we going to play?"
"You never arrive late," he said. "You are in the military." Prior to entering many gigs, he said, "dogs would smell our equipment" to make sure there was no danger.
The gigs had incredible food, amazing settings, and distinguished audience members. "I had a ball. Are you kidding me? You're getting paid to do what you love. How can you not enjoy that?" he said.

Computers & Jazz
After five years, Weisman left the Air Force. "A colonel wanted me to stay for 20 years. I wanted to go," he said.
He went to the University of Maryland and got a bachelor's degree in technology and management. He did some teaching between 1978 and 1983.
Then he started his own company, "computer related," he said.
"I started off as a programmer. I did a little bit of government contracting. I didn't like it." He started working in the corporate world. "I started placing computer people in jobs." This placement company, the Bart Weisman Company, was his day job.
At night, he played music. "I'd finish up at 2 o'clock at a jazz club and have to be at work at 8," he said, describing his schedule back then.
 "I was working all kinds of music gigs. Clubs, private events, I worked with some really fabulous musicians," he said.
The computer job and nights playing music was his life from 1983 and 2003, when he moved to Cape Cod.

An Artist & A Musician Living The Dream On Cape Cod
Weisman is married to Amy Heller, an artist and writer.
He has known her almost his entire life. "We both grew up in D.C.," he said. They were born in the same hospital.  They went to the same nursery school. They are the same age. They dated in high school, but nothing serious.
When they were older and she had graduated from college, they made contact again and got together more seriously. 
She had been coming to Cape Cod since her childhood. After they started dating seriously, she spent a summer on the Cape and at the end of the summer Weisman drove up from Washington to pick her up and bring her home.
"Driving over the bridge for the first time, it was like, where am I?," he recalled. He had never seen anywhere like the Cape. "I never smelled anything like that. That sea air," he said.
He picked Heller up where she was staying, in Provincetown. "Coming around the bend and seeing the town was incredible," he said. "It still is."
And with that, he said, "I just kind of knew. At some point, I'm going to be here."
It took decades but in 2003, Weisman and Heller moved to Provincetown. They stayed in Provincetown for nine years. They now live in Orleans.
"We are an artist and a musician living the dream on Cape Cod," he said.
The move to Orleans gave Weisman easier access to all the towns where he works on the Cape.
"I was ready to make the Cape my home," he said of his move to the Cape in 2003. "I mean not just one town. I mean from Falmouth to Provincetown. I wanted to experience it all," said Weisman.
Weisman, through performing and teaching, travels all over the Cape.
He said he especially loves how each town on the Cape is an individual place with hometown pride. "I love that everybody thinks their beach is the best. They love their area," he said. "People who live in Falmouth really love Falmouth. People who live in Chatham really love Chatham. It's like that all over the Cape."

All That Cape Cod Jazz
From his first moments on the Cape, Weisman began exploring and then putting his own touches on the Cape jazz scene.
One of the ways he has done so is simply to play jazz all over the Cape in four different groups – the Bart Weisman Jazz Group, the Cape Cod Jazz Quintet, the Bart Weisman Smooth Jazz Group, and the Bart Weisman Klezmer Swing Group.
In addition to performing with his groups, he runs the Jazz Jam, an open mic for jazz musicians, teaches private classes, and is the Jazz Band Director at Sturgis Charter Public School East. 
Weisman also runs a program called, "Jazz In The Schools," in which he brings a jazz tutorial to entire student bodies at schools across Cape Cod.
And, he is the founder and executive director of the Provincetown Jazz Festival, which had two shows this year – both sold out. One was August 2, the next is August 16.
For a musician, Weisman "is as rare as they come," said Villa, of The West End. "He takes the business side seriously."

The Jazz Evangelist
Watch Weisman play drums and it is clear that he loves what he is doing. Listen to him talk about jazz and it is clear that his passion for the music is boundless. 
His Jazz In The Schools program is a special one-time visit to schools with a 45-minute trek through 100 years of jazz. He is able to engage students raised on rap, rock and pop to find the joy in jazz that he does.
As the Jazz Band director at Sturgis, Weisman is always enthusiastic, said Sheeler. "He's always like, 'We should try this. That's a great idea." He encourages the students, said Sheeler. "He draws on the kids' strengths."
With a small school, students come into the band with varying levels of skill, said Sheeler. "He finds a way to bring the music to the levels of all the kids we get," she said. "He's so great at communicating."
And it is not just for his students. That is how he is with his audiences. Villa, who now hosts the Jazz Jam at the West End, first started going to it when Weisman hosted it at the old Island Merchant in Hyannis. That was when she met him. 
"He works the room," she said. "He bonds with the community. He's just very friendly."
And always, he is spreading his love of jazz. "Part of him is just a born teacher," said Clinger.
Click here for information on Bart Weisman's music & schedule.
---

** Please support independent local journalism.
See the DONATION BUTTON AT THE TOP OF THE PAGE **

---
– Please like Cape Cod Wave on Facebook.
Read other Profiles on Cape Cod Wave
Cape Cod Wave Magazine covers the character & culture of Cape Cod. Please see our Longform stories.
---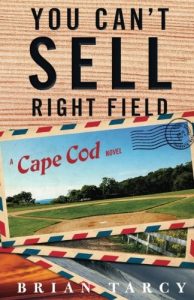 –PLEASE SEE You Can't Sell Right Field,  a novel from Cape Cod Wave about land for sale, a crooked developer, a softball team called, "The Townies," and an election.
Based on the true story of a Cape Cod development.