WELLFLEET – Whenever Sarah Swain returns from her months-long family sailboat trip, she may want to consider working with this band we just heard at the Wellfleet OysterFest called, Where's Sarah?
Cape Cod music fans, including Cape Cod Wave, miss Sarah Swain, the charismatic lead singer of Sarah Swain & The Oh Boys!, but on Sunday the band Where's Sarah? played some pretty tight, fun music to the morning crowd at the Wellfleet Oyster Festival that was just getting started on a full day of oysters and beer.
This was Swain's backup band, the Oh Boys! plus some. Where's Sarah? featured Jerry Smith on guitar and vocals, Mark Usher on guitar and vocals, Ron Siegel on bass and vocals, Liam Hogg on drums and vocals, and even a cameo by Dan Shook on guitar and vocals.
Here is a mashup of the band playing some Oh Boys! style rockabilly.
But first, we'd like to point out that when a band changes its name from the Oh Boys! to Where's Sarah?, it can make understanding punctuation in the explanatory sentence somewhat problematic.
The music, however, is easy to understand and quite danceable.
See also, Wellfleet OysterFest, A Shucking Good Time – Slide Show
– Please like us on Facebook.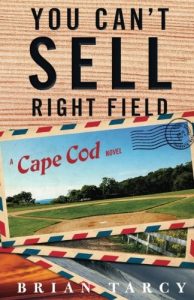 A Novel By Brian Tarcy
A softball team called the Townies. A slick developer with a sketchy story. A town divided over a zoning change….— YOU CAN'T SELL RIGHT FIELD, A Cape Cod Novel