WELLFLEET – Talk about bringing a party to a party. Funktapuss brought their funky, horn-fueled and guitar driven funk to the oyster-eating Sunday afternoon crowd at the Wellfleet OysterFest.
And as the crowd was growing into the afternoon, the festival became a party and then the party became a concert. The rapt, leg-shaking audience stretched all the way back to where folks were pursuing the options of buying oysters and beer.
While those most delicious oysters were in abundance, the band's energy was in equal abundance as it went through a string of great songs, including some Stevie Wonder, and this one, "Sounds Like A Party To Me", originally by the band, Lettuce.
Funktapuss is Nick Suchecki on baritone sax, Ryder Corey on tenor sax, Pat McDonough on guitar, Ryan Tivey on keyboard, and Brad Conant on drums, and vocalist Latez Crowley.
See also, Wellfleet OysterFest, A Shucking Good Time – Slide Show
– Please like us on Facebook.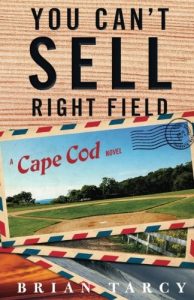 A Novel By Brian Tarcy
A softball team called the Townies. A slick developer with a sketchy story. A town divided over a zoning change….— YOU CAN'T SELL RIGHT FIELD, A Cape Cod Novel