ORLEANS – The Orleans Council On Aging, which serves the town with the oldest average population in Massachusetts, closed to the public last week because of the Covid-19 virus, said Judi Wilson, the director. 
"But some of us are still providing transportation," she said.
Besides being the director of the Orleans Council on Aging, Wilson is also the chair of Cape Coast (Councils On Aging Serving Together). She is in touch with all 15 Councils on Aging on the Cape.
"One of the things that has happened throughout the years is that a lot of people are on the Cape without family or support," she said. "A lot of people have aged in place."
"People are living in our communities longer with greater levels of chronic disease, and so we do have some vulnerable people," said Wilson.
In Orleans, she said, there are several people that "don't have the technology to order groceries online." It is the same with banking, said Wilson.
Thus, they are providing essential transportation, said Wilson. "If or when we can no longer do that, we are going to be trouble."
"The people we are driving don't have any alternative," she said. "We have about 24 people who require transportation. They don't do anything online."
The Orleans Council On Aging has "suspended all use of volunteers," she said. Instead bus drivers are giving rides to people. "We are limiting the bus to one or two passenger and sanitizing the bus between passengers," said Wilson.
There are five bus drivers and two buses. At this point, drivers do not alternate buses but are instead assigned a specific bus to be extra safe, she said.
The Council on Aging has been getting requests from some non-elderly disabled people for rides, she said, "but we cannot increase our number of passengers at this time."
She said that some Councils on Aging have suspended all transportation services. 
"Some of us are providing emergency meals," said Wilson. "School administrations all over the Cape have been very helpful in providing some student meals to seniors," she said.
And while programs are closed, Wilson said Councils On Aging are doing what they can with limited help from town governments.
"There has not been a lot of guidance, to be perfectly honest," said Wilson. "We are all doing our best. Some are getting more guidance than others from town officials."
Orleans COA employees have been reaching out by telephone to those who use their services as a way of checking in as best they can, she said.
"People have been very concerned about taxes," she said. The Orleans COA offers a free AARP tax aid program and people want to know if that will still be available. And the answer is no one knows yet, she said.
Meanwhile, Wilson said, many Cape Cod Councils On Aging currently plan to participate in a food distribution program with the Boston Food Bank next Friday "and many of us are trying to still do that," she said.
"Some towns will not be doing it because of all the exposure," she said.
The way it is supposed to work, said Wilson, is that the Family Pantry in Harwich will get a delivery from Boston and then each COA will pick up the food and bring back "to distribute in their respective towns." 
In Orleans, 51 seniors will be getting food, she said, which will include "shelf-stable food and fresh fruits and vegetables."
The food will be delivered using social distancing rules, she said. "We will deliver without contact. We will knock on the door and walk away with no face to face contact."
The role of a Council On Aging has, indeed, changed.
– Please like us on Facebook.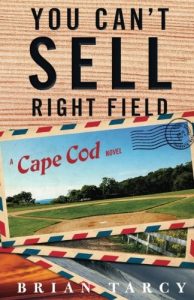 –PLEASE SEE You Can't Sell Right Field,  a novel from Cape Cod Wave…. about land for sale, a crooked developer, a softball team named The Townies, and an election. Based on the true story of a Cape Cod development from the early 1990s, and Cape Cod softball.