FALMOUTH – Two members of the Falmouth Elks Lodge have tested positive for the Covid-19 virus, according to Sean Ventura, the incoming Exalted Ruler, whose one-year term starts April 1.
Ventura, 46, a lifelong resident of Falmouth, said the two members attended a party on March 15 at the lodge that was also attended by about 75 other members. Governor Baker issued an order on the evening of March 15 that all bars and restaurant must close as of March 17.
The lodge, which does fundraisers year-round to benefit the community, has a total of 705 members, he said.
The two members that tested positive for Covid19 are a man and a woman, both in their early 50s, he said. One of the members is in a hospital, he said. Ventura said he talked to the hospitalized person yesterday, and they "were not doing good," he said.
Ventura said he is friends with both people who tested positive, and he attended the party on March 15. He sat "about two seats away from them at the bar for about two hours," he said.
"I wasn't in direct contact with them," he said. "I have no symptoms."
And, he said, as best as he knows neither does anyone else who attended the party.
Ventura said he has gotten the word out about the two members testing positive through Facebook "and hopefully through this story," he told Cape Cod Wave Magazine. (Please share!)
Ventura said he is still out doing work as a landscaper but that he comes in contact with no one except his 18-year-old son who he works with and lives with.
"Healthwise," he said, "I am not concerned for myself, but more for my older members that were here that day."
– Please like us on Facebook.
For our other coverage see Cape Cod Covidispatch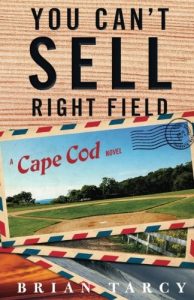 –PLEASE SEE You Can't Sell Right Field,  a novel from Cape Cod Wave….A review from Goodreads:
"Brian Tarcy knows Cape Cod and captures the attitudes, quirks and idiosyncrasies of its diverse residents. Beneath the witty banter and self deprecating commentary is embedded the most serious issue of the peninsula of Cape Cod – Development. Cape Cod needs jobs and economic impetus, but at what cost? Will the drive to build houses destroy the very nature of the Cape? Will greed push environmental ruin and development obliterate the natural beauty that natives and tourists both crave? Tarcy builds his story around the lives of a softball team of life-long friends, townies who have taken different paths and have opposing visions for the town they love."