YARMOUTH – Today (December 8) is Steven G. Xiarhos 61st birthday, and as a bittersweet present to himself he is retiring as the Deputy Chief of the Yarmouth Police Department after working in the department for 40 years.
Friday was his last day of work. Today is his last official day as a member of the department.
Xiarhos, a Republican, is considering a second career in politics. "I want to serve in a different way," he said.
He has formed a committee that would help him run for State Representative from Barnstable's Fifth District. The current occupant of the seat, Randy Hunt, (R-Sandwich) has announced that he is not running for reelection. "I will be making an announcement in February," said Xiarhos.
"The reason why [a run for office] would be to continue public service," he said. "After 40 years of public service, I think would be helpful in the next level of public service."
"I want to serve in a different way." – Steven G. Xiarhos, retiring police officer, considering a run for the Massachusetts State House.
He described politics as "similar to policing, as policing can be a controversial subject." Police are trained to "stay above the line. We can be better than that," he said of getting into deeply divisive issues.
And yet Xiarhos has very strong and public opinions on some very divisive issues: the flag, national anthem and NFL protests; as well as support for America's two simultaneous undeclared wars. He once wrote a very public letter to President Trump about the NFL National Anthem protests. 
But he said he plans to "stick to local issues and not let what's going on in Washington affect me."
It will be an interesting challenge for someone who is very proud to have met President Trump more than once. He also met President Obama, and he is proud of that too.
The reason he met both presidents is because of his direct connection to American foreign policy.
His son, Nicholas, was killed while serving in the Marines in Afghanistan in 2009 when he was 21 years old. 
"Losing Nicholas and sharing that loss with the world put me on a different level," he said. "It propelled me to meet the president," he said. It's an honor, he said, "but it's also bittersweet. It's because you lost your son," he said.
Since that time, he has become perhaps the most well-known police officer on Cape Cod. And on this, a different kind of bittersweet day, his last officially as a member of the Yarmouth Police Department, he is thinking of his next step while reminiscing about a career that he loved.

"Wonderful times and tragic times"
When Xiarhos landed an internship with the department in 1979, his first impression was, "I thought Yarmouth was pretty cool." 
"We had the Cape Cod Coliseum, and every large bar and restaurant. Yarmouth was a place that everybody came to have fun. To be a cop here, you did a lot and you saw a lot," he said.
Since then, Xiarhos has done and seen a lot of inspiring things. 
But some of what he has experienced has been unimaginably tragic.
Through it all, he said of working in the YPD, "I got to work with heroes every day. I will never forget that. I will always cherish that."
He calls his now-ending career, "the honor of a lifetime to have followed my dream of becoming a police officer and protecting and serving people."
When Xiarhos talks about, "going through wonderful times and also tragic times," it sounds like the beginning of a Dickens novel. There are certainly interesting novelistic chapters throughout his life, including the unspeakably tragic – of which he speaks often.
Xiarhos is most well-known outside of Yarmouth as the father of the fallen Marine, Nicholas G. Xiarhos who was killed in Afghanistan in 2009. Each summer, there is a massive motorcycle ride is held in Nick's honor and in the honor of all the Cape Cod military servicemen and women who have died in recent wars.
The ride is called, "Big Nick's Ride For The Fallen."
In April 2018, the Yarmouth Police Department lost officer Sean Gannon, who was killed in Marstons Mills while serving a warrant. Officer Gannon's police dog, Nero, was also shot, and has recovered.
It hit the department hard, he said. "That's my family," he said of the Yarmouth Police Department.

Growing Up Playing With Prisoners In Jail
From the time he was a little boy, Xiarhos wanted to be a police officer. "There's no doubt about it," he said.
"It wasn't in my family," he said. "A guidance counselor told me later that I had a strong sense of purpose and justice at a young age."
This sense of purpose and justice, he said, came from his neighborhood of "all cool people" in New Bedford, a city he described as "a tough, working city."
He was the only boy between two sisters. His father was a corporal in the Army Air Corps, which was the pre-cursor to the Air Force, "and then he got out and became a civilian employee at Otis Air Base."
While his father loved the Cape, the family never moved here because there was extended family in New Bedford, and so every day he carpooled to work.
"We would come to the Cape as little kids and go to the air show," he recalled. "I grew up loving the American flag as a little kid," he said.
Xiarhos and his family lived on the second floor of a three-decker tenement house owned by his Greek immigrant grandmother. His grandmother lived on the first floor of the tenement house, and rented out the third floor.
"All of my friends were mostly black or poor whites. That was a gift, I realized later, of being colorblind. And the other kind of cool thing is I lived right across from the jail. That old jail was the jail of New Bedford," said Xiarhos.
"When I was little, I would go visit the sheriff and his son, who lived at the jail, and we would play with the prisoners. When I was six or seven years old, I would walk across the street with my friends, knock on the door and go in and play. There was a little field inside the jail. I have a vivid memory of playing football with the prisoners. They had on the black-and-white striped suit."
And while he loved his neighborhood, it wasn't all innocent games of football with convicted criminals.
"I had a friend, Kevin King," said Xiarhos. "He had a brother named, Michael. I remember my Dad came home one day and said that Kevin and Michael's father had just been murdered. He was shot at a restaurant just down the street."
Asked about his childhood and how it relates to his chosen career, Xiarhos said, "There was something at a young age that made me want to be not only the guy that helps, but also the guy that protects."
"In policing, we kind of do both," said Xiarhos. "We are helping the person that needs help but there's also the protection part. We are taking away the bad guy. Our role is to protect that family, or that house. A police officer's job is to bring them justice."
As for playing with the prisoners in jail, Xiarhos said he learned, "It didn't matter if you had done something wrong. It didn't make you a bad person."

A Child of the 1960s
During the late 1960s, race riots swept through cities across America and, recalls Xiarhos, into New Bedford. His family moved to Acushnet, "a little country-bumpkin town outside of New Bedford," he said.
Just before the family moved, he remembered riots that "broke out right in front of me… I was scared," said Xiarhos.
The young aspiring police officer saw riots of the 1960s on TV and also in his own neighborhood. "What you saw on TV was happening right in front of me. I felt bad for people… I didn't choose sides. I felt bad. I thought, our country is better than this."
'I thought our country is better than this." – Xiarhos on the riots of the 1960s
He was 10 years old in the pivotal year of 1968. In his childhood, besides the race riots, the Vietnam War was raging, and body counts from the war were announced every week on TV. There were many protests against the war, including in the popular music in his own house.
During Vietnam, as revelations came that leaders were not being honest about the war, Xiarhos said, "I remember feeling bad. I didn't feel angry."
"My sister, Carol, God bless her, is the hippie," said Xiarhos. "She is five years older than me. She would be protesting the war. She would be listening to that music. She played all the albums. Crosby, Stills, Nash & Young, and I loved all that too," he said.
"But I leaned more towards helping, supporting the military," he said. "Not being angry at the other side, I guess. Patriotism above politics."

Becoming A Yarmouth Police Officer
Xiarhos graduated with more than 800 other students in the class of 1976 from New Bedford High School. His plan was to be a police officer in the military.
"I wanted to enlist in the Air Force, like my Dad, or in the Marines. I wanted to be a police officer in the military. I remember both of them [the Air Force and Marines] saying we cannot guarantee that," he said.
So without a guarantee of being a police officer, he did not enlist in the military. Instead, he moved to Sandwich with his aunt and his uncle, who lived there, and he studied criminal justice at Cape Cod Community College. 
"At the time, Yarmouth had a reserve program where you could become a summer cop. They also had an internship program," he said.
"On Tuesday afternoons, I'd jump in the front seat with a police officer for a ride-along," said Xiarhos of his participation in the internship program. He now describes himself at the time as "a young kid, a young dork really."
He would show up at the police station with his "little notebook," he said, eager and ready to learn all he could. On the ride-alongs, he said, most of the officers would drop him back at the station or at Burger King for his lunch. 
But, said Xiarhos, "I have this vivid memory of one officer, Brad Erickson, who would take me home with him to have lunch with his wife." That family connection made a strong impression, said Xiarhos.
And he added, "We still do internships. In the fall, there will be some kid coming into the YPD just like there was in 1976."
"Even the Chief's (Fred Frederickson) story is similar… we have done every job from intern to officer to patrol officer to sergeant to detective to lieutenant."
It was that early internship that gave him "a taste of Yarmouth" that made him seek a full-time job. "I was in awe of it," he said of the town itself.
During that internship and time at 4Cs, Xiarhos said, "I was driving my 1971 Ford Pinto all around. I was living the dream. I was working at Angelos Supermarket. I was the deli guy."
In 1978, he graduated from 4Cs with an Associates Degree in Criminal Justice.
He applied for a full-time job with the YPD. He took a written test. He did interviews and psychological testing. And then, he heard nothing. Without a job, he moved back to Acushnet with his parents. He became an EMT and began working at a hospital in Fall River.
One day, about six months later, he received a letter stating he had been accepted to the Police & Fire Academy in Barnstable as a Yarmouth Police recruit.
"I still have the letter," he said. "It was incredible. I was so excited, proud."
Xiarhos said of getting that job, "I was naive, thinking it wouldn't work out because I am not from Cape Cod… I remember saying, 'Wow, this system works.'"
He described the Police Academy as "like a little mini-college." It lasted 12 weeks. He started September 4, 1979, and graduated November 30, 1979. "When you graduate, you have 12 weeks of field training. You ride with people and they teach you the streets."
He liked that the Police Department was "very progressive in both their equipment and training."
Xiarhos said his initial impression as a police officer of the town was, "There's enough business to be a busy and pro-active police officer. And it's a beautiful place to live."
He recalled that when he first started with the department, another officer asked him why he wanted to work in Yarmouth, and Xiarhos answered, "because this is paradise."

"The town where people came to drink and have fun."
When he was a young officer in the 1980s, "there were probably only 30 officers, so we've doubled in size," said Xiarhos.
"In those days, we were known as the town where people came to drink and have fun," he recalled. "Everybody back in those days knew that."
"On any Saturday night in July, three of the largest bars on Cape Cod had lines out the door and at the same time there'd be 8,000 people listening to Aerosmith" at the Cape Cod Coliseum," he said.
Yarmouth, located in the middle of the Cape was "the most densely-populated town," he said. "In those days, there were fatal crashes and fights. That was normal. You knew after midnight that it was going to be bad. That was the norm. I remember as a young officer, it was exciting."
But over time, his feelings changed. "I felt bad," he said. "I thought, how can we do this better?"
"Back in the day, there was a lot of drinking. All kinds of foolishness," said Xiarhos. "People came from all over to have fun. But we were the ones who saw the aftermath."
He recalled a scene at an accident on Route 6A in which the passengers were crushed to death in their car. While he was waiting for medical examiners to arrive, he said he sat, shaken, in his cruiser and wrote a letter to his family about the accident.
In his letter, Xiarhos imagined the now dead people in the car were laughing and having fun in the minute before the accident that ended their lives.
"Please don't do this," he wrote to his family.

A School Resource Officer
In March 1987, Xiarhos was a patrol officer working the 4 p.m. to midnight shift when he was asked to take on a new task.
The next Monday morning, he was walking the halls of Dennis-Yarmouth Regional High School as a school resource officer – the first at the high school.
It was a challenging and very rewarding time, he recalled. At first, he said, when he was assigned to the school "it was looked upon as if something was wrong. Why did DY need a police officer? How bad was it?," he recalled was a prevailing attitude.
And the students saw what Xiarhos said many people see when they see a police officer.
"Someone in uniform can be intimidating," he said. "Uniform. Gun. Badge. The power to arrest somebody. The power to use force. That's what some people immediately think of when they see us."
"In reality," he said, "most of what we do is help people."
But the students at first couldn't help but see uniform, gun, badge. But, Xiarhos said, "when you smile and walk over and sit at the table with a bunch of teenagers that you don't know, you break through," he said.
"It came naturally to me. The key was the type of officer. You cannot go in there with the standoffish type of officer. That would not have worked," he said.
There is a reason that attitude exists in police departments, he explained. "Remember, it can be dangerous. You are a police officer, there are people who don't like you, and can hurt you or kill you. The safest way is to be more rigid and more militaristic," he said.
But for Xiarhos, he found a balance worked best. In fact, now, he said, offcers are taught to have "a guardian role and a warrior role."
As a young officer, talking to students in a friendly way "came naturally," said Xiarhos. "Being that friendly police officer, but also firm. I was very strict when it came to drinking and drug use and fighting. But the rest of the day, I was kind of everybody's friend."
And so when Xiarhos thinks of the good times in his 40 years in the Yarmouth Police Department, he said one of the first places his mind wandered to were those days, actually seven years, of working at the high school.
"The good times are the people that you meet and that you help," he said. A highlight, thus, was "meeting those teenagers who have become friends of a lifetime," said Xiarhos. "And now I am meeting their teenagers."

Protect & Serve – "We look for solutions."
"As you get older and wiser and rise through the ranks, you need to look at the big picture," said Xiarhos. 
"You need to fix it. We shouldn't have a lot of crashes. We shouldn't have a lot of drunk driving. We shouldn't have a lot of domestic violence, versus saying that's the way it is. We'll never be that way. We look for solutions," he said.
The mission of a police officer, said Xiarhos, comes down to "a basic sentence."
"Our mission is to protect and serve," he said.
"So how do you do that? Be well-trained. Have the equipment you need, and build partnerships with your citizens. They will support you if they get to know you."
Yarmouth is invested, he said, in the concept of community policing.
"You can't enforce your way out of problems," said Xiarhos. "It's both, education with enforcement."
"Community policing can be misconstrued," he said. "I could send you a list of 20 programs we do every year." He mentioned community events such as ice cream with the Chief, and a "Shop With A Cop" program for deserving disadvantaged kids.
"Some people think that is community policing. That is only part of it," he said.
"The other part of community policing is arresting bad guys. "We're not just doing it to have fun. We're doing it to build relationships so people will trust us when we do our job."
Yarmouth, he said, has "won New England-wide community policing awards."
According to Xiarhos, Yarmouth is as fun as ever. "The chief's line is that Yarmouth is the Cape's playground. Be proud that you are in a town that has a great police department that is supporting you."
As an example of community policing that has made a difference, Xiarhos cited "Operation Safe Ride Home," which the police department created with the town business community.
"We put money in a fund and we reach out to the taxi companies," he said. The program provides free rides home to those requesting it on holidays such as July 4, Memorial Day, Labor Day, "even Super Bowl Sunday," he said.
Over the years, he said, "hundreds" have taken advantage of the program. "We don't keep track of who," he said.
"People have copied us," said Xiarhos of the program that he claimed has made the town safer. "They ask, How did you do that? This is how. We can't catch everybody. We would rather prevent a crash than arrest some drunk driver driving down the road. We do both."
Xiarhos later added, "Every police department should be good at solving crime, but the exceptional ones prevent it."

A National Crisis Is A Local Emergency
"So many people now, sadly, are addicted," said Xiarhos of the opioid crisis that swept the nation and into all towns, including Yarmouth.
"When the crisis started to hit, we were right on top of it," he said. "The YPD doesn't shy away from anything. We worked with the media, helped them do their job. We all want to live in a safe community."
Xiarhos said he left an explanation for the crisis up to others. "I don't personally try to do the, Why? That is important to know but I don't get bogged down in the why. I am more interested in what are we going to do about it?"
"If you had an overdose back in the day," he recalled, "it was once or twice a year. This was happening every day."
When local stories about the crisis started to come out, Xiarhos said there was some negative feedback. Some people said, he said, that "Yarmouth must be pretty bad. Our message was, we're doing something about it."
One of the things Yarmouth began doing was start a program that "if you are an addict and you need help, we'll come to your house and bring you to rehab… we have a Gosnold coach who sits in a police car with one of our officers."
"We offer treatment to people who need it," he said. 
"Some people can look at this as Yarmouth being bad," he said. "We think that Yarmouth is being proactive."
"When some people see this, they think, Oh my God, what are the Yarmouth Police doing, taking you to rehab?"
The reaction, even for those they help, can be quite dramatic. Xiarhos recalled an officer going to a house and the father of an addict greeting them with the words, "What the fuck are you guys doing here again?"
The officer explained and said, "We're here to help your son," said Xiarhos.
"The guy just broke down," Xiarhos said. "He said, 'Thank God. We were giving up.'"

"We are in the business of saving lives."
One day, Xiarhos and Chief Frederickson were on their way to a meeting, recalled Xiarhos, "when we hear a call that the guys go on. Someone is overdosing in their parents bathroom."
Xiarhos and Frederickson stopped at the house. "In the bathroom is their son dying and two of our officers are doing CPR on him," said Xiarhos.
"Now the Fire Department came in. The kid was dead. But they gave this young man Narcan," he said. "And within ten seconds, his eyes opened wide and he sat up. It was amazing."
"At the time, the reason why police officers didn't give the Narcan was that it was illegal for us to do so," he said. "We had to wait for the Fire Department to come."
But, said Xiarhos, Chief Frederickson pushed for a change in the law that now allows police officers to administer Narcan to overdose victims.
"You simply spray it in their nose, and you save a life," he said.
"There is always pushback," said Xiarhos. "Some people say after the first one, let them die. Those are foolish comments. We are in the business of saving lives. I don't care if it's the first or the 50th one. We don't care. We save lives."
He said, "We're not caretakers. We're not here to keep things the way they are. We're here to make things better. We need to fix this."
And while Narcan is part of the solution, the part that literally keeps people alive, Xiarhos said the police also have a role in solving the problem.
"Some people say you can't arrest your way out of the problem," he said. "People think that when they get arrested they go to jail. No, that's not what happens. If they get arrested, they go to the Court system. We've had many people say, 'Thank God you did. I needed you to come pick me up.'"
"I've had parents tell me that their best days was when their son or daughter was in jail. The parent could sleep at night," he said.
"We enforce the law, but we do it with compassion," said Xiarhos.

Officer Sean Gannon, the YPD & Compassion From The Community
"When (Officer) Sean Gannon was murdered in April 2018, that will always be a powerful moment in our lives," said Xiarhos.
"In that instance, everybody was heartbroken and trying to find answers and a reason," he said.
Afterwards, "Sean's cruiser was parked outside the police station," said Xiarhos. "For 24 hours a day, all day long, people could come by and put something on that police car… and they would cry."
"The consistent thing we saw was that it was all kinds of people, white, black, rich, poor, immigrants, they all cried. They all said to us, 'We're so sorry. We're so thankful to you for protecting us," said Xiarhos, who added, "We have the privilege of being police officers."
"In that crowd of different types of people were even criminals, mentally ill, people like that. They all reached out to show their love," he said.

Big Nick's Ride For The Fallen
At the funeral procession for his son, Marine Cpl. Nicholas Xiarhos, Xiarhos said he was in the car with his children – Alexander, Elizabeth and Ashlynne – and their mother (Nick's mother), Lisa, "holding a little photo of him when he became a Marine when we heard a motorcycle go by."
"And then another, and another, and another, and I looked at Lisa and I asked, 'Did you hear that?'"
And she said, 'We're not alone.'"
Xiarhos recalled that "it was the sound of motorcycles escorting us through the worst moment of our lives."
Xiarhos recalled being a proud father, taking Nick out for a steak dinner before he shipped out.
Like a lot of Marine Dads, he said, he subscribed to Leatherneck Magazine, the magazine of the Marines, and there was an article in which a U.S. General said the War could go on for 20 or 30 more years. The projection of the General caught him a bit off guard, he said, but he was and remains confident in American leadership.
However, Xiarhos said that when Nick was in Afghanistan, "I had bad feelings, nightmares."
And then when nightmares were confirmed and the worst possible news, the death of his child, came, "you shake your head a thousand times a day, thinking it will go away."
Life became a blur. "I don't even remember some of those first few months," he said. But sometime in there, a friend of his came to him and suggested a motorcycle ride in Nick's honor and in honor of all of the fallen.
Starting the ride, said Xiarhos, "comes from him being my friend, but also from him being a Marine. The Marine brotherhood is just as powerful or maybe even more powerful than being a police officer."
Before Nick shipped out, Xiarhos said, "I had never been on a motorcycle… I went from never riding to getting a motorcycle. It's incredible therapy. The riders know it."
Big Nick's ride for the Fallen is a different kind of therapy altogether. 
"One year at Nick's ride I rode with a guy I knew my whole adult life, a real angry guy, negative guy. I knew he was a Vietnam vet," said Xiarhos.
"Well, we rode side-by-side for 35 miles," he said. "There was that therapeutic feeling, mile after mile, of people saying thank you. People in front of a church were blessing us with holy water."
"When we arrived, this guy, the toughest guy I knew in my life, came over and cried on my shoulder like a baby." To remember the fallen and those that are living, he said, "We are making a difference."
The ride, said Xiarhos, "is a powerful part of my life."
"One of the problems in my life is that some people think it's all about Nick. But my life is not all about him," he said. "It's part of my life story. We try to remember him and all of the fallen."
 "We are not the only family. I wish we were. A lot of families on Cape Cod are Gold Star families," he said.
Besides offering roadside support for almost three dozen miles, the ride raises money for charitable causes, including a $5,000 grant from the Nicholas G. Xiarhos Fund of the Cape Cod Foundation that was given to the Yarmouth Police Foundation towards the building of a Sargent Sean M. Gannon Police Training Center.
Xiarhos acknowledged, "It's a struggle every day to live without your son. It took eight years to come to peace with it." He said he now understands the ride "is what Nick would want. They would want us to remember them."
"It's done exactly what we wanted it to do. It's an event that honors all 16 Gold Star families. It thanks the living."
Those eight years of trying to come to peace with Nick's death were difficult. "I kept asking why. Why was it Nick? I never got that answer. So you live your life, help others, balance police work," and then every year came that powerful part of his life that is Big Nick's Ride.
"It's always very emotional," he said. "I wasn't healing for the first eight years."
In the summer of 2017, at the end of the ride after donating $5,000 raised to Cape Cod Hospital, Xiarhos said he was exhausted and sitting on the back of the truck of another Gold Star father.
"I kind of broke down," said Xiarhos. "He comes over and puts his arm around me. "Why?" asked Xiarhos. "Why Nick? Why Jared (the other man's son)."
"He said, Steve, you don't know why? I'll tell you why. God saw Nick and Jared doing good things, and He needed them to do great things."
"I asked," said Xiarhos, "What do you mean?"
"And he said, 'Look around. There's thousands of people here, honoring the fallen, and you're helping.'"
And that's how, Xiarhos said, that eight years after Nick was killed, he began to heal.

Loving The American Flag
Xiarhos loved the American flag from the time he was a little boy. And then he saw his son's flag-draped casket come home to Dover Air Force Base.
"The flag does mean more to me than to others," he said.
On that day, Xiarhos said, families of the returning were gathered, waiting. "You see people angry, sad, everything," he said. "A giant plane is sitting there and giant American flags are draped over those coming home.
"And the media wants to know, it is up to the family, whether they can take photos or not when we greet our son's casket," he said.
"We said yes. We wanted, I guess, the people who don't live this world [of military families] to see and feel the price of their freedom."
"You can be protesting, but I just ask that you don't protest during the National Anthem. I feel strongly about that." – Xiarhos
When he saw that flag-draped casket, he recalled, quite viscerally, "You make sounds that you don't even know. Sounds bounce out of your body and you don't even know what they are."
And so protests by NFL players during the National Anthem upset him.
"How someone could be doing that during those two or three minutes, I don't understand. The flag means a lot to me. I've written letters to the NFL. They should not be doing that."
"You can be protesting, but I just ask that you don't protest during the National Anthem. I feel strongly about that," he said.
He said protests against police are misguided. "We're not racist and we're not abusive… We just need to get to know each other. We are humans just like you. We coach Little League just like you…"
"We're all in this together," he said. "We're all humans in a beautiful world."
Xiarhos has met both President Obama and President Trump. "You couldn't find two more different people," he said.
Asked his thoughts on the wisdom of the war that started on September 11, 2001, took his son in 2009 and that continues in 2019 with no end in sight, Xiarhos said, "I support the United States. I support the government."
"If you support the troops, you've got to support the war," said Xiarhos. "I support our troops and our government. If we are at war, there's a reason for it."
He acknowledged that others may have different opinions and said, "We can be separated on issues," he said. "But we should be united on the love of our country."

A Retiring Yarmouth Cop is Running For Office Where?
The Barnstable Fifth District covers a lot of area. None of it is in Yarmouth.
For the past five years, Xiarhos has lived in West Barnstable, which is in the fifth district.
The fifth district covers Sandwich, and parts of Bourne, Plymouth and Barnstable, including West Barnstable.
When Xiarhos moved there, he had no idea Randy Hunt, who represents the district in the Massachusetts State House, would retire. But when Hunt announced he would not run again, Xiarhos, who would have to retire at 65 anyway, began contemplating his own retirement and next move.
Several people, said Xiarhos, suggested to him that he should run.
His move to West Barnstable is connected to his personal story, he said.
As probably the most well-known Gold Star parent on Cape Cod, as well as being a very visible police officer, Xiarhos said he has been approached several times a day for many years by people would would "come and cry on my shoulder," he said.
It happened "every day," said Xiarhos. "Fathers who lost their sons in an accident every day would come and cry on my shoulder and ask me how to survive. My fiance pointed out, 'That's a lot on you."
"I thought it was normal," he said. "To have someone come up and literally break down and cry on my shoulder, I thought it was normal."
And so five years ago, he said he moved a town over, to West Barnstable "to recharge and get away from it."
And now that recharging has led to a life decision that may see him soon entering the world of politics trying to represent part of his new hometown and parts of several other towns that are not named "Yarmouth."
He will no longer have his uniform, gun and badge to convince people of things.
He will instead rely on his smile and friendly manner.
"I want to serve in a new way," he said.
His decades of police work qualifies him to talk about and vote on important issues at the State House, he said.
"When it comes to the issues," he said of police work, "we've lived them."
---

** Please support important, independent local journalism.
See the DONATION BUTTON AT THE TOP OF THE PAGE **

---
– Please like us on Facebook.
For more stories like this, please see Longform stories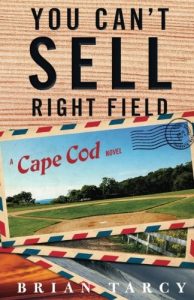 –PLEASE SEE You Can't Sell Right Field; A Cape Cod Novel,  a novel from Cape Cod Wave about a large proposed land development, a crooked developer, a softball team called, "The Townies,", and an election.
Based on the true story of a Cape Cod development.