FALMOUTH – Not since Judy Blume visited Falmouth about 10 years ago has Eight Cousins Books hosted an author expected to attract as many fans as Chelsea Clinton may later this week.
Clinton will be in town on Thursday, July 27, to sign copies of her new children's picture book "She Persisted: 13 American Women Who Changed the World."
"I'm really excited," Sara Hines, co-owner of Eight Cousins, said. "She is a few years younger than I am. She's been a part of the culture for a really long time." A young teen when her father Bill Clinton was elected president, Chelsea has been in the spotlight for years. "I've always been impressed," Hines said. "She handled the pressure with grace and poise and kindness. So I'm really excited to have her here and have the community be part of this event."
Hines said she expects this Chelsea Clinton book-signing will be one of the store's biggest signings, perhaps to rival the time the Judy Blume book-signing. "That was our biggest day ever," Hines said. "It's one of the things we love about having the store, bringing amazing events and people to the community." She added, "I hope people are planning on bringing their daughters."
The picture book, illustrated by Alexandra Boiger, celebrates strong, inspirational women who have embodied the spirit of persistence throughout American history," according to a statement from the book's publisher Philomel Books, an imprint of Penguin Young Readers.
The event will be held at Eight Cousins Books at 189 Main Street in Falmouth on Thursday, July 27, beginning at 10:30am.
Hines said the visit to Eight Cousins as part of the book tour was initiated by the sales representative of the book's publisher who has long been a fan of the local bookstore on Main Street in Falmouth.
The book, "She Persisted" was inspired by an incident earlier this year when Senator Elizabeth Warren refused to be silenced by her colleagues during a speech she was making on the Senate floor. The term "She Persisted" quickly became a rallying cry, as well as a popular T-shirt slogan, tattoo and bumper sticker, for women nationwide.
"I wrote this book for everyone who's ever wanted to speak up but has been told to quiet down—for everyone who's ever been made to feel less than," Chelsea Clinton said in a prepared statement. "The 13 women in 'She Persisted' all overcame adversity to help shape our country—sometimes through speaking out, sometimes by staying seated, sometimes by captivating an audience. With this book I want to send a message to young readers around the country—and the world that persistence is power."
The 13 women featured in the book, representing a range of eras and careers including science, arts, athletics, and politics, are Harriet Tubman, Helen Keller, Clara Lemlich, Nellie Bly, Virginia Apgar, Maria Tallchief, Claudette Colvin, Ruby Bridges, Margaret Chase Smith, Sally Ride, Florence Griffith Joyner, Oprah Winfrey and Sonia Sotomayer. While Chelsea Clinton's mother, Hillary Clinton is not one of the 13 women profiled in the book, she makes a "cameo" appearance on a page showing a gallery of portraits of women.
Hines said the featured women include a range of well-known people "and those you may want to know more about. It's a diverse range in background, history, expertise and what they were known for."
She pointed out the book also has an "intergenerational component," as the illustrations include a version of the featured women as children, which could inspire young readers to imagine themselves in different roles. "The tone of the book is inspirational for girls—'You can too'—and a reminder for everybody that girls can achieve so much," she said.
The "ticket" to get into the book signing is a copy of "She Persisted." Those in line will get a wristband, which is also a collectible. Copies of Clinton's other book, "It's Your World: Get Inspired, Get Informed & Get Going!" will also be available for purchase. Clinton also co-authored with Devi Sridhar the book, "Governing Global Health: Who Runs the World and Why?" She is the vice chair of the Clinton Foundation. She lives in New York City with her husband, Marc, their daughter, Charlotte, their son, Aiden, and their dog, Soren.
Hines said the book's illustrations by Alexandra Boiger are particularly noteworthy. "It is absolutely beautiful with fantastic soft colors and lines," she said.
The event will be a book-signing only, not a reading or a talk, Hines said. She said Chelsea Clinton will be sit at a table near the front of the store for the signing and the line will go through the store and out to the rear parking lot. The event will begin at 10:30am and people are advised not to arrive early. Cameras are allowed but there will be no posed photographs.
Please like us on Facebook.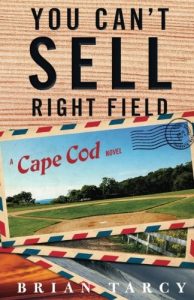 Please see, YOU CAN'T SELL RIGHT FIELD, A Cape Cod Novel